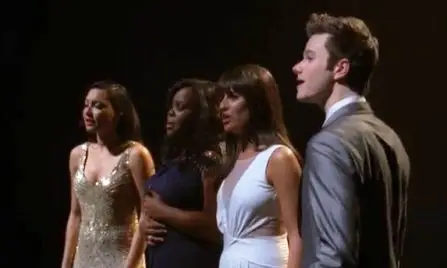 I damn near lost my MIND watching this clip from next week's Glee. Rachel, (Lea Michele) Kurt (Chris Colfer), Mercedes (Amber Riley) and Santana (Naya Rivera) sing "How Will I Know" A CAPPELLA.
Yes. You heard me right. And it's divine. LOVE. The performance is from "Dance With Somebody", The Glee Whitney Houston tribute episode set to air on Tuesday. The graduating seniors grapple with letting go as they prepare to leave the safe confines of McKinley high and Glee club. The heartbreak is set to a soundtrack of seven of Whitney's most beloved tunes.
Song List
I Wanna Dance with Somebody – Brittany and Santana
"It's Not Right But It's Okay" – Blaine (Photo of Blaine in the Gallery is from this performance)
How Will I Know – Rachel, Santana, Kurt and Mercedes
Saving All My Love – Joe and Quinn
My Love is Your Love

– New Directions

So Emotional – Rachel and Quinn
I Have Nothing – Kurt
Check it out below. This is the "Dance With Somebody" video preview post. Watch out for updates throughout the day.
http://youtu.be/jkhT_W0CR6w
***
Promo
Photos