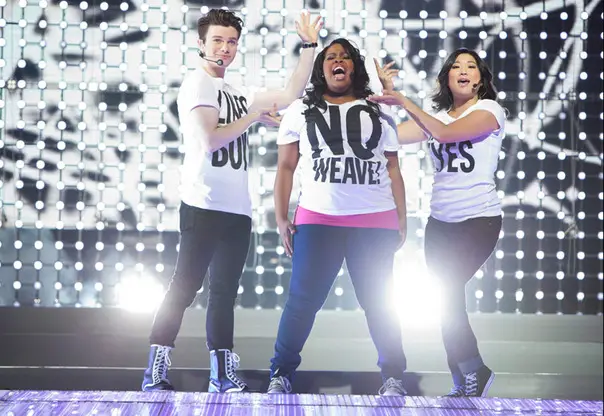 I set out last Saturday afternoon (rushing out of my house, late as usual) to catch a matinee of Glee 3D the Concert Movie at my local cineplex.  I needn't have worried about running late. There was no ticket line, and when I entered the theater just short of start time, there were only a handful of people in the auditorium style theater. Whoa. A hit movie Glee 3d is not.
Not that the folks who decided to stay home or check out "Crazy Stupid Love" instead missed much. Glee in 3D the Concert Movie was a big disappointment, and  I say this as a BIG fan of the show. I even took in the summer concert this movie "celebrates" when it stopped in Boston, and had a really good time.
What went wrong with Glee 3D the Concert Movie  encapsulates everything that's gone wrong with Glee the TV show in the past year or so.
When the FOX show burst onto the scene in 2009,   co-creator, Ryan Murphy compared it to "Election"– the 1999 Reese Witherspoon vehicle that satirized high school life.  Glee established itself as a smart, snarky comedy–with showtunes!  But it also had a squishy center, thanks mostly to an endearing cast of characters that represented all of the types we knew in school–the jock, the gay kid, the cheerleader, the goth, the over-achiever.  While the portrayals of high school life could be over the top, its  essence stayed true to the adolescent experience.  The fine cast of young actors humanized the portrayals, keeping them from devolving into stereotype.
Slowly but surely,   Glee amassed a following of fans–many young people who identified with the often canny  portrayals of high school life.   The show came to represent the kids who felt teased, picked on and under-represented.  Which is fine, except that Glee producers became self-conscious about it in the process. I read interviews in the press, over and over again, where creator Ryan Murphy–and even the actors themselves–would solemnly intone about the important mission Glee is now on, serving as a beacon of hope to the bullied masses.
That sense of self-importance began to creep into the storylines, with episodes beginning to resemble an after-school special, rather than the satire on high school life we all knew and loved.  Oh noes.
Unfortunately, this grandiose attitude is carried on into the production of Glee the 3D Movie.  Not content with merely re-creating the concert experience for folks who couldn't catch it live, or those who wanted to relive a fun experience, the producers make the movie all about How Important Glee Has Become.
Interspersed within the concert footage are stories of 3 fans. One is a girl, diagnosed with Asperger Syndrome, who is inspired to come out of her shell by Glee's loopy cheerleader, Brittany (Heather Morris). A young gay man finds courage to deal with the fallout from a forced outing (his "best friend" passed his journal on to a boy he had a crush on) through Glee's fashionable and unapologetically gay teen Kurt (Chris Colfer). And a cheerleader/homecoming queen who just happens to be a dwarf is portrayed as the living embodiment of what Glee is about. Not only are these fans interviewed outside the stadium where the concert was filmed in New Jersey, but the cameras follow them to their homes and high schools, American Idol sob story style. Yikes.
Sorry, but I just was not moved by the producers attempts to wring sympathy from me for these kids. No offense against the trio, who have all struggled and are great examples of winning against adversity. But the self-congratulatory heavy-handedness of the presentation was a real turnoff–like some yucky hybrid of Star Search and Extreme Makeover: Home Edition. Did. Not. Want.
There were also copious crowd shots of blissed-out fans, and mini-testimonials from Glee uber-fans attending the concert (Glee stans are pretty much on par with Idol in the cray cray department. Good to know!)  Remember the little mini-warbler?  He's in the movie– inspired by Blaine (Darren Criss) and the Warblers to painstakingly lipsync each and every Dalton Academy performance.
And notice I'm halfway through this review, and I've barely mentioned the performances. The fan stuff was a real distraction to the thing that should have been front and center. The concert! The young gay boy describing how he coped with his forced coming out is played over audio of Rachel (Lea Michele) and Kurt singing "Happy Days are Here Again/Get Happy" and we don't join the actual performance until half-way through, and then it's over too soon. This happened too often–performances cut short to make way for fan testimonials that seemed oddly disconnected from the concert. An appearance by Gwyneth Paltrow reprising her "Forget You" performance seemed stuffed in and pointless.  It was like two unrelated movies spliced randomly together.  Weird backstage footage of the cast being interviewed in character, like something out of a Christopher Guest movie, made it even more disjointed.
Speaking of which, a really cool concept for Glee 3D would have been to make it like a show choir Spinal Tap, with the writers creating some outlandish idea that set New Directions and the Warblers off on a world arena tour.  Hilarious backstage footage of the cast in character, a clever storyline that included some shenanigans,   a few sentimental plot turns, all spliced into the actual concert, could have been an awesome movie.  The scenes Jane Lynch shot in New Jersey as Sue Sylvester introducing the choir that were CUT from the movie could have fit in beautifully. Gah.
But I digress. It was hard to get into performances that were interrupted by the weird fan narrative. The 3D element was unnecessary and totally distracting. I couldn't concentrate on the singing and dancing with Rachel Berry's huge head coming at me. I found myself sinking into my seat, trying to escape.   How annoying is it to be pulled back into the audience and find hands waving in front of your face?  I don't watch concert movies to have the most aggravating aspects of the experience be duplicated. As I mentioned, I saw the concert when it came to Boston, and it didn't even feel like the same show.
I'm still a fan of Glee. Talented actors like Jane Lynch, Chris Colfer, Max Adler, Naya Rivera, Lea Michele, Heather Morris and Cory Monteith make the show worth watching.  Even the preachy stuff–like the bullying storyline–was saved by Chris and Max's flawless portrayals. There are still vocal performances that make me cry.  A string of wonderful moments don't make for great story telling, but it still compels me to watch.
But Glee in 3D seems to indicate that the show has lost the thing that made it so special in the first place. You see, that little snarky, satirical show with a heart of gold had the power to inspire people, without even trying. The minute it became a mission? The magic was gone.