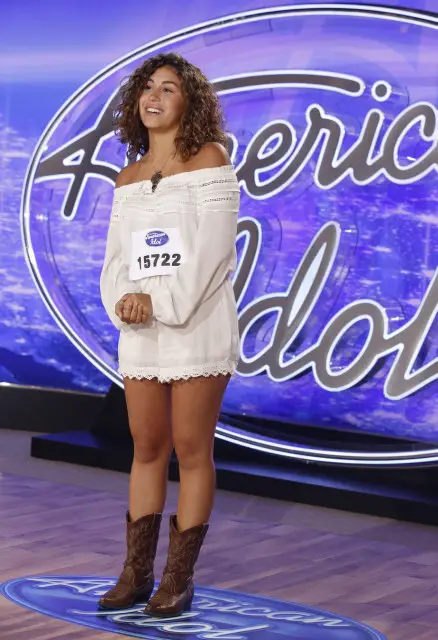 Gianna Isabella American Idol 2016 Season 15 Top 24
Gianna Isabella
is a 15 year old pop/R&B singer from Jackson, New Jersey, with very big dreams. Growing up in a musically inclined household, Gianna was inspired to become a musician by her mother, dance/pop singer,
Brenda K. Starr
 (
VIDEO
) and grandfather,
Harvey Kaye,
organist of the 60s band,
The Spiral Staircase
(
VIDEO
). After seeing her mother enjoy herself on stage, Gianna asked her for vocal lessons and has been singing ever since. During her accelerating career, in addition to a short stint on the final season of The
X Factor
where she was cut at the top 40 girls, in 2014 Gianna won the 'New York Dream Night Talent Search' competition. In an interview, Gianna cites her X Factor audition as being one of her most memorable performances she ever gave.
Click to see the FULL LIST of American Idol 15 Top 24 Contestants!
American Idol 15 Top 24 Video Sneak Peek
When it comes to challenges she has been facing, Gianna struggles balancing a normal teenage life with trying to become a recording artist. Gianna recorded for the first time when she was 6 years old and she decided she wanted to become a singer around age 11. A big fan of Ariana Grande, Lady Gaga, Rihanna and Alicia Keys, during her free time Gianna creates cover videos of their music. Giana describes her ethnicity as a mix of Israeli, Italian and Puerto Rican. In a Q and A video she did on her Youtube channel, Gianna's tip to other aspiring singers is to keep trying to get themselves out there, but always have a backup plan.
Over the summer Gianna auditioned for American Idol and advanced through Hollywood week all the way to the Showcase round. According to The Idol Pad, Gianna performed I Still Believe, by Brenda K. Starr/Mariah Carey and received a standing ovation from judge, Keith Urban. With all that momentum going for her, The Idol Pad reports that Gianna then was accepted into the top 24.
Instruments Gianna Plays: unknown
Links:
Overall Thoughts: As much as I like Gianna's voice, I worry that she will get lost in the crowd during top 24 week. I can already imagine the producers saddling her with a song she in uncomfortable with and giving her the death slot. My advice to Gianna is to stick to her strengths: she has a great voice and a very current look and sound. Play those aspects up and nail those high notes! Stay away from the big diva ballads, it will only make you seem old fashioned and inferior to a singer like La'Porsha. It might not get her very far in the long-run of the competition, but the other option is being fodder in top 24 week. Gianna's placing right now is a wildcard for me: either she is destined fodder or one performance away from a contender.
Song Suggestions:
Should've Been Us, by Tori Kelly
Stand By You, by Rachel Platten
Here, by Alessia Cara- I know this song doesn't have any high notes, but it still just seems like it would fit for Gianna. Alessia is amazing when she performs this song live, and if Gianna could channel her it could be incredible.
Gianna sang "House of the Rising Sun" at her Philadelphia, PA audition. Click to check out her FULL audition!
More American Idol Performances:
Showcase Round – I Still Believe by Brenda K Starr – Click to Watch VIDEO
Hollywood Group Round – Click to Watch VIDEO
Semi Final Round – "I Put a Spell on You" – Click to Watch VIDEO
Idol Star Duet Round w Nick Fradiani – "Beautiful Life" – Click to Watch VIDEO