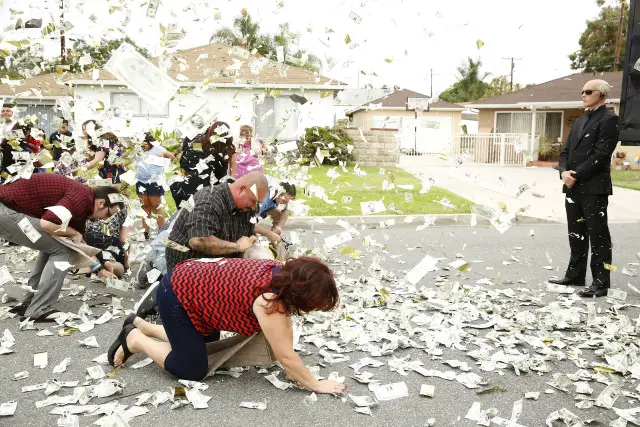 After two weeks, Fox has yanked the abysmally rated Knock Knock Live off of the schedule.
The Ryan Seacrest-hosted unscripted series debuted to a 0.6 ratings and 1.75 million viewers July 21, one of the network's lowest series debuts ever, according to The Hollywood Reporter. Week two, which included an appearance from Justin Bieber, dipped even lower to a 0.5 in the 18-49 demo, and only 1.6 million total viewers.
The series was produced by Dick Clark Productions and American Idol creator, Simon Fuller's, XIX Entertainment. Ryan Seacrest and Simon Fuller were executive producers.  American Idol alum and Dancing with the Stars winner, Kellie Pickler, served as a co-host.
Airing against NBC's popular competition reality show,  America's Got Talent, could not have helped the series' ratings. But Knock Knock Live would have at least had a fighting chance if it were watchable. I checked out the premiere, and couldn't get past one of the stunts, which had a needy Hispanic family made to scramble around their cul de sac, chasing fake money shot out of a camera. The set ups were unbelievable–contestants answering the door were clearly in on the "surprise."  How could you not be with a huge camera crew in front of your home?
Unless done exactly right, "feel-good" giveaway shows tend to be patronizing, engendering more second hand embarrassment than warm fuzzies. This week's episode, with Bieber was an obvious ploy to rehabilitate his image, but he appeared more self-serving than a knight in shining armor as originally intended.
Other than the mega hit, Empire, FOX has got nothing (ETA: Or very little. As noted in comments, Gordon Ramsay's cooking shows do fairly well). Summer reality has been terrible for them, with Bullseye, Boom, Are You Smarter than a Fifth Grader and Home Free posting unimpressive ratings. At least they have the Emmys in September. And Empire.