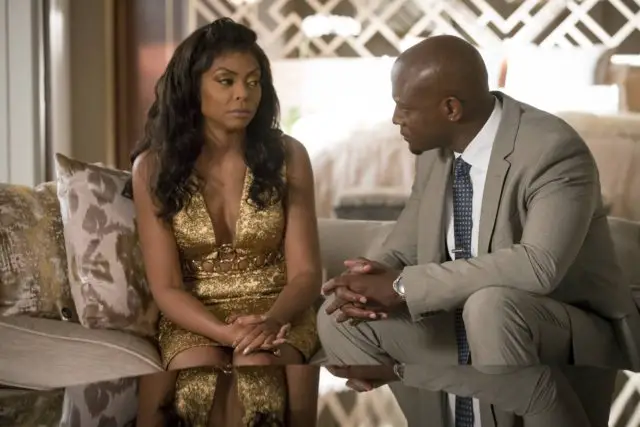 This week's Empire ends with another jaw dropping twist, as the company's data is hacked and leaked. Jamal continues to struggle with substance abuse and Cookie's romance with Angelo is derailed.
On the same day Angelo announces formally that he's running for mayor, Empire is hacked. First it's just a leak of Tiana's new single. Next, the email system is compromised and messages leaked to the internet. Eventually, the hack is system wide. The track Jamal had been working on with producer/ex-lover Derrick is wiped out. And a nude photo of Cookie emailed to Angelo is released for all to see. Cookie's cookies! "What the hell y'all looking at? They perky!"
https://youtu.be/JbRPHHrORdw
Cookie wonders if Lucious leaked the photo himself to mess with Angelo's campaign for mayor.
https://youtu.be/odh8qzJPjUA
Whoever is hacking Empire demands millions of dollars to stop the madness. Empire's board wants to pay the ransom. Cookie and Lucious do not. Thirsty reminds every single board member the email leak has exposed all of their secrets too.
A nerdy security specialist is called in to fix the hack, but he's ineffectual. At one point, Lucious collars him and barks menacingly "You got til the end of the day to fix this Opie Cunningham!" (Ha. It's a nod to Ron Howard. His studio produces the show.)
Vaughn, one of the record executives who wanted to buy Extreme out from under Lucious is suspect number one. Lucious figures he's getting payback for rebuffing his offer. He denies any involvement. After Shine swears hacking isn't his style, attention turns to Tiana's boyfriend Gram. Andre happens to come across a thumb drive left in the studio where Tiana has been recording. She mentions that Gram (who ditched her inelegantly earlier) wanted to humiliate the Lyon family after the beef battle with Hakeem never came to be as promised. Oh and by the way–he's a total computer wiz!
So, Andre and Lucious break into Gram's crib and find all of Empire's data on his computer. Gram brags that he could have pulled off the leak if he wanted. But didn't. Convinced, they found the hackers, Shine and his posse appear to mete out some street justice. "Nice work son," Lucious compliments Andre. For his "heroic" efforts, Andre is promoted to President of Empire Extreme.
Lucious throws a big thank you celebration for Empire employees at Leviticus. Nessa and Hakeem take the stage for a sexy duet. But all the while, Nessa flirts with Andre while Hakeem struggles to get her attention.
Hakeem still believes there's a love triangle between him, Nessa and Andre. Nessa is completely confused. Eventually Andre corners Hakeem to say threateningly "You better fall back boy." It's the first sign that Andre is no longer playing.
Meanwhile, all the blogs are trashing Tiana's single. It's the song white boy producer and Cookie were pushing against Becky's better instincts. When Becky reveals she's got a plan to fix the problem pronto, white boy producer begs for her help, with promises of credit and re-installation to Tiana's team. After white boy unveils "Starlight" the song Becky produced, as Tiana's new single, the music blogs go crazy. And white boy producer takes all the credit. Again. Delicious: Just as Becky is about to beat down white boy's ass, Thirsty suggests she stick with him and learn a few lessons about payback. TO BE CONTINUED. Revenge is going to be sweet.
In the midst of the chaos, Jamal is struggling. His PTSD coach Phillip is helping him wean off the pain meds. But between finding a trove of homophobic emails sent to Empire after he came out, and having his tracks completely erased, Jamal snaps. He picks up again, drinking alcohol on top of the pain pills. After a loopy conversation with Derrick, about how his family's secrets–both negative and positive–will inform the next tracks he records, they fall into bed. Hours later, Derrick can't wake Jamal up. Oh no. He calls Phillip who arrives, picks Jamal up, and shoves him under a shower spray. Jamal snaps back to life with a gasp.
https://www.youtube.com/watch?v=JVuoOHNQKUI
Angelo is completely besotted with Cookie. But she "can't do this." She's come to believe in him and his ability to make a difference as mayor. In order to protect his campaign, Cookie breaks up with Angelo. She insists that her dark secrets will be used against him. She couldn't live with being the reason his run for mayor failed. Later, while getting tipsy with a little vino, Cookie watches Angelo interviewed on TV. He whips off his shirt in solidarity with Cookie and all females whose privacy has been violated. She confesses out loud to herself that she loves him.
The hacked emails are a gift to Lucious half-brother Tariq and the FBI. Combing through the messages, they find a note from Lucious instructing Andre to pay two people. The email is dated two days after Frank Gathers was murdered in prison. But there are only initials. No names. The feds are on to something. Tariq's dogged pursuit of evidence that could put gangster Lucious in prison is finally bearing fruit.
Empire ends with another HUGE twist. Andre invites Nessa to an abandoned warehouse. He instructs her to watch him, from a hidden spot, hand a bag of money to Vaughn. As it turns out ANDRE WAS BEHIND THE HACK. Vaughn served as a paid accomplice. Everything–from the hack, the leaked emails, erased tracks, setting up Gram–was engineered by Andre. Why? He created a crisis that only he could solve. Sorta like when a firefighter commits arson so he can put the fire out. Andre invites Nessa to be his partner. He believes the two of them, as a team, could rule Empire. He's sure Rhonda would approve.
Instead of breaking him, Rhonda's death has turned Andre into a ruthless machine ready to get revenge, conquer and grab the spoils. Even if it means turning on his family–he is Lucious Lyon's son after all.
Next Episode in two weeks
https://youtu.be/Z8o8cWs7Sa8