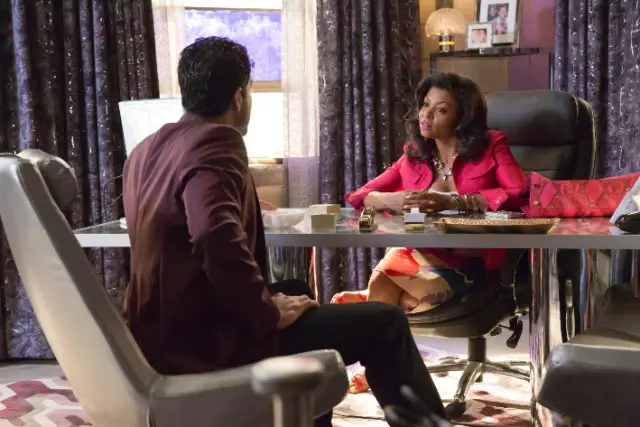 Ne-Yo
Empire Season 2 Episode 5 Recap – Be True
Ne-Yo collaborates with Jamal and Adam Rodriguez plays a promoter, Laz Delgado, a new love interest for Cookie, on this week's Empire, titled "Be True."
Lucious is, at last, a free man. All the charges against him are dropped. The prosecutor's office is staying mum on what happened to Roxanne Ford and are calling Vernon's death a suicide. Miss Ford, meanwhile is taking a leave of absence after being greeted by Vernon's corpse in the passenger seat of her car at the end of last episode. Andre returns to the company. He'll be heading the Gutter Life label, which has just signed rapper, Freda Gatz, Frank Gathers daughter.
Cookie fired Porsha after the turnstile incident, which resulted in Cookie landing in jail. But the former assistant, in an attempt to appear indispensable, set up her phone in a way that Cookie can't figure out. BRING BACK PORSHA. One of the alerts is from Lucious, who makes sure his ex-wife sees his statement to the press. "All those people who have a problem with me can kiss my ass," he declares. The lovely Latina girl, Laura, Hakeem discovered at a Brooklyn club last week, is the new lead singer of his girl group. She's so sweet in a little flowered dress and boots. An innocent, to be sure. Tiana sidles up to her to check out the competition. She could eat poor Laura alive. In a couple of different ways, if you know what I mean.
"Where we from, If snitches don't kill themselves, somebody else will," Cookie warns
when Hakeem asks if she thinks Vernon REALLY killed himself. She knows the deal. She urges Hakeem to focus on his music and his girl group. They have a good thing going at Lyon Dynasty, she says.
Lucious throws a Welcome Back to Empire party for Andre, which includes stripper girls he hired expressly to taunt and test his newly-pious son. He instructs them to give Andre a lap dance. It's a total alpha male move. Lucious is out to prove to Andre that the only God he needs to serve is the man who gave him life.
Jamal is in the studio working with his father, and who pops up but Ne-Yo! Yes, the actual Ne-Yo, who is also a music producer on the show. "Not bad," he says, when Lucious asks what he thinks of Jamal's vocal. Pops is not so forgiving. It turns out Jamal and Ne-You will be hitting the road together. When Michael lets slip he'll be out on the road with them too, Lucious gives Jamal a big lecture about not bringing along his "girlfriend," warning against distractions. "You've got to be in seduction mode," Lucious insists. Jamal snarks that his father is the last person he'd take relationship advice from. He's not wrong.
https://youtu.be/N9R0M16jLBo
Meanwhile, Andre meets with the pastor from his church. He wants to be baptized. But it's not that simple. First, Andre has to clear his conscious, which means going round to all the people who are important to him to confess the sins he's committed against them. That could get interesting. Once the task is completed, Andre should invite them all to his baptism. The reverend has no idea what he's suggesting. He thinks Andre could be the shepherd to lead his family back to the Lord. Hm.
While Tiana is waiting in the lobby of ghetto ass studios for her car, a couple of girls come in and want a selfie. It turns out, they aren't fans. One has a razor blade in her mouth. Tiana pushes her away. The other nabs her purse. Damn, Cookie. You need hunky security dude from season 1 back to secure the premises! "She got jacked right outside our front door!" Cookie cries, on the warpath. The thieves, now masked, send a message via Youtube, as they pull embarrassing stuff out of Tiana's purse. "You wanna chillax here, You gonna pay tax here." Cookie realizes they're being shaken down, and she's NOT going to stand for it.
Michael and Jamal have drinks with the pretentious Rolling Stone photographer from last episode. When Jamal complains about Lucious not wanting him to take Michael on the road, Mr. Pretentious takes Lucious' side, explaining that relationships are the death of creativity. He falls in love every day, so why would he cut anyone out? He hates that the biggest breakthrough in gay rights was handed down from some "archaic system" that doesn't believe in "human desire." In other words, he's totally ready for a three way. He equates marriage to being locked down in "heteronormative shackles." Later, while leaving the bar drunk, Mr. Pretentious sinks down to his knees in front of Jamal, ready for some action. Jamal refuses, but Michael catches up while they're still in a compromising position. "A mouth is a mouth!" shouts the photographer as they hurry away.
Cookie interviews a potential concert promoter, Laz Delgado. He doesn't need persuading. He's ready to work with Cookie, despite the "challenges." He warns her that she's a target because she's Lucious Lyon's ex-wife, and people think she's swimming in money. "The streets are watching" he says, promising her he's not afraid to get his hands dirty. "The wolves are going to come." he tells her. No promoters are going to touch her, but him. Watch as the sparks fly between these two. Laz is very handsome. Cookie better go get some of that.
https://youtu.be/Aqdo2KtW3To
Porsha shows up with an adorable little dog she calls "whoopty woo," hilariously meant to be a guard dog for Cookie. "This is the baddest bitch in town. It's my grandma's mutt, and she don't play!" But really, it's more a peace offering, which Cookie grudgingly takes. Porsha is back. But on probation! YAY.
https://youtu.be/Wbvn5jR3kGI
Andre tells Rhonda he's going to be baptized. When he reveals his plan to apologize to each of his family members for the wrongs he's committed, she disagrees, "You don't need their forgiveness. They're all a bunch of sinners." Enough of the church talk. She's not wearing underpants! She's ready to get busy. But Andre, being a new man and all, resists having sex in his office. Rhonda doesn't seem happy about that. "It's been so long," she whines. Trouble in paradise. Aside: Shouldn't Rhonda be looking pregnant by now?
Cookie and Lucious, at the funeral home, are discussing who will take Vernon's ashes. He's got no next of kin. Well clearly. He was absent for months, and nobody seemed to miss him. Lucious gets handsy. Cookie pushes him away. She asks Lucious if he killed Vernon. He denies, and for once he's not lying. Cookie is worried about keeping the family safe. Lucious says she would have had nothing to worry about if she hadn't turned her back on him. Now, Cookie suspects he was behind Tiana's purse snatching. "It must be liberating for you, having no morals." Lucious walks out of the room, leaving Cookie to take the ashes.
Back at Empire, Andre learns that Thirsty is replacing Vernon. He isn't very happy about it. Thirsty asks if Anika is working for Cookie. When he learns she is not, and never did, he proposes that Andre work as a double agent to steal all of the music from Lyon Dynasty. It's Lucious' idea. The newly spiritual Andre refuses. In the past, he would have done anything for Empire, but now, will not betray his mother like that. What's more, he has no interest in Thirsty as an intermediate between him and his father. The shady lawyer delivers a veiled threat as Andre throws him out of his father's office, "And here I thought we made nice digging in the dirt."
Jamal is back in studio with Ne Yo, cutting, "I'll Never Love Again," but he can't keep his mind on the music. His phone keeps buzzing. Ne-Yo suggests he take five to deal with his relationship problems. Jamal explains Michael reacted badly to his decision not to take him on the tour, assuming he wanted an open relationship. When it comes down to it for Jamal, his career comes first. (Isn't that what broke them up in the first place?) Ne-Yo counsels Jamal to bring Michael on the road. "If that dude is your serenity…he's supposed to be there." Ne-Yo adds that taking relationship advice from Lucious Lyon "is not the move." Heh. Convinced by Ne-Yo to take Michael along after all, Jamal happily finishes the take.
Never Love Again feat Jussie Smollett
Relaxing at his place with some friends, Hakeem is all flirty with the girl group. He makes a move on sweet Laura and she pushes him away. "I'm not one of those girls," she insists before stomping out. Meanwhile, at Jamal's place, he's throwing his own little soiree. When Becky learns he's going on tour with Ne-Yo she declares, "Jesus do love you! I don't care what the Bible says!" Jamal heads to the balcony only to find Mr. Pretentious on his knees giving MICHAEL a blow job. WHAT THE HELL? Threatening to throw Mr. Pretentious off the balcony, he throws him out of the house instead. To his credit, the photographer takes all the blame for what happened.
Cookie and Laz are chilling at her loft, when Whoopty Woo begins to bark. A couple of guys are breaking into the apartment. Laz tackles one of them, while Cookie PULLS OUT A GUN. The dude was just about to take off with her music. "DROP IT" she orders. Laz kicks the sh*t out of the other one. They force him to say who sent them. THIRSTY! "I should blow your head off," threatens Cookie. They have surveillance bugs, too. Cookie doesn't want to call the cops. "Tell Lucious to kiss my black ass," she hollers, as they beat a hasty retreat. Cookie and Laz are absolutely turned on by the fact they both carry. "You packing?" she asks Laz. He sure is, honey.
The three brothers meet at Jamal's apartment, where Andre commences to confessing his sins. He admits that he set Jamal up to be robbed at ghetto ass studios, and blamed it on Hakeem. The two are shocked and upset at first, but Andre's apology seems sincere. "It was wrong of me. I was sick," Andre implores. The brothers forgive him, and agree to attend his baptism. Jamal hopes the reverend won't expect him to "pray away the gay." Andre assures him that HE accepts Jamal the way he is, "You're coming to support me not the church." He adds, "I want us to be a family. I mean that with all my heart."
https://youtu.be/rGLlZ0mYD5w
Andre confronts Lucious about sending the goons after his mother. Lucious warns Andre that "the only commandments I want followed here are mine. Check your faith at the door." Andre stands his ground. "Can't do it. My faith is who I am, and I can't change." Then he confesses that when Cookie first got out of prison, he advised her to blackmail him and produce Jamal. Lucious isn't phased by this admission in the least. Next, Andre reveals how he went into Lucious' studio, put a gun to his head and pulled the trigger, in an attempt to hurt him in the worst way possible. "The Lord saved me," insists Andre. "You gave me life. God gives me hope." Andre invites Lucious to his baptism, but he refuses to go. Andre doesn't need God, insists Lucious. There is no God. "You need to man the hell up," he says.
Hakeem catches up with Laura as she's walking along the street. He apologizes for coming on to her. He's not used to girls who don't "get down like that." Now he gets it. He confesses that when he saw her in that little Brooklyn bar, he was in a bad way. "I want your voice to touch the world. You're the real deal. I don't want to mess that up." He promises to not come on to her anymore. As a show of faith he instructs his driver to take her home. He catches a cab.
Lucious is in the studio, working with Freda. She's having a particularly tough time getting through an emotional rap. She's unhappy that her dad isn't around to witness her success. If Freda ever finds out it was Lucious who killed her father–that's going to be a really interesting moment. Your father is dead because he's a rotten bastard, says Lucious, but it doesn't mean he didn't love you. Face the pain, he says. When Freda gets back behind the mic, she spits something fierce, and it gets to Lucious. It reminds him that family is everything.
Why Go feat Bree-Z (Freda Gatz)
Speaking of family, everyone but Lucious has turned out for Andre's baptism. When he confesses to Cookie that he's "not a good person" and has done "horrible things" she admits that she has too. "But we are good people," she says, "God knows your heart." Any confession Andre was planning, she shuts right down. "I don't need to hear what you did. Neither does anybody else."
The family sits together, but it's icy between Cookie and Jamal. She manages an "I'm happy for you," when Jamal rattles off all the stuff he's doing with Lucious, and he notices the sarcasm. After the initial awkwardcakes, they joke about what would happen if Lucious showed up. "That devil walk in here, that whole place might catch fire," quips Cookie.
But, whoa. Lucious does show up. "I think I see some angels running for cover," says Hakeem as he makes a seat next to Cookie available. "Let me make space unless lightning strikes," she snarks. "I was the one who provided for you when your mama was locked up," Luscious says, explaining his change of heart, to Jamal. "I made this family." Cookie scoffs. "This family, that you spy on and beat down when you can't control us?" She pulls the surveillance bug out of her bag. "Take this bug and stick it up yours," she says, warning him to quit trying to steal her tracks, and quit sending "those tired ass thugs to harass us. And quit trying to turn us against each other. Lucious fires back ominously, "I don't ever ever quit."
Andre's baptism begins. Dressed in white, he is dunked in a bath of water, over and over again, as the reverend prays for him. The scene causes Lucious to flash back to his mother (played by Kelly Rowland) literally trying to drown him in the bathtub as punishment for something he did. She sings "Mona Lisa" as she nearly kills him. Lucious can't take it. He bolts from the church. Andre is gutted.
As the choir sings, flash forward to Hakeem running in the park. Three men approach him, throw a blanker over his head and drag him into a van. Kidnapped! Could Lucious be so cold that he'd snatch away his own kid? Up until this week, I was rooting for Thirsty. Not anymore.
FYI: No new Empire until after the World Series. See you in two or three weeks, depending on how long the series goes.
Photo Gallery