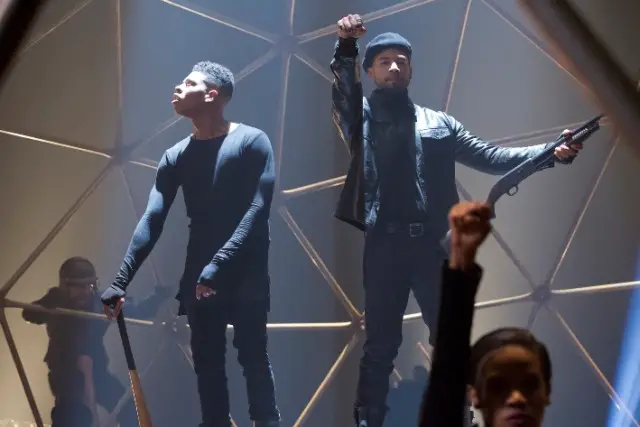 Empire began on an extremely high note, 3 weeks ago, but the FOX hit show's ratings have been falling ever since. This week, the numbers slipped from a 5.1 final rating to a 4.6 preliminary rating in the 18-49 demo. It could rise 1/10th when this afternoon's final numbers are released. Empire started off on Sept 23 with a massive 6.7 rating in the final ratings, and over 16 million viewers.
UPDATE: Empire adjusted up 1/10th in the final ratings.
Survivor stayed fairly steady, dropping a 1/10th compared to last week, while Nashville rose 1/10th.
Via TVByTheNumbers
8 p.m.

Survivor (CBS) 2.1/8 9.06
The Middle (ABC) 1.9/7 7.06
Rosewood (FOX) 1.4/5 5.01
The Mysteries of Laura (NBC) 1.0/3 6.85
Arrow (The CW) 0.9/3 2.47

8:30 p.m.

The Goldbergs (ABC) 2.0/7 6.38

9 p.m.

Empire (FOX) 4.6/14 12.17
Modern Family (ABC) 2.6/8 7.82
Criminal Minds (CBS) 1.7/5 8.92
Law & Order: SVU (NBC) 1.5/5 6.20
Supernatural (The CW) 0.8/3 1.88

9:30 p.m.

Black-ish (ABC) 1.8/6 5.71

10 p.m.

Chicago PD (NBC) 1.5/5 6.60
Code Black (CBS) 1.2/4 6.92
Nashville (ABC) 1.2/4 4.57
Half Hour breakdown via TV Media Insights
ABC – The Middle
Viewers: 7.06 million (#2), A18-49: 1.9/ 7 (#2)

CBS – Survivor
Viewers: 8.93 million (#1), A18-49: 2.1/ 8 (#1)

NBC – The Mysteries of Laura
Viewers: 6.79 million (#3), A18-49: 0.9/ 3 (#4t)

Fox – Rosewood
Viewers: 4.49 million (#4), A18-49: 1.2/ 4 (#3)

CW – Arrow
Viewers: 2.46 million (#5), A18-49: 0.9/ 3 (#4t)

———-

8:30 p.m.

ABC – The Goldbergs
Viewers: 6.38 million (#3), A18-49: 2.0/ 7 (#2)

CBS – Survivor
Viewers: 9.19 million (#1), A18-49: 2.2/ 7 (#1)

NBC – The Mysteries of Laura
Viewers: 6.90 million (#2), A18-49: 1.0/ 3 (#4)

Fox – Rosewood
Viewers: 5.53 million (#3), A18-49: 1.6/ 6 (#3)

CW – Arrow
Viewers: 2.47 million (#5), A18-49: 0.9/ 3 (#5)

———-

9:00 p.m.

ABC – Modern Family
Viewers: 7.81 million (#3), A18-49: 2.6/ 8 (#2)

CBS – Criminal Minds
Viewers: 8.95 million (#2), A18-49: 1.7/ 5 (#3)

NBC – Law & Order: SVU
Viewers: 6.07 million (#4), A18-49: 1.4/ 5 (#4)

Fox – Empire
Viewers: 11.93 million (#1), A18-49: 4.5/14 (#1)

CW – Supernatural
Viewers: 2.01 million (#5), A18-49: 0.9/ 3 (#5)

———-

9:30 p.m.

ABC – black-ish
Viewers: 5.71 million (#4), A18-49: 1.8/ 6 (#2)

CBS – Criminal Minds
Viewers: 8.89 million (#2), A18-49: 1.7/ 5 (#3)

NBC – Law & Order: SVU
Viewers: 6.33 million (#3), A18-49: 1.6/ 5 (#4)

Fox – Empire
Viewers: 12.40 million (#1), A18-49: 4.7/14 (#1)

CW – Supernatural
Viewers: 1.75 million (#5), A18-49: 0.8/ 2 (#5)

———-

10:00 p.m.

ABC – Nashville
Viewers: 4.77 million (#3), A18-49: 1.2/ 4 (#2t)

CBS – Code Black
Viewers: 6.99 million (#1), A18-49: 1.2/ 4 (#2t)

NBC – Chicago PD
Viewers: 6.59 million (#2), A18-49: 1.5/ 5 (#1)

——–

10:30 p.m.

ABC – Nashville
Viewers: 4.36 million (#3), A18-49: 1.1/ 4 (#3)

CBS – Code Black
Viewers: 6.84 million (#1), A18-49: 1.2/ 4 (#2)

NBC – Chicago PD
Viewers: 6.60 million (#2), A18-49: 1.5/ 5 (#1)

Source: Nielsen Media Research