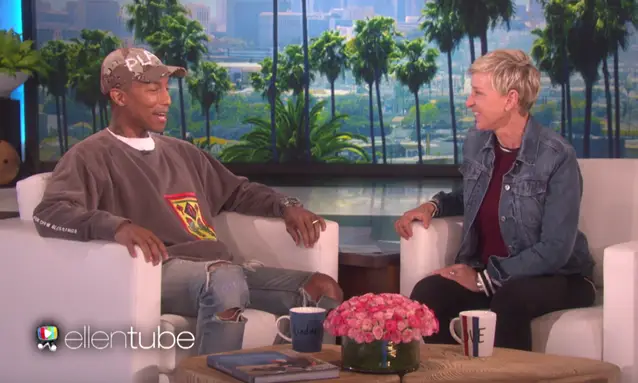 Last week, video surfaced of gospel singer Kim Burrell preaching in church against homosexuals. She called the LGBT "perverts" and suggested sinners would be met with death.
Just days later, Burrell was scheduled to perform a song from the upcoming movie Hidden Figures with Pharrell Williams on Ellen, a talk show hosted by Ellen Degeneres who is openly gay.
In the end, Ellen made the decision to cancel Burrell's appearance. When Pharrell appeared on Ellen as a solo, the two discussed the incident.
Ellen noted that Burrell said some "very not nice things about homosexuals" and didn't feel it was a good idea to give the gospel singer "a platform after she's saying things about me."
Pharrell made it clear where he stood. "There's no room for any kind of prejudice in 2017," he said adding, "She's [Burrell] a fantastic singer. I love her, just like I love everybody else."
"We all have to get used to everyone's differences and understand that this is a big gigantic beautiful, colorful world," he said, "And it only works with inclusion and empathy. Live and let live love and let love."
Ellen stressed that when she says "be kind to one another" it comes from a place of experience: "As someone who has received a lot of hate and prejudice and discrimination because of who I choose to love…it only gives me more compassion. It gives me more empathy. I don't want anyone to feel hurt because they are different."
Pharrell suggests that when "you hear some sort of hate speech, and you feel like it doesn't necessarily pertain to you…all you gotta do is put the word 'black' in that sentence, or put 'gay' in that sentence, or put 'transgender' in that sentence, or put 'white' in that sentence and all of a sudden it starts to make sense to you."
The singer added, "God is love. This universe is love. That's the only way it will function."
He understands that the "divisive stuff" sometimes works in life. "We've all learned that lesson last year," he said, referring to the polarizing 2016 presidential election.
"But," he added, "You have to choose what side you're on…even when I disagree with someone, I'm wishing them the best, I'm hoping for the best. Because we can't win the other way."
Watch the Ellen Degeneres interview with Pharrell Williams below.