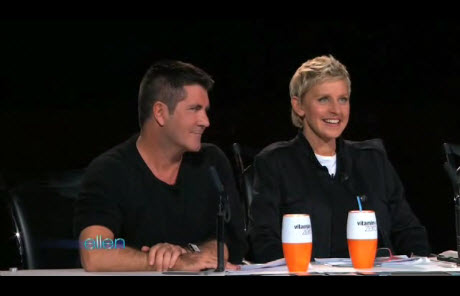 Ellen DeGeneres, hated judging contestants on American Idol, she told Howard Stern on his Sirius Satellite radio show Tuesday.
"Did you hate judging American Idol?" Howard asked, to which Ellen answered with an unequivocal "Yes," adding, "That's one of the worst decisions I've made."
"As a fan of the shows, it doesn't matter that I sing or I know anything about pitch or anything, I'm like everybody else at home. It's American Idol. You're watching and you're a fan. So I thought I'm gonna represent those people at home that have opinions..but then I just thought, like Howard says, I can't break this person's heart. Let somebody else do that."
That the talk show host doesn't look back fondly on her stint as judge in 2010 during American Idol season 9 should come as no surprise to fans of the show.  After all, her frustration was apparent each and every week, as she struggled–and failed–to put together meaningful critiques of the contestants' singing. Her flaws as a judge went beyond her inability to say no. She had very little insight when it came to music and live performances.
She discovered pretty quickly that judging on a silly singing show was much much harder than it looked. Howard acknowledged how difficult the job could be. But as a current member on the panel of America's Got Talent, Stern does a good job delivering clear, honest critiques.
What a misfire that was on the part of Idol producers, hiring her as a judge. If not dead last, I'd put her near the bottom of the pile if I were ranking all the Idol judges.
Ellen talks about American Idol at the start of this video.
https://youtu.be/f1x1-pFfNDA