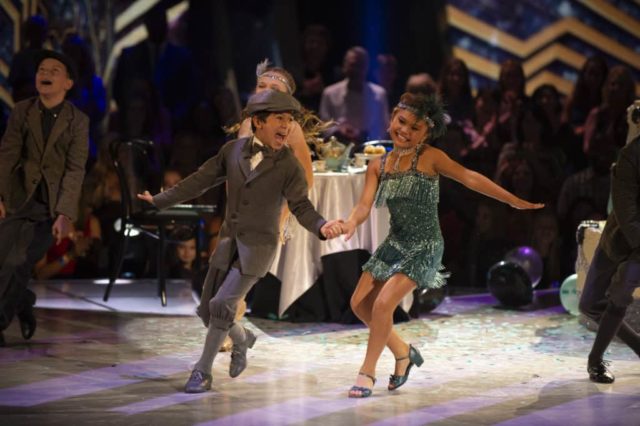 The five remaining celebrity kids will travel to the past as well as the future and perform a dance from their chosen era as "Time Machine" night comes to Dancing with the Stars: Juniors, Sunday Nov. 25 (8:00-9:00 p.m. EST), on ABC.
The night kicks off with all five couples and their mentors dancing to Walk the Moon's "Shut Up and Dance." For their "Time Machine" dances, the couples will go back in time to the 1920s, '40s, '50s and '80s, and one will take a peek into the future. Each couple will perform a quickstep, jazz, paso doblé, jive or Charleston. At the end of the night, there will be an elimination. The studio audience vote is combined with the judges' scores to determine who goes home at the end of each episode.
Each couple will dance to the following songs (in alphabetical order):
Ariana Greenblatt and Artyon Celestine (mentored by Brandon Armstrong) – '40s Quickstep – "Classic" by MKTO
Mackenzie Ziegler and Sage Rosen (mentored by Gleb Savchenko) – '80s Jazz – "Call Me Maybe" by Carly Rae Jepsen
Mandla Morris and Brightyn Brems (mentored by Cheryl Burke) – Futuristic Paso Doblé – "Gangsta's Paradise" by 2WEI
Miles Brown and Rylee Arnold (mentored by Lindsay Arnold) – '50s Jive – "Rock Around the Clock" by Bill Haley & His Comets
Sky Brown and JT Church (mentored by Alan Bersten) – '20s Charleston – "A Little Party Never Killed Nobody (All We Got)" by Fergie & Q-Tip & GoonRock
Hosted by Dancing with the Stars season 25's Mirrorball Trophy winner Jordan Fisher and finalist Frankie Muniz, Dancing with the Stars: Juniors is a fresh take on an established favorite in which 12 celebrity kids are partnered with professional junior ballroom dancers to perform choreographed routines that are judged by choreographer Mandy Moore, professional dancer Val Chmerkovskiy and Dancing with the Stars: Athletes champion, Adam Rippon.