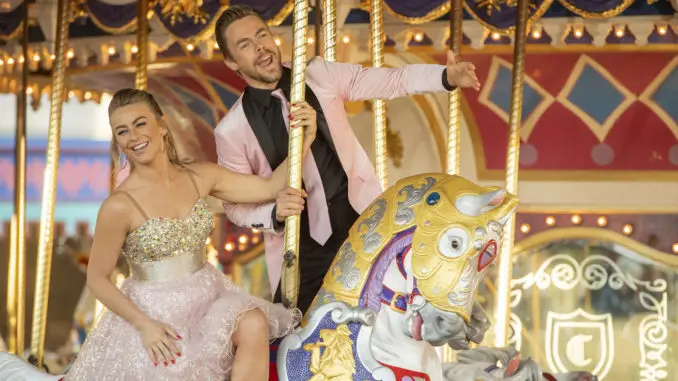 Derek Hough and sister Julianne Hough will host the Disney Parks Magical Christmas Day Parade, SATURDAY, DEC. 25 (10:00 a.m.-12:00 p.m. EST/PST) from Walt Disney World Resort, alongside Freeform's Trevor Jackson (grown-ish) and Sherry Cola (Good Trouble) from the Disneyland Resort. The favorite Christmas morning tradition returns after last year's COVID related cancelation.
Darren Criss & Adam Lambert Try to Trick the "Man with the Bag" (Video)
A bunch of favorite singers will perform on the special, including Derek and Julianne, a'cappella sensations Pentatonix, Glee star Darren Criss, American Idol and DWTS alum Jimmie Allen and The Voice mentor Kristin Chenoweth.
In addition to the parade, musical performances for Disney Parks Magical Christmas Day Parade include the following:
Derek Hough and Julianne Hough – "Santa Claus is Comin' to Town"
Jimmie Allen – "White Christmas"
Kristin Chenoweth – "Have Yourself a Merry Little Christmas"
Darren Criss – "Christmas Dance"
Meg Donnelly – "Jingle Bell Rock"
Brett Eldredge – "Rudolph the Red-Nosed Reindeer"
Norah Jones – "Run Rudolph Run"
Pentatonix – "I Saw Three Ships"
Gwen Stefani – "Cheer for the Elves"
Darren Criss and Derek Hough Promote the special with a HAPPY DANCE
 

 

 

View this post on Instagram