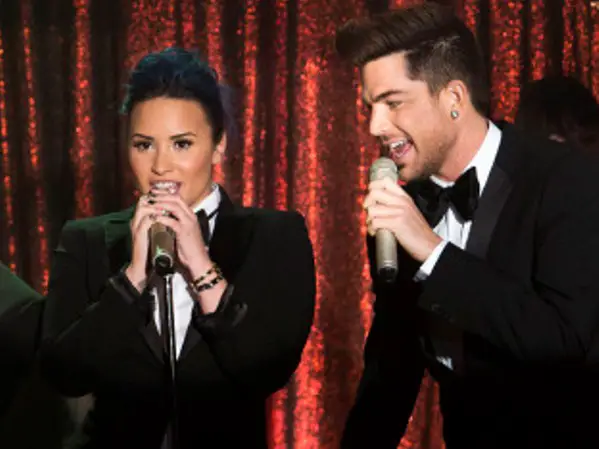 TMZ sources say that Demi Lovato "dumped" Adam Lambert from her world tour, replacing him with Nick Jonas. Reportedly, Adam is "real upset."
From the TMZ story:
Our sources say Demi's people locked in Adam to join her on tour and they were working out details like lighting, billing, etc. Demi and Adam had agreed on the essential terms, including money.

Demi and Nick are repped by the same manager and we're told the manager wanted to place Nick in a tour, because he's hot now and didn't have one, so he convinced Demi to dump Adam for Jonas.

Demi was supposed to announce the tour last week but delayed it … and now we know why.

We're told Adam feels betrayed and angry words were exchanged between the 2 camps.

An Adam source called the switch "very unprofessional and unethical."
That sounds dramatic! TMZ usually gets the outline of the stories they report correct, but embellish them for maximum clickbait potential. Adam may or may not be "real upset" that Demi "dumped" him from the tour. Or maybe he is, and his people leaked the tidbit to make Demi look bad. More will be revealed, I'm sure.
The situation sounds like the usual politicking that goes on behind the scenes when these massive tours are put together. No surprises here.
The photo, by the way, is from a season 5 episode of Glee. Demi and Adam appeared together as guest stars on the FOX musical comedy.
Via TMZ
UPDATE: Adam and Demi respond via twitter:
Aww I love you all very much. No beef tween @ddlovato & @nickjonas and me. Biz negotiations are complex- why do we care about the #rumors?

— ADAM LAMBERT (@adamlambert) October 24, 2015
Just goes to show how accurate @TMZ really is… I ? you @adamlambert ???

— Demi Lovato (@ddlovato) October 24, 2015