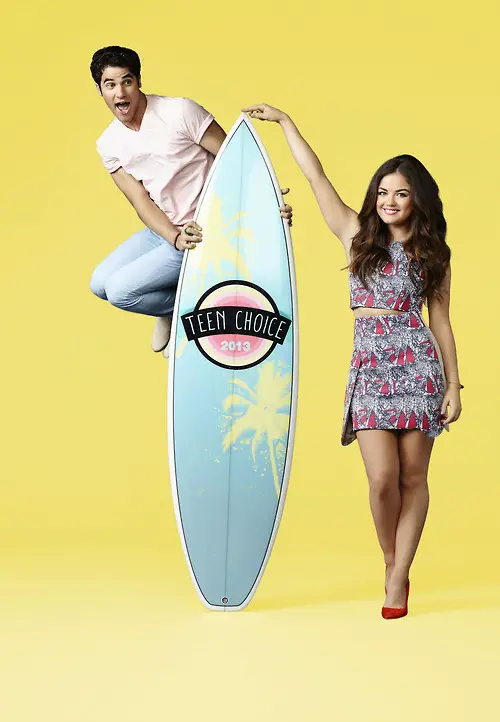 Some additions to Sunday's Teen Choice Awards! Demi Lovato will be performing and American Idol winner, Candice Glover is set to appear!
Fifth Harmony and Little Mix will also appear to hand out special awards. It's a Simon Cowell groups extravaganza, as his other proteges, One Direction are set to perform.
There's a rumor that the Glee cast, many of whom are up for various awards will appear, but I think that would have been announced already. Darren Criss is set host, along with  Lucy Hale.
Check out the new press release below. The Teen Choice Awards air Sunday August 11. We'll be live blogging them here!
***
DEMI LOVATO TO PERFORM "MADE IN THE USA" ON "TEEN CHOICE 2013" AIRING LIVE Sunday, August 11, on FOX
Fifth Harmony to Present the ACUVUE® Inspire Award and Little Mix to Present the Candie's Fashion Trendsetter Award
Newly Added Stars Scheduled to Appear Include Selena Gomez, Ashton Kutcher, Candice Glover, Keegan Allen, Josh Gad, Shay Mitchell, Troian Bellisario, Ashley Benson, Anna Camp, Nina Dobrev, Ian Harding, Fifth Harmony, Alexis Knapp, Hana Mae Lee and Janel Parrish  
 THE X FACTOR judge and platinum-selling artist Demi Lovato will perform her latest single, "Made in the USA," from "Demi," her self-titled album which debuted at No. 3 in the U.S., during TEEN CHOICE 2013 airing Sunday, Aug. 11 (8:00-10:00 PM ET live/PT tape-delayed) on FOX.
THE X FACTOR Season Two finalists, Fifth Harmony, along with Lovato, will present the ACUVUE® Inspire Award, which will be given to an inspirational person who, over the past year, has used his or her celebrity stature to make a difference in the lives of teens. Past recipients include Lovato and Miranda Cosgrove. Finally, Little Mix will present the Candie's Fashion Trendsetter Award.  Little Mix's debut album, "DNA," debuted in the Top 5 on the Billboard 200 chart and became the highest-charting album for a U.K. girl group ever, even surpassing the Spice Girls.
Demi Lovato has had a phenomenal 2013, spurred by "Heart Attack," the first single off her recently released fourth album, "Demi," which debuted at No. 1 on the iTunes chart in more than 25 countries (including the U.S.) and No. 12 on the Billboard Hot 100. The single achieved gold status in the U.S. and Canada within just four weeks of its release, and achieved platinum status in the United States and Canada within just 10 weeks of its release. "Heart Attack" also became the most added song on Top 40 radio in the U.S. the week it premiered. "Demi," which was released in May, debuted at No. 3 in the U.S., making it Lovato's fourth Top 10-debuting album. "Demi" has reached No. 1 on iTunes in more than 50 countries since its debut. Lovato co-wrote nearly every song on "Demi," along with a team of top producers and writers, including TheSUSPEX (Mitch Allan and Jason Evigan), Priscilla Renea, Ryan Tedder, Emanuel "Eman" Kiriakou, Carl Falk, Rami Yacoub, Savan Kotecha, Ali Tamposi, The Monsters and The Strangerz, Jonas Jeberg, Anne Preven and Matt Rad. Also, Lovato co-directed the video for her latest single, "Made in the USA."
Hosted by GLEE's Darren Criss and "Pretty Little Liars'" Lucy Hale, TEEN CHOICE 2013 celebrates the hottest teen icons in television, music, film, sports, fashion, comedy and the web. Keegan Allen, Ashley Benson, Troian Bellisario, Anna Camp, Nina Dobrev, Josh Gad, Candice Glover, Selena Gomez, Ian Harding, Fifth Harmony, Alexis Knapp, Ashton Kutcher, Hana Mae Lee, Shay Mitchell and Janel Parrish join previously announced stars scheduled to appear Erin Andrews, Skylar Astin, Abigail Breslin, Sandra Bullock, Lily Collins, Miley Cyrus, Alexandra Daddario, Adam DeVine, Gabby Douglas, Emblem3, Max Greenfield, Simon Helberg, Liam Hemsworth, Brandon T. Jackson, Logan Lerman, Little Mix, Demi Lovato, Ross Lynch, Laura Marano, Bridgit Mendler, Christopher Mintz-Plasse, Maia Mitchell, Chloë Grace Moretz, Jim
Parsons, Ben Platt, Tyler Posey, Leven Rambin, Cody Simpson, Brittany Snow, Ian Somerhalder, Hailee Steinfeld, Bella Thorne, The Wanted, Kerry Washington, Russell Westbrook and Rebel Wilson. The special also will feature previously announced performances by One Direction Paramore and Florida Georgia Line.
Fans ages 13-19 can vote once each day per category for their favorite TEEN CHOICE 2013 nominees at www.teenchoiceawards.com.
Read more:
Darren Criss, Lucy Hale to Co-Host Teen Choice Awards 2013 – It's Official (PHOTOS)
Final FOX Teen Choice 2013 Nominations Announced
FOX Announces 2nd Wave of Teen Choice 2013 Nominees
First Wave of Teen Choice Nominations Announced