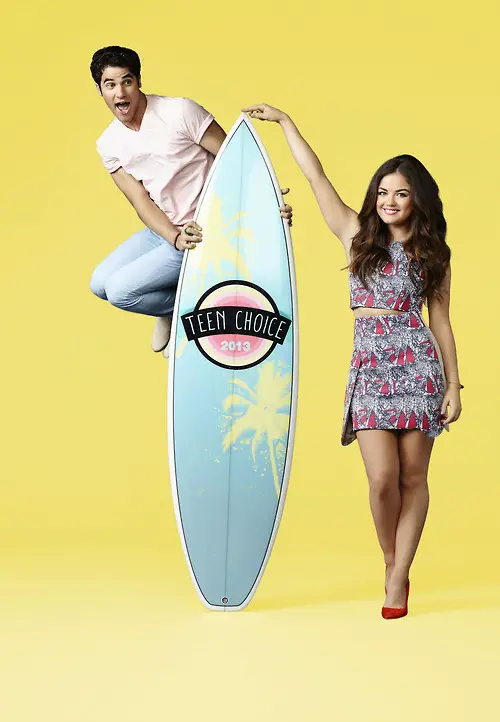 We reported last week that Glee star Darren Criss and Lucy Hale from the ABC Family show, Pretty Little Liars were lined up to co-host the Teen Choice Awards on FOX Sunday August. 11. But, here's the official press release from the network.
Kerry Washington, Ian Harding and and Janel Parrish have been added to the lineup, which also includes Emblem 3 and Demi Lovato. One Direction is set to perform.
Check out the press release.
DARREN CRISS AND LUCY HALE TO CO-HOST "TEEN CHOICE 2013" AIRING SUNDAY, AUGUST 11, LIVE ON FOX
 Kerry Washington, Ian Harding, Janel Parrish and Shay Mitchell Scheduled to Appear
Vote for Your Favorite Nominees Online at www.teenchoiceawards.com Until Sunday, August 11
Musician, actor and 2011 TEEN CHOICE Breakout Star Darren Criss and singer, actress and three-time TEEN CHOICE winner Lucy Hale are set to co-host TEEN CHOICE 2013, airing LIVE Sunday, Aug. 11 (8:00-10:00 PM ET live/PT tape-delayed) on FOX.
Fans ages 13-19 can vote once each day per category for their favorite TEEN CHOICE 2013 nominees at www.teenchoiceawards.com. Voting ends at 11:59 PM PT on Saturday, Aug. 10.
Darren Criss recently wrapped his first ever sold-out North American solo tour. Entitled, "Listen Up," the tour visited 17 cities, including Los Angeles, New York, Toronto and Nashville, giving fans a sneak peek at what he's been working on for his forthcoming album. He made his feature film debut this month in "Girl Most Likely," opposite Kristen Wiig, Annett Benning and Matt Dillon. Criss has topped the Billboard charts as a musician, composer and performer and currently stars as "Blaine Anderson" on FOX's Emmy Award-, Golden Globe Award? and TEEN CHOICE Award-winning series GLEE.
Lucy Hale recently signed with Hollywood Records and is due to release a country album in 2014. Currently, Hale stars as "Aria Montgomery" on the hit cable series "Pretty Little Liars," and recently starred in "A Cinderella Story: Once Upon a Song." She starred in the critically acclaimed series "Privileged," she appeared in the feature film "The Sisterhood of the Traveling Pants 2," and she also was seen in the telefilm "Sorority Wars." A native of Memphis, TN, Hale was a contestant on FOX's unscripted music competition series "American Juniors," finishing in the Top Five and becoming a member of the band which was formed at the show's conclusion.
TEEN CHOICE 2013 celebrates the hottest teen icons in television, music, film, sports, fashion, comedy and the web. Kerry Washington, Ian Harding, Janel Parrish and Shay Mitchell join previously announced stars scheduled to appear Erin Andrews, Skylar Astin, Abigail Breslin, Emblem3, Max Greenfield, Simon Helberg, Demi Lovato, Laura Marano, Bridgit Mendler, Hailee Steinfeld, Bella Thorne, The Wanted, Russell Westbrook, Rebel Wilson, Lily Collins, Alexandra Daddario, Liam Hemsworth, Brandon T. Jackson, Logan Lerman, Chloë Grace Moretz, Tyler Posey, Leven Rambin and Ian Somerhalder. The special also will feature previously announced performances by One Direction and Paramore. Additional presenters and performers to be announced soon.
TEEN CHOICE 2013 is executive-produced by Bob Bain ("Nickelodeon Kids' Choice Awards") and Michael Burg. Paul Flattery and Kelly Brock serve as producers and Greg Sills serves as supervising producer. "Like" TEEN CHOICE 2013 on Facebook at www.facebook.com/teenchoiceawards. Follow the special on Twitter @teenchoicegirl and join the conversation at #teenchoice.