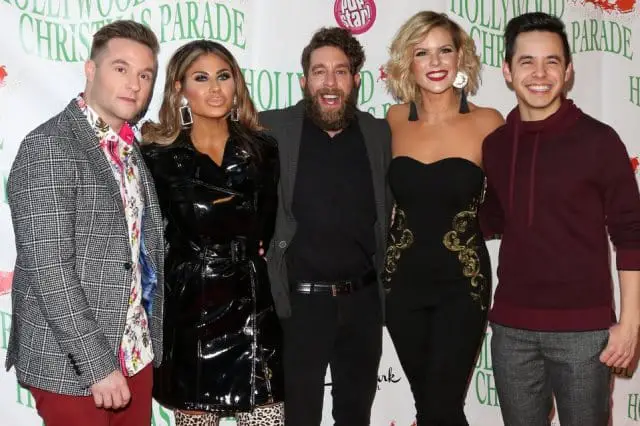 The 87th Annual Hollywood Christmas Parade, the "largest Christmas celebration in America." took place on Hollywood Boulevard Sunday, Nov 25, 2018 and featured a slew of American Idol alums. Live musical performances took place on two stages and featured David Archuleta (season 7), Ruben Studdard (season 2 winner), Blake Lewis (season 6), Mikalah Gordon (season 11), Elliott Yamin (season 5), and Kimberly Caldwell (season 2).
Currently, David Archuleta is out on tour promoting his new Christmas album, Winter in the Air. And Ruben Studdard is starring in a Holiday show on Broadway alongside season 2 runner-up Clay Aiken.
The CW Network featured the parade in a two hour special which aired Friday (Dec 14). The singers performances, set up on stages close by the parade route, were edited in between various TV stars riding in convertibles, high school marching bands and eventually Santa making his grand entrance at the end.  Hosted by Erik Estrada, Laura McKenzie, Dean Cain and Montel Williams, the parade special is 2 hours of holiday cheese! Check your local listings for repeats. But in the meantime, watch the performances below. 
David Archuleta performs his new holiday single "Christmas Everyday"
https://vimeo.com/306598167
Blake Lewis Performs the classic carol God Rest Ye Merry Gentlemen
Kim Caldwell performs All I Want for Christmas
Mikalah Gordon performs Santa Baby
Elliott Yamin performs Donny Hathaway's This Christmas
Ruben Studdard Performs Luther Vandross' At Christmas Time