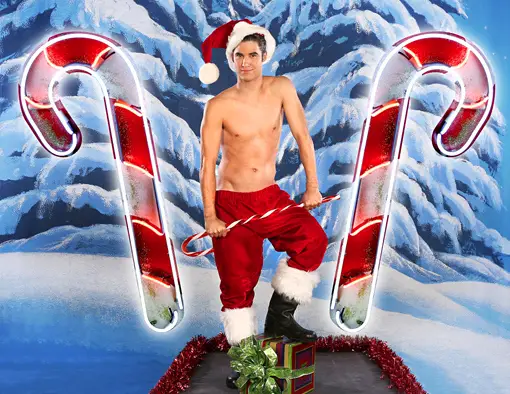 When Glee co-creator, Ryan Murphy first began tweeting shirtless photos of the musical comedy's male castmembers, I wondered what was up. Ryan teased that it was for a "Men of McKinley" calendar which he promised would be coming soon. "Like something you can buy?" I excitedly asked myself, until I remembered that although these actors are mostly in their twenties, they are playing high schoolers. Squicky!
Turns out, Entertainment Weekly has the scoop. The "Men of McKinley"calendar will appear in an upcoming episode of Glee. I'm guessing the gang puts the calendar together to raise money for…something. Maybe the choir is just totes over bake sales? Or Sugar Motta's dad has run out of money?
Blaine (Darren Criss) is OBVIOUSLY Mr. December. Ryan also tweeted a photo of Ryder (Blake Jenner) as Mr. July. What about Sam (Chord Overstreet)? He'd make a cute springtime poster boy. He could jump topless out of a pink Easter egg! He's got the stripper moves, right?
Don't bother to look for these photos on Ryan Murphy's twitter, @MrRPMurphy. His account has been mysteriously wiped clean of all tweets.
I wonder if he's been hacked? And if so, which ship's disgruntled fans did it? Ha.
Glee will return with new episodes on January 24.