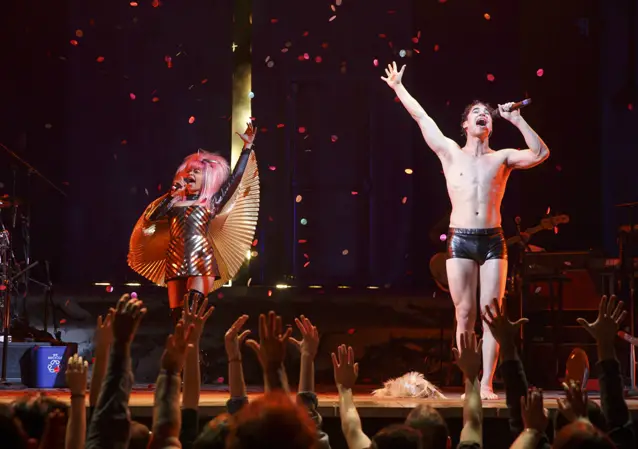 Darren Criss, currently starring in Hedwig and the Angry Inch on Broadway, apologized on Facebook for an improvised joke he told, on stage as Hedwig, at Caitlyn Jenner's expense.
I want to sincerely apologize to Caitlyn Jenner, all transgender people, and anyone who was offended for my words on stage during Tuesday evening's performance. In no way do the remarks reflect my personal belief system or my support for transgender people. However, I do realize the severity of the comment and the weight that words can carry and for that, I take full responsibility. I commend Caitlyn on her strength and for spreading acceptance around the globe. I have been and remain a proud and unwavering ally of the LGBTQIA community, and will continue to walk alongside my friends on the road to full equality and acceptance.
The controversy, which has been going down on social media over the last couple of days, began after several tweets from theatergoers who were upset that Darren/Hedwig misgendered Caitlyn Jenner on stage Tuesday night.
Tonight, Darren Criss, as HEDWIG said, "man, woman, moman, wan, Bruce Jenner, whatever you are" and it was very distasteful.

— Marc Lacognata (@marclacognata) June 24, 2015
Unsurprisingly, the internet exploded with reactions that ran the gamut from outrage to passionate defense, with the line often being drawn along fandom lines. Some insist that Darren was in character as HEDWIG–a genderqueer and outrageously un-pc character who is tactless on the regular. Others believe Darren crafted an inappropriate and insensitive joke, regardless of context.
The original scripted line references Hedwig's fragrance line "Atrocity," marketed for "man, woman, moman, wan…whatever you are." The original joke doesn't target a specific person, although I've heard that the line had been amended pre-Darren, to use transgender actress, Laverne Cox, as the punchline. Note that Cox joke does NOT use Laverne's birth name, which is the main issue with Darren's version.
The controversy was pretty well contained in the Glee and Hedwig fandoms, until Darren's apology. He must have received such a huge backlash, he felt compelled to address it. Lucky for him, today is NOT a slow news day. His apology, ironically, is overshadowed by the news that SCOTUS struck down same-sex marriage bans.
Darren has been a vocal supporter of LGBT causes ever since he was cast, in 2010, as gay high school student, Blaine Anderson, on the FOX musical comedy Glee. I honestly believe the joke wasn't malicious. But he crafted a tone-deaf and awkward ad-lib that frankly, wasn't very funny. Caitlyn only announced her transition a few months ago and has had to endure plenty of criticism and backlash as a result. She's had plenty of support as well–evidenced by the strong reaction to ANYONE who misgenders or cracks insensitive jokes at her expense (See: Drake Bell). But, if you're going to make tacky quips at her expense, at least call her by her NAME. It's no longer Bruce. Darren didn't think that one through, to say the least.
It's Pride weekend in New York City. Darren and his Hedwig co-star, Rebecca Naomi Jones, will be featured on the HMI parade float alongside HMI youth members who will walk during the parade. Taye Diggs is set to take over the role when Darren finishes his Hedwig run on July 19.