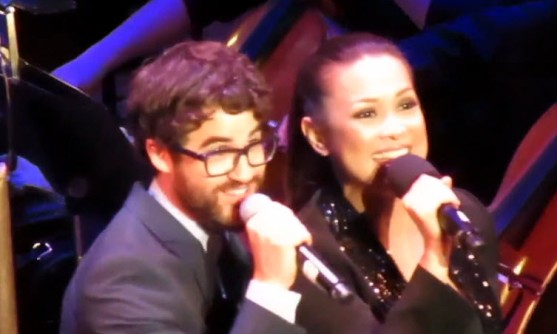 Glee star, Darren Criss, performed last night (June 15) at the Kennedy Center in Washington DC as part of the After the Storm, a benefit concert for the victims of Typhoon Haiyan in the Philippines.
During the concert, he teamed up with Broadway star, Lea Salonga, to perform the Disney classic "A Whole New World" from Aladdin. Not only did Lea originate the role of Kim in the Broadway musical, Miss Saigon, but she also played two Disney princesses on film–Jasmine (Aladdin) and Mulan (Mulan).
The two have performed the song before. First, at an Alan Menken tribute concert in 2011 and again at a piano bar in the West Village. Lea explains their history with the song in her introduction, but if you want to skip straight to the performance, go to about the 2:52 mark.
Actor, Lou Diamond Phillips has an hilarious cameo as he prances across the stage in the middle of the song, cracking both singers–and the audience up!
Both Lea and Darren have a special connection to the cause. She is originally from the Philippines and his mother was born and raised there.
Bonus video:
Darren and apl.de.ap sing the Black Eyed Peas, Where is the Love
Darren performs his original song, Not Alone