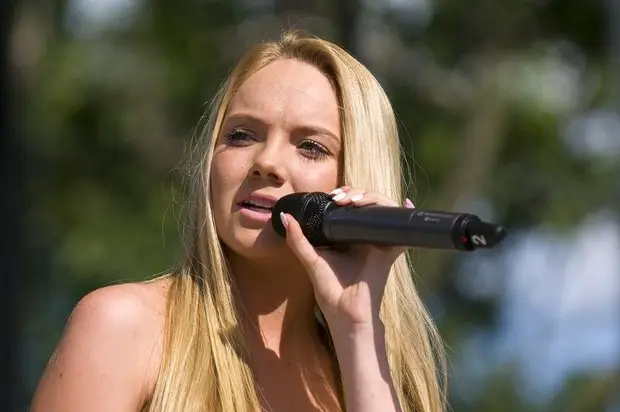 Yesterday at a performance at the Indiana State Fair, Danielle Bradbery debuted a new original tune called "Never Like This." Written by Steve McEwan, Gordie Sampson, and "The Heart Of Dixie" and "Wasting All These Tears" cowriter Caitlyn Smith, "Never Like This" is a pop-leaning song about falling in love that could double as a coronation song celebrating Danielle's journey on The Voice.Check out Danielle's 1st public performance of "Never Like This" here:
Check out Caitlyn Smith's demo of the song here:
[soundcloud url="http://api.soundcloud.com/tracks/93245164″ params="" width=" 100%" height="166″ iframe="true" /]
Though the verses are kind of vague and don't have much of a melody, the big chorus seems tailor-made for Danielle's voice.
"The Heart Of Dixie" currently sits at #45 on the Billboard Country Airplay charts and #46 on the Mediabase country chart in its 4th week charting, and had sold 100k downloads in 3 weeks (78k in its 1st week, then 15k, then 7k). This is likely the other song Danielle recorded that was under consideration for her lead single. What do you think of "Never Like This," and would you have preferred it as a single to "The Heart Of Dixie"?