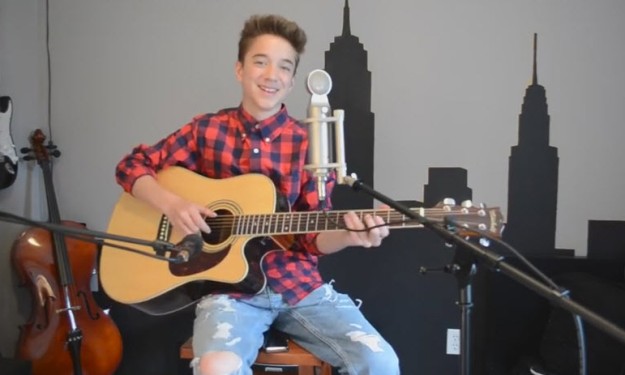 Sixteen year old Daniel Seavey was eliminated from American Idol a few weeks ago. Now the young singer has uploaded his first post-Idol cover. He's not sure who originally did "How Sweet It Is" (That would be Motown's The Four Tops, kiddo). His rendition is based on a cover by his musical inspiration Jimmy Needham.
The video editing includes a few of Daniel's false starts, which up the adorable factor. Theres one shot of him staring at his smart phone, which I'm sure many of his young fans can relate. Geez. It makes ya just want to pinch his cute little cheeks.
He accompanies himself on acoustic guitar. What was lost in the chatter about his changing voice and inability to sing in tune, was Daniel's musicality. He's obviously has some musical gifts, as his deft guitar playing reveals here. Unfortunately, he was just a bit underbaked as an artist. A few more years of seasoning before auditioning would have done him some good. In a comfortable setting, with the opportunity or do-overs, Daniel also has the ability to stay on pitch.
As a super-special bonus, here's another cover from American Idol 14 alums: Adam Ezegelian, Sarina Joi Crowe, and Katherine Winston cover Paramore's "Ain't It Fun." This is really good! So many talented singers on American Idol this season. Sigh.