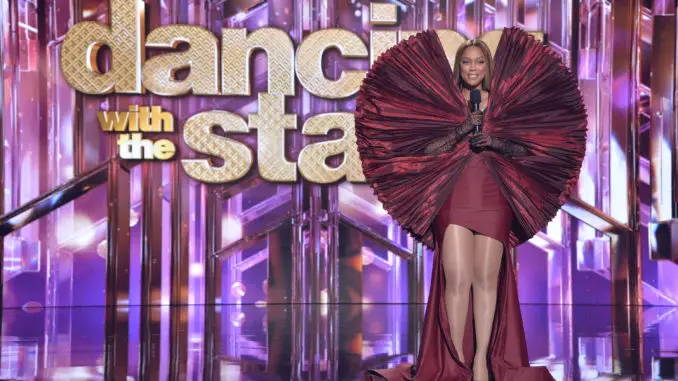 It's time for Week 2 of Dancing With The Stars! No elimination on last week's premiere means all 15 couples will return to the ballroom to perform new routines, but not every pro will be joining them tonight…
Over the weekend, pro dancer Cheryl Burke took to Instagram in an emotional video where she announced she has tested positive for a breakthrough case of COVID-19. We don't know what this means for her celebrity partner Cody Rigby, but it can only be assumed he'll be paired with a troupe member until Cheryl can come back.
It was also found out that pro Jenna Johnson, paired with JoJo Siwa in the show's first-ever same-sex partnership, was left injured after her slip during last week's performance. But fortunately for JoJo, after a day of rest, Jenna will be able to perform on tonight's live show.
Tonight will also include the season's first elimination at the end of the show. Below is voting information for each contestant if you're voting by text, or you can vote at ABC.com.
Text AMANDA to 21523
Text BRIAN to 21523
Text CHRISTINE to 21523
Text CODY to 21523
Text IMAN to 21523
Text JIMMIE to 21523
Text JOJO to 21523
Text KENYA to 21523
Text MARTIN to 21523
Text MATT to 21523
Text MELANIE to 21523
Text MELORA to 21523
Text MIZ to 21523
Text OLIVIA to 21523
Text SUNI to 21523
After a firey troupe performance, Tyra struts down to the floor and announces that because Cheryl has tested positive and was in close contact with Cody, he is not in the studio with them tonight – but still plans to perform. Stay tuned for how exactly they plan to do that…
Matt James & Lindsay – Samba
I think Matt's effort is always appreciated, but he was far too stiff for a Samba. Throwing his shirt to Bruno was just a waste of time, and there was hardly any bounce. The space props get an A+ though.
Len starts off the judging by calling the shirt moment unnecessary, while Derek criticizes Matt's lack of bouncing (Samba is all about the bounce!). Bruno had no comments aside from being awestruck by Matt's shirtless body, and Lift Master Carrie Ann pointed out a lift in heir performance.
Carrie Ann- 5, Len- 5, Derek- 6 (for charisma!), Bruno- 6 = 22/40
Olivia Jade & Val – Viennese Waltz
Olivia has really impressed me so far. Viennese Waltz has a very specific form to it, and she executed it perfectly. She's not the best dancer this season, but she looks like someone who just learned how to ballroom dance and do it well, and I think she'll get better and better each week.
Derek says she looked like "a breeze dancing across the floor." Bruno agrees with me, saying for a beginner ballroom dancer, she's done so well. Carrie Ann's comments always end up sounding confusing (to me), but she didn't give any criticism. Len says they did a good job and compliments their hold. 
Carrie Ann- 7, Len- 6, Derek- 7, Bruno- 7 = 27/40
Kenya Moore & Brandon – Cha Cha Cha
Kenya also isn't the best dancer this season, but her chemistry with Brandon was what made this performance shine. I can see them having a great partnership and friendship going forward. It was a fairly simple routine, but they look so great dancing together.
Bruno says Kenya is irresistible. Carrie Ann says Kenya had a rough start, but it was still amazing. Len says she has "plenty of gear in the rear." Derek says she had beautiful rotation despite her wobbles here and there.
Carrie Ann- 6, Len- 6, Derek- 6, Bruno- 6 = 24/40
The Miz & Witney – Tango
This week made me wonder why The Miz was partnered with Witney height-wise. There was something awkward about the performance because The Miz is so tall and Witney really had to reach to be at the right level. That being said, I thought The Miz did better than expected. Great footwork and great frame!
Tyra sums up Carrie Ann's reaction when she says, "Carrie Ann, you look so happy!" Len said there was plenty of attack, but very little finesse. Derek excitedly says how impressed he was and Bruno calls it a "power Tango."
Carrie Ann- 7, Len- 5, Derek- 7, Bruno- 7 = 26/40
Brian Austin Green & Sharna – Rumba
Nothing like a real-life couple doing the dance of love! And to the song "Say You Won't Let Go" by James Arthur? Surrounded by Van Gogh artwork? Very beautiful, but… not much dancing. Not much content. Honestly, not much Rumba…
Len says there wasn't much he liked (can't say I disagree) and Derek remarks that this dance was more "for them," then goes on to critique Brian's floppy arm. Bruno says it looked more like a Contemporary. Carrie Ann compliments their clear chemistry.
Carrie Ann- 6, Len- 5, Derek- 6, Bruno- 6 = 23/40
Christine Chiu & Pasha – Salsa
Another one that impressed me! Christine has very natural rhythm and good partnership with Pasha. That Salsa was full of content with some great steps. She does, however, have times where she keeps her movements short, and that's the opposite of what you should do with a Salsa. Salsa is quick, yes, but Salsa steps are also hard, and Christine just didn't nail them completely.
Derek says he could see tension come out during the performance. Bruno tells her she needs to keep control and be consistent. Carrie Ann says 75% of the performance was awesome. Len says he doesn't think the star going home will be her. 
Carrie Ann- 6, Len- 6, Derek- 6, Bruno- 6 = 24/40
Jimmie Allen & Emma – Rumba
There's something simultaneously special and pretentious about someone dancing to their own song. That aside, my first thought when watching the performance was, "Those arms though!!" Jimmie had beautiful arms and Latin motion throughout the entire dance, and did incredibly well (especially for Week 2!).
Bruno compliments his arms and lines. Carrie Ann says she felt her heart attached to Jimmie's dancing. Len critiques his footwork, but says he did better than last week. Derek say his upper half was better than his lower half.
Carrie Ann- 7, Len- 6, Derek- 7, Bruno- 7 = 27/40
Amanda Kloots & Alan – Foxtrot
Something you can see in Amanda is her Broadway dance background, and I believe I mentioned it last week as well. She's not a bad ballroom dancer in the slightest, she just has a flimsiness to her at times. The routine was full of content, and Amanda has great kicks.
Carrie Ann says it looked like a Broadway musical built around Amanda. Len says it helps when he loves the song and wished the dance went on even longer. Derek tells her to use those beautiful legs and that she's a vision. Bruno ends with, "if you've got it, flaunt it!"
Carrie Ann- 8, Len- 8, Derek- 8, Bruno- 8 = 32/40
JoJo Siwa & Jenna – Cha Cha Cha
A few things: 1) JoJo's height hurts her in this dance, in my opinion. Having long legs can make Latin dances trickier. 2) JoJo is another one whose dance background shows while she's dancing. The way she hits each step is very Hip Hop-esque, and some of it was a little too hard for a Cha Cha. 3) As much as I'm enjoying the matching outfits, I do hope it changes throughout the season… That being said, that was some of the best Cha Cha choreography I've ever seen!
Len says this was his favorite Latin dance of the season (on Week 2? lol). Derek gets his first boo of the season when he criticizes that "more isn't more." Bruno says it was crisp and crackling, and that she pops out of the screen but needs more control. Carrie Ann calls it "a dance-off in all the good ways."
Carrie Ann- 8, Len- 8, Derek- 7, Bruno- 8 = 31/40
Iman Shumpert & Daniella – Rumba
Unimpressed. Iman did basically nothing, letting Daniella do all the work while he stood there holding her. It was also a very distracting song for what's supposed to be a calm and sensual dance.
Derek says Iman's clear enjoyment makes  everyone enjoy it. Bruno says he appreciates the work Iman put into it. Carrie Ann says he has something special. Len says he liked it, but not that much (lol) and it was a great improvement from last week.
Carrie Ann- 7, Len- 6, Derek- 6, Bruno- 6 = 25/40
The show comes back from break with Tyra looking like a Peacock as she introduces Martin Kove…
Martin Kove & Britt – Cha Cha Cha
Goodness… Martin is one I honestly really enjoy. Not dance-wise whatsoever, but as a whole, his performances are so much fun. He really didn't do a whole lot of dancing, just some more Cobra Kai hand motions, but I can't see it being enough to keep him in the competition much longer.
Bruno says his steps weren't in the right order or the right time. Carrie Ann says he let loose, but that his solo had no choreography at all. Len compliments Britt's efforts, while Derek says he enjoyed the opening "James Brown" move.
Carrie Ann- 4, Len- 3, Derek- 4, Bruno- 4 = 15/40
Melora Hardin & Artem – Rumba
Melora had such a smoothness to her in this routine, and I'm sure it's thanks to her dance background (so many trained dancers this season…). Her arms could use some work, but it was a beautiful routine. Reminded me of the little spinning dancers in a music box.
Carrie Ann calls it dramatic and that the performance was well-balanced. Len says it was "easy like Sunday morning," but that she needs more hips going on. "Melora, I adore ya," says Derek. Bruno says it was "beautifully acted."
Carrie Ann- 7, Len- 6, Derek- 7, Bruno- 7 = 27/40
After the commercial break, we get to see Cody Rigby and Cheryl's package as they train for this week, then it cuts to Cheryl's Instagram video from over the weekend, and a sweet message from Cody.
Instead of a live performance, we get to see a taped one of their planned routine while in rehearsal.
Cody Rigby & Cheryl – Salsa
Let's ignore Cheryl's flying hoodie and Cody's unmatching hot pink shoes for a moment. He's got some rhythm. He's got better footwork compared to his arms, but I think this routine is proof Cody has the potential to go far in this competition.
Cody and Cheryl receive their judging via Zoom, and Len says it was full of razzle dazzle with lots of Salsa content. Derek says it was really good for rehearsal. Bruno says the ballroom would have added an extra layer to the performance and insults his shoes, calling them "Pepto Bismol shoes" (lol!). Carrie Ann says it wasn't fantastic.
Carrie Ann- 6, Len- 6, Derek- 6, Bruno- 6 = 24/40
Melanie C & Gleb – Foxtrot
I must say, the dancer in me was distracted by the way they looked at first like they were going opposite of the line of dance. But that's on Gleb. Melanie almost looked like a pro in this routine, and that's all her.
Derek says she's a gorgeous dancer, but tells her not to look down so much. Bruno says she managed to combined lyricism with dynamics. Carrie Ann says she needs to watch her clenching left hand. Len makes a "Please, Please Me" reference (because she danced to "Here Come The Sun") and says he did indeed please her.
Melanie C then gets a surprise message from Ringo Starr while the judges do their thing.
Carrie Ann- 7, Len- 7, Derek- 8, Bruno- 8 = 30/40
Suni Lee & Sasha – Cha Cha Cha
Sasha really utilizes Suni's gymnast background in their routines while still keeping the correct content. Suni is a good dancer, but she would be great if she could find her confidence. She looks like she's always thinking about which step comes next rather than enjoying the performance. Her medal selfie at the start of the routine was cute though!
Bruno, wearing her gold medal, says it was precise and clean, but she needs to start becoming the character of the dance. Carrie Ann disagrees, saying she thought Suni was more herself in this performance. Len says she came out and performed much better. Derek says it was "sassy Suni."
Carrie Ann- 7, Len- 7, Derek- 7, Bruno- 7 = 28/40
Tyra announces the couples dancing next week: Iman and Daniella, Amanda and Alan, Suni and Sasha, Cody and Cheryl, Matt and Lindsay, JoJo and Jenna, Melora and Artem, Jimmie and Emma, Melanie C and Gleb and Olivia and Val.
The next safe couple is The Miz and Witney, then Brian and Sharna, then Kenya and Brandon.
Between Martin and Britt and Christine and Pasha, the judges decide who will dance next week.
Derek chooses Christine. Bruno chooses Christine. Carrie Ann chooses Christine.
Martin and Britt are the first couple eliminated this season.
Judges' Scores
Amanda- 32
–
JoJo- 31
–
Melanie- 30
–
Suni- 28
–
Jimmie- 27
Melora- 27
Olivia- 27
–
Cody- 24
–
The Miz- 26
–
Iman- 25
–
Christine- 24
Kenya- 24
–
Brian- 23
–
Matt- 22
–
Martin- 15
That's a wrap on Week 2! Join me next Monday for what I believe is the show's first-ever Britney Night!