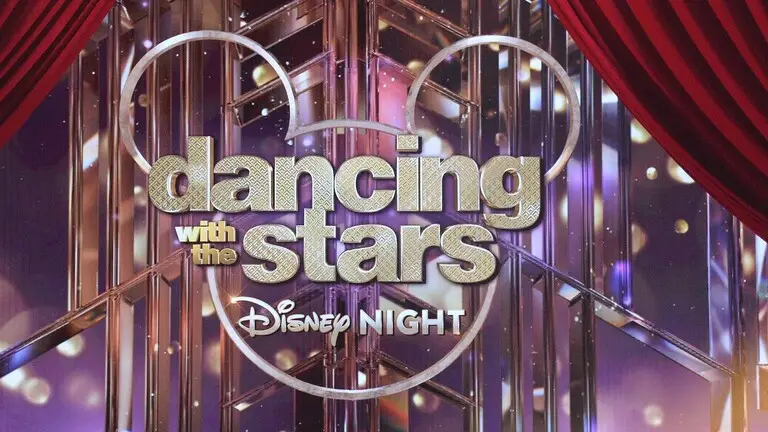 Welcome back to Disney Week of Dancing With The Stars!
Last night, we watched the stars become heroes on the dance floor when they danced to some classic Disney songs. JoJo Siwa showed us that every girl's dream is a wish her heart makes when she portrayed Prince Charming, Cody Rigsby stood out above the crowd in his Jive, and I think we all wanna be like Melora Hardin!
…did you really think you weren't going to get more Disney puns from me? lol
Last night's dances also featured the couples integrating the Mickey Dance Challenge into their routines, earning Jimmie and Emma 2 bonus points for their creativity and style. This places them in the middle of the leader board with 32/40, while JoJo and Jenna scored the first 9's of the season, leaving them tied with Olivia and Val at 35/40, only a point behind the highest scoring couple, Melora and Artem, with 36/40.
But tonight, the magic fades into wickedness for Disney Villains Night! No elimination last night means there will surely be one tonight, but you can keep your favorite couples in the competition by voting throughout the show! Below is voting information for each contestant if you're voting by text, or you can vote at ABC.com.
Text AMANDA to 21523
Text BRIAN to 21523
Text CODY to 21523
Text IMAN to 21523
Text JIMMIE to 21523
Text JOJO to 21523
Text KENYA to 21523
Text MATT to 21523
Text MELANIE to 21523
Text MELORA to 21523
Text MIZ to 21523
Text OLIVIA to 21523
Text SUNI to 21523
The show starts out with Tyra walking out like the villain she is (I'M KIDDING I PROMISE). But it was villainous the way she announced tonight's double elimination!
Jimmie Allen & Emma – Jazz
1)I personally wish this was done to a Disney song. 2) Emma makes the cutest Tinkerbell! 3) Look at Jimmie go!! It started out a little iffy but those solo moves were so good!! I've seen much better Jazz routines in the past choreography-wise, but Jimmie has really impressed the last two nights!
Len says he liked the concept and the lifts and that Jimmie is surprising him each week. Derek says he's impressed and Jimmie is one of those stars who transforms on this show. Bruno says Jimmie has him hooked! Carrie Ann says Jimmie's name 1000 times then calls the dance amazing. 
Carrie Ann- 9, Len- 8, Derek- 9, Bruno- 9 = 35/40 (total 67/80)
Jimmie announces his wife is "2 centimeters pregnant" (dilated?), so it's been a good night!
Cody Rigsby & Cheryl – Viennese Waltz
Oh my goodness, I felt like I was in Gaston's Tavern at Magic Kingdom! This performance really drew you in… dancing technique aside. Cody took a lot of extra steps there, but for a first-time Viennese dancer, you can't fault him. The performance was a lot of fun to watch!
Derek says Cody is a great performer but there's things to work on. Bruno says he's happy to see Cody in a full production and that he can work a stage despite the need for polishing. Carrie Ann remarks on the tiny stumbles. Len says he had natural reverse turns.
Carrie Ann- 8, Len- 7, Derek- 8, Bruno- 8 = 31/40 (total 58/80)
Melanie C & Gleb – Viennese Waltz
This looked like a bit of a slower Viennese compared to what I'm used to. Also, was that a little stumble, Melanie? It was more dreary than wicked in my opinion, but regardless, it was well-performed.
Bruno says, "Magnificent, Maleficent!" Carrie Ann says it was her best dance by far. Len says it was a fantastic atmosphere but there could have been more Viennese Waltz. Derek gives her props for navigating the horns on her costume lol.
Carrie Ann- 9, Len- 8, Derek- 9, Bruno- 9 = 35/40 (total 66/80)
I don't know what's happening but it comes back from commercial and there's a person crawling around the ballroom behind Tyra… lol
JoJo Siwa & Jenna – Paso Doble
Back to the matching costumes! lol Loved the way they went for wigs of side characters from Descendants rather than the main girls. This was also very Jenna-esque choreo, and that's not a bad thing! And one thing for sure is that dance was certainly W-I-C-K-E-D!
Carrie Ann says it was hectic and not JoJo's best dance. Len says he loved the control and both of her dances this week were fantastic. Derek agrees with Len, saying it was controlled and had lots of content. Bruno says JoJo and Jenna are equaled strong and equaled gifted and it was like watching two super villains fighting for supremacy. 
Carrie Ann- 8, Len- 9, Derek- 9, Bruno- 9 = 35/40 (total 70/80)
Kenya Moore & Brandon – Viennese Waltz
Again, not a Disney song… gorgeous crown though! Also, that's the right speed for a Viennese! I think these past two night have proved that Kenya's strength lies in ballroom dances rather than Latin or other styles. She really shines in these traditional ballroom dances!
Len says the technique wasn't great but the dance was done well. Derek says the Evil Queen was a vibe and that Kenya needs to believe she's fierce. Bruno says he loved the way Kenya played with the boy… Carrie Ann complains about a lift as usual.
Carrie Ann- 7, Len- 7, Derek- 8, Bruno- 8 = 30/40 (total 59/80)
Iman Shumpert & Daniella – Argentine Tango
My initial thought: "Please don't drop the girl!" I love that Daniella is playing Iago though! lol The thing about this performance is that Iman and Daniella's height difference is so prevalent. It almost looked like a child dancing with an adult… The choreo was really unique though!
Derek says the opening and ending lifts were iconic and it was "a moment." Bruno says it was magical strength. Carrie Ann says it was one of the most magical performances she's ever seen on the show. Len says it was the best he's seen from Iman. 
Carrie Ann- 9, Len- 7, Derek- 9, Bruno- 9 = 33/40 (total 63/80)
Melora Hardin & Artem – Jazz
Wow! Melora looks like she could be "friends with Mother Gothel" in that costume! (any Disney cast members reading this will know what that means). Honestly, Melora is the whole package. Not only is she a great dancer, but the way she transforms into every character just makes her performances so much fun to watch. And apparently that was Melora singing the song as well??
Bruno says it was "wickedly dashing musical comedy." Carrie Ann calls Melora "cray cray" and that the performance was a little safe. Len responds to Carrie Ann's criticism with, "Don't just say things to make them up!" then compliments the performance by saying it had grit, charm and was delightful. Derek sys it was a theatrical performance and she was magnificent. 
Carrie Ann- 9, Len- 10, Derek- 9, Bruno- 9 = 37/40 (total 73/80)
The Miz & Witney – Argentine Tango
Argentine Tango is a frustrating dance when the star is the leader because the follower (the female) usually does all the tricks. That's ort of what happened here, with The Miz just walking with Witney and twirling her around. That evil Scar face at the camera gets a 10 though.
Carrie Ann says the men are on fire tonight and then reveals her score is "a good one." Len says he wasn't prepared for that. Derek says he gets 10's for the commitments to costumes. Bruno says there was a lot of content but a couple of stumbles. 
Carrie Ann- 9, Len- 8, Derek- 9, Bruno- 8 = 34/40 (total 65/80)
Brian Austin Green & Sharna – Paso Doble
Sharna is taking a cue from JoJo and portraying a male character, I see. This Paso was certainly fierce, and the Pirates of the Caribbean theme is a great one to dance it to, but I'm not so sure this is Brian's dance. Something about it didn't quite click for me. This real-life-couple-turned-ballroom-couple are a joy to watch though.
Len says it was lovely but Brian needs to learn to lift his diaphragm and not hide his free arm. Derek says it was entertaining. Bruno says he needs to control the free arm but he's going in the right direction. Carrie Ann calls it a valiant effort and says she's proud of him. 
Carrie Ann- 7, Len- 6, Derek- 7, Bruno- 7 =27/40 (total 52/80)
After the commercial break, Muppets Gonzo and Pepe show up to give all the couples 10's (jokingly) and promote their new Haunted Mansion show on Disney Plus.
Matt James & Lindsay – Paso Doble 
This is another star whose height hurts them. No fault to Matt, he's just too tall to make this dance look like it's supposed to. He looked like he was having loads of fun performing it though. Definitely one of the better Paso routines I've seen on the show.
Derek says Matt was into it and critiques his steps. Bruno says it was a solid performance. Carrie Ann says it was the first time he gave it his all, but his height hurts his steps. Len says you need the three P's in a Paso: posture, passion and performance, and he only saw it a little bit.
Carrie Ann- 8, Len- 7, Derek- 8, Bruno- 8 = 31/40 (total 57/80)
Olivia Jade & Val – Jazz
This was Olivia's best dance yet, and it's thanks to Val's incredible choreography! What a fun story throughout the entire performance! Olivia really got into the character and made you have fun watching how much fun she was having! Best dance of the night, anyone??
Bruno screams and says it was so much fun he's going coco loco! Carrie Ann says she's impressed by the acting but it felt safe (and receives boos, rightfully so). Len says he could have danced for joy because it was a joyous performance. Derek says during the entire performance Len was saying, "I love it! I love it!" and calls Olivia a naturally performer.
Carrie Ann- 8, Len- 9, Derek- 9, Bruno- 9 = 35/40 (total 70/80)
Suni Lee & Sasha – Viennese Waltz
Love seeing Suni start getting into a character! Could have been a little more wicked for Winifred, but I think the dancing here makes up for it! Suni's got great arms for a dance like this. I'm positive at least one judge will compliment her lines. And Sasha crawling away like Binx at the end was hilarious!
Carrie Ann says she could feel every move Suni made. Len complains about Sasha's stand-and-spin and tells him to get Suni in hold more because she looks great. Derek lets his cat kink show again and compliments Suni's arms (told you). Bruno says it was bewitching.
Carrie Ann- 9, Len- 8, Derek- 9, Bruno- 9 = 35/40 (total 68/80)
Amanda Kloots & Alan – Paso Doble
The way they put Alan in a polka dot shirt while Amanda is Cruella. Why they gotta do us like this?? Amanda is a fabulous dancer no matter how evil of a character she's playing.
Len says it had a feeling of menace but tells Amanda not to keep looking at him because it scares him (lol). Derek says she played the part to perfection and it was a phenomenal Paso. Bruno says there was a slight misstep, otherwise it could have been perfection. Carrie Ann says it was a beautiful way to end the night. 
Carrie Ann- 9, Len- 9, Derek- 9, Bruno- 9 = 36/40 (total 68/80)
Double elimination, here we go…
First five couples who are safe are Cody and Cheryl, Melora and Artem, Iman and Daniella, The Miz and Witney and Suni and Sasha.
Next four couples dancing next week are Jimmie and Emma, Amanda and Alan, JoJo and Jenna and Olivia and Val.
Last couple who is definitely safe is… Melanie C and Gleb.
First couple eliminated are Brian and Sharna.
The judges now choose between Matt and Lindsay and Kenya and Brandon.
Bruno saves Matt and Lindsay. Derek saves Kenya and Brandon. Carrie Ann saves Matt and Lindsay. Len saves Kenya and Brandon.
Matt and Lindsay are eliminated.
Judges' Scores (total for two nights)
Melora- 73
–
JoJo- 70
Olivia- 70
–
Amanda- 68
Suni- 68
–
Jimmie- 67
–
Melanie- 66
–
The Miz- 65
–
Iman- 63
–
Kenya- 59
–
Cody- 58
–
Matt- 57
–
Brian- 52
That felt like a rollercoaster! I'm not surprised to see Matt and Lindsay eliminated, but I am surprised over Brian and Sharna. I expected them to last at least a little bit longer.
That's a wrap on Disney Week of DWTS this season! Join me on Monday when the couples dance to songs from Grease! I'm expecting a lot of Danny Zukos and Rizzos…