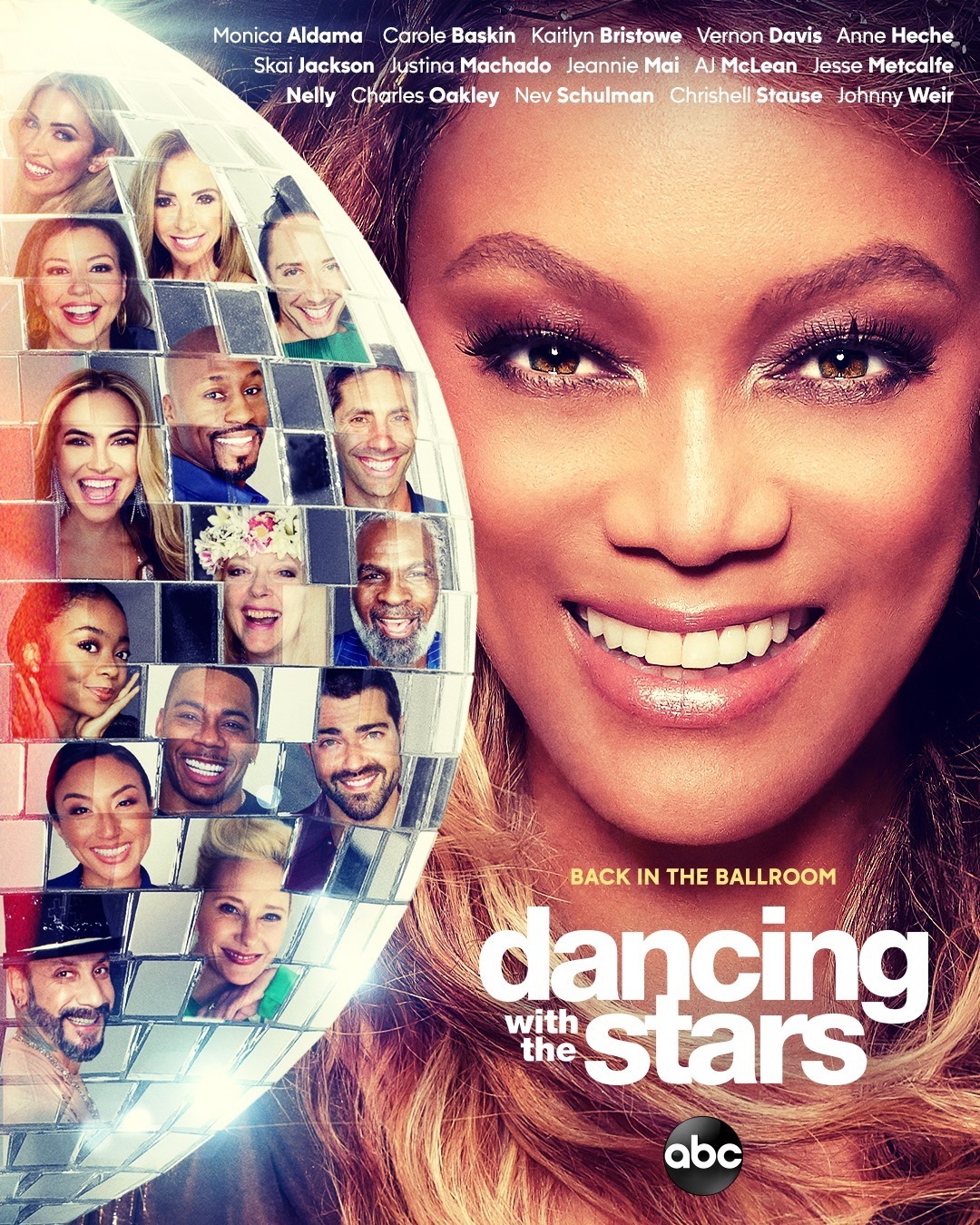 Hey Everyone :)
Welcome to week six of season twenty-nine of Dancing with the Stars. Tonight, in addition to our eleven remaining pairs dancing in new styles, judge Derek Hough will hit the ballroom floor to preform. Once again, the judges will determine who, out of the bottom two, must exit the competition after the dancing concludes. You live votes will help determine just who faces the dreaded judges' verdict.
Last week, Jesse & Sharna were given the boot, joined in the bottom by Vernon & Peta. We are getting down to the point in the competition where you can see the real contenders from those that are just waiting to be cut. And after six weeks, it is pretty easy to tell where everyone stands.
We have three clear fields- the high scorers who are a lock to go deep (Kaitlin, Nev, Justina, and Johnny). Then we have the middle of the road group (Monica, AJ, Skai and Jeannie) and the bottom dwellers (Vernon, Nelly, and Chrishell). It will be interesting to see if any of that changes tonight.
I will include voting details under each performance review but remember, you can begin voting as soon as the show begins and ends during the final commercial break before elimination. For anyone wanting to vote right at the top of the show- go to ABC.COM to vote online or use the following information to vote via text.
Text AJ to 21523 to vote for AJ McLean
Text CHRISHELL to 21523 to vote for Chrishell Stause
Text JEANNIE to 21523 to vote for Jeannie Mai
Text JOHNNY to 21523 to vote for Johnny Weir
Text JUSTINA to 21523 to vote for Justina Machado
Text KAITLYN to 21523 to vote for Kaitlyn Bristowe
Text MONICA to 21523 to vote for Monica Aldama
Text NELLY to 21523 to vote for Nelly
Text NEV to 21523 to vote for Nev Schulman
Text SKAI to 21523 to vote for Skai Jackson
Text VERNON to 21523 to vote for Vernon Davis
Tyra opens the show welcoming us to the half way point of the season and teases Derek's return to the ballroom. Voting is officially open and here we go…
Johnny Weir & Britt – Salsa
Yeah, Johnny has definitely hit his stride. The choreography is helping him a lot by bringing out and showing off his personal style while still adhering to the rules of the specific dance. This was a lot of fun and a great way to start of the show. Only minor critique- a little sloppy in parts, especially in and our of lifts but nothing crazy noticeable and a solid, solid routine.
Derek says the dance had a few misses but a great way to start the show. Bruno says great performance but he wanted a more grounded hip action. Carrie Ann notes his wasn't his best dance until the side by side. She felt too little "earth."
Carrie Ann- 7, Derek- 8, Bruno- 7, 22/30
Nev Schulman & Jenna – Jazz
Very good. So groovy. Loved Jenna's choreography in that. Of course, it is jazz by way of this show, meaning do whatever feels good. But for that, I have to give them props. The dance made me want to get up and join in. Lively, loud, energetic, and ambitious. Good stuff.
Bruno calls it deliciously bonkers. He doesn't know what it was but it worked. Carrie Ann loved the jazz and it made her so happy. Derek says they were clean and together the entire time.
Carrie Ann- 9, Derek- 9, Bruno- 8 = 26/30
Monica Aldama & Val – Rumba
Quite pretty. Some very good hip action in that from Monica. She needs to watch her flow in slow dances because she sometimes look likes she is waiting for the next move and you can see her telegraphing it. Having it flow more natural will look so much better. But she did a solid job here and it was a romantic dance that she can quite proud of. She looks gorgeous tonight as well.
Carrie Ann loves watching her come into her own. She calls it a beautiful rumba. Derek can tell she was enjoying it, so he enjoyed it. Bruno calls it a classy rumba- it was pitched right with sensuality and romance.
Carrie Ann- 9, Derek- 9, Bruno- 9 = 27/30
Skai Jackson & Alan – Cha-Cha-Cha
Yikes. Part of that was a hot mess. Some really bad footwork where they were totally out of sync and that resulted in Skai looking like a deer in headlights for a good portion of it. She got her groove back toward the end but I am noticing a pattern with Skai where she easily loses concentration in dances. She needs to maybe practice more to get that right.
Derek commends her for carrying on despite the messing up. He think the cha-cha moments were sharp, so he is pleased. Bruno says accidents happen with lots of mistakes but she handled it as best as she could. Carrie Ann says she came back stronger after the errors.
Carrie Ann- 6, Derek- 6, Bruno- 6 for 18/30
Vernon Davis & Peta – Cha-Cha-Cha
Smart choreography by Peta here. She made it easy. Easy enough that Vernon could look somewhat impressive doing it. He still doesn't look very natural in this setting but he seemed more comfortable here and no messing up at all. So, it was a success in that for a simplistic dance, he nailed it. He could end up safe tonight and out of the bottom.
Bruno says it was bright and colorful. He says he had the right feel for the dance but it needs to come from the ball of the feet, not the back. Carrie Ann enjoys watching him dance but a lot of mistakes in that dance. She wants to encourage him. Derek would give him a ten for joy. But technically, the heel leads and the timing wasn't right.
Carrie Ann- 7, Derek- 7, Bruno- 7 = 21/30
Nelly & Daniella – Viennese Waltz
I have to give it to Nelly. He has improved so much from the opening weeks of the show. Yes, he still had a lot to work on- in this dance specifically, his posture and hold and some of those turns but truly, such a marked improvement and he has blossomed. It really is lovely to see hard work paying off.
Carrie Ann loved how beautiful that was. She loved the storytelling and elegance. Derek notes the softness was so masculine to see. He tells him to watch his shoulders in hold and a bit more rise and fall. Bruno says it was nice to see him so inspired.
Carrie Ann- 8, Derek- 8, Bruno- 8 = 24/30
We take a break from the competition to enjoy some Hough. Derek Hough and his boo, Haley Erbert are going to dance the paso doble for our pleasure. So, every contestant this season who has done the paso and those yet to do it need to watch this performance to see exactly how it is done to perfection. Gosh, I miss Derek as a pro partner. Oh, and Haley was quite excellent as well. Just masterful.
Jeannie Mai & Brandon – Rumba
Nice. Jeannie is funny. She goes all out in every dance that sometimes, the movements are overly done. This had a few moments where she really overdid it but Brandon wrangled her back in. She has so much commitment and that's really a big compliment since so many celebs on this show need to go bigger and look more into it. She has that down in spades.
Derek says it was sensual. He loved how her legs were during it. He wants her to be aware of her arms so it doesn't look so forced. Bruno loved the passion- he says she has the ability to transform in every dance. Carrie Ann calls Jeannie stunning and loves that she dances at the edge. She wants her to work on her transitions.
Carrie Ann- 8, Derek- 8, Bruno- 9 = 25/30
AJ McLean & Cheryl – Samba
Hey. AJ's best dance of the competition. Great bounce. Great hips. Great choreography by Cheryl. That was stellar. So much going on in there but technically proficient throughout. I am quite impressed. Perhaps this is when AJ turns the corner from the middle of the road to possible contender?
Bruno says he is solid and always delivers. Carrie Ann says it was a breakthrough for him. She wants him to open his chest more though. Derek says when in doubt, shake it out. He says it was a tough dance made to look easy by AJ.
Carrie Ann- 9, Derek- 9, Bruno- 9 = 27/30
Chrishell Stause & Gleb – Contemporary
Damn. What a sad story- losing both her parents so close together. She was emotional before and during the dance. But it worked so well within the context of what Gleb put together. Nothing crazy difficult- was your typical DWTS contemporary piece, but danced with a hell of a lot of emotion and connection to the music. Special moment for her I am sure.
Carrie Ann says she poured her heart and soul into the dance. She tells her to point her toes more but she felt the story. Derek commends her on everything she has gone through. He wants her to get better- so watch her feet in lifts. Bruno calls it emotionally engaging minus some technical issues.
Carrie Ann- 8, Derek- 8, Bruno- 8 = 24/30
Kaitlyn Bristowe & Artem – Samba
So, so good. Kaitlyn's ability to keep her transitions going in every dance is really something special. That was a heck of a samba with great bounce and hip action. One tiny boo boo in a turn but really, miniscule compared to the platter of awesome that was. You can tell Artem is loving this season because he can put together anything for Kait.
Derek says it was fantastic. He loved the arms and the proper hip action. He wants her to work on her attack a little more. Bruno calls it a first class samba. He is impressed that it looked elegant as well. Carrie Ann was not super impressed. She wants more out of her- more attack.
Carrie Ann- 9, Derek- 9, Bruno- 9 = 27/30
Justina Machado & Sasha – Viennese Waltz
What was most impressive about that was Justina's balance on those turns. A LOT of turns and they were all executed well. Lovely flowing movement and good posture. What wasn't impressive was the costume department. I do not understand why they felt the need to put her in that dress. It did nothing for her or the dance. But I loved the routine.
Bruno compliments the pro dancers on the work. He turns his attention to Justina and says he loves to watch her dance. Carrie Ann calls it elegant and refined. Derek calls her reliable and consistent. He says wonderful and well done.
Carrie Ann- 9, Derek- 9, Bruno- 9 = 27/30
Judges Scores
Monica- 27
AJ- 27
Kaitlyn- 27
Justina- 27
–
Nev- 26
–
Jeannie- 25
–
Nelly- 24
Chrishell- 24
–
Johnny- 22
–
Vernon- 21
–
Skai- 18
————————————
RESULTS TIME!!!
The following couples are SAFE and will return to dance next week: Nelly & Daniella, Jeannie & Brandon, Monica & Val, Chrishell & Gleb, AJ & Cheryl, Justina & Sasha, Kaitlyn & Artem, Nev & Jenna, and Skai & Alan.
The bottom two are: Vernon & Peta and Johnny & Britt. WOW @ Johnny being in the bottom.
Derek SAVES Johnny & Britt
Carrie Ann SAVES Vernon & Peta (WHAT?)
Bruno SAVES Johnny & Britt
Eliminated: Vernon & Peta
Next week- the show celebrates Halloween with a tribute to great villains. OOO. SCARYYYYYY. LOL. Thanks for watching with me tonight and I'll see y'all in a week's time. <3