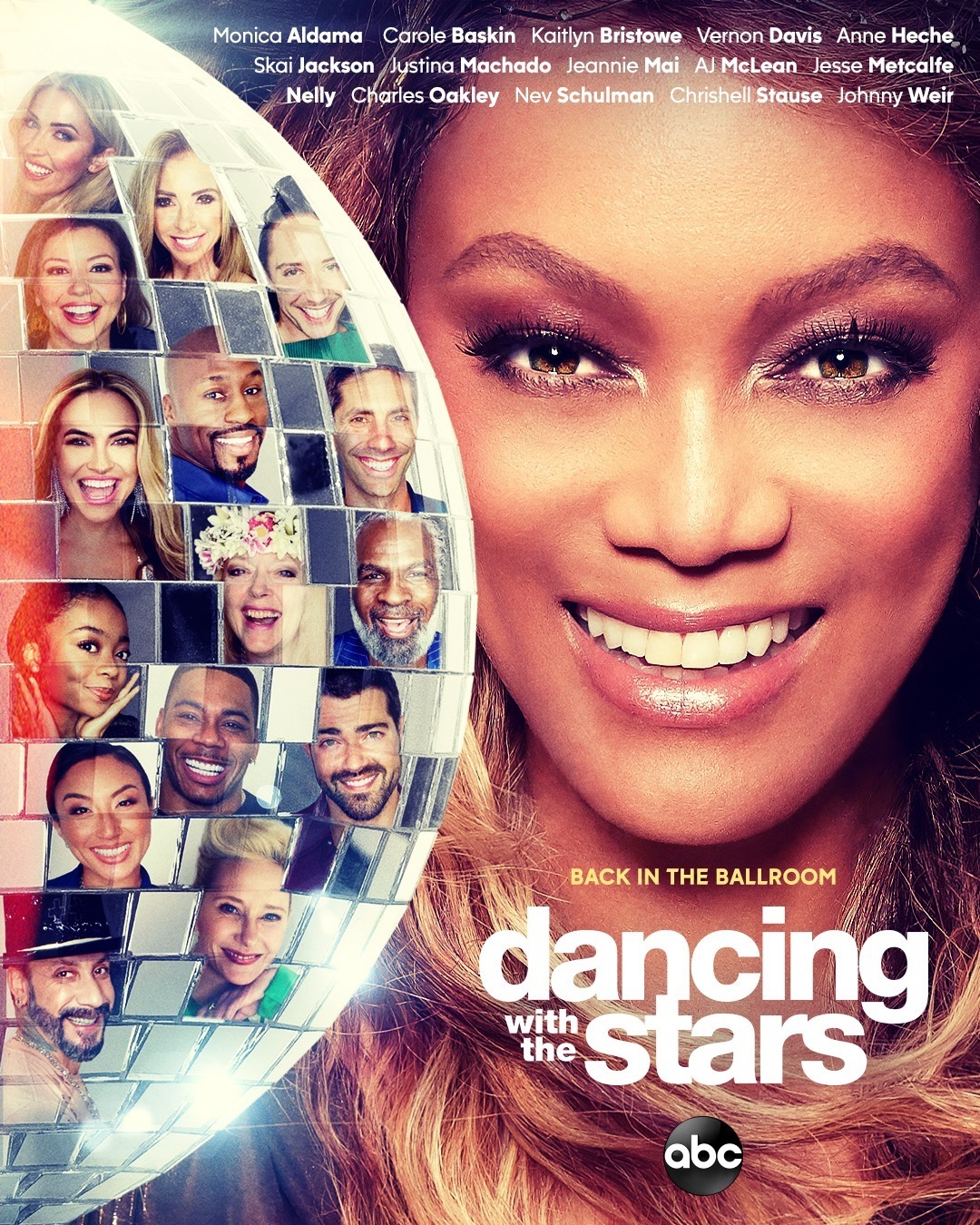 Hey Everyone :)
It's week four on season twenty-nine of Dancing with the Stars. Tonight, our thirteen remaining couples will once again perform for judges scores and your live votes. No official theme has been announced, but we know that some are preparing for emotional routines. It sounded a lot last week like Tyra Banks was hyping up a possible memorable year week but again, we have heard nothing concrete.
Last week, we said goodbye to Carole & Pasha, and she was joined in the bottom two by Anne & Keo. Anne is going to need a really stellar routine to escape the bottom this time around. Can she (and her fans) make it happen? And who else could possibly end up in trouble? Some stars are looking to rebound after last week while others just want to keep the momentum going.
I have to compliment the producers on doing a really good job with safety measures all things considered. We are lucky we get to enjoy a live season during a pandemic, so all my respect goes to those who are doing the testing and making sure everyone feels safe and protected. Even though we don't have an audience, the show has adapted very well. Minus of course the firings of Tom and Erin. Yes, I am still pressed.
Moving on, I will include voting details under each performance review but remember, you can begin voting as soon as the show begins and ends during the final commercial break before elimination. For anyone wanting to vote right at the top of the show- go to ABC.COM to vote online or use the following information to vote via text.
Text AJ to 21523 to vote for AJ McLean
Text ANNE to 21523 to vote for Anne Heche
Text CHRISHELL to 21523 to vote for Chrishell Stause
Text JEANNIE to 21523 to vote for Jeannie Mai
Text JESSE to 21523 to vote for Jesse Metcalfe
Text JOHNNY to 21523 to vote for Johnny Weir
Text JUSTINA to 21523 to vote for Justina Machado
Text KAITLYN to 21523 to vote for Kaitlyn Bristowe
Text MONICA to 21523 to vote for Monica Aldama
Text NELLY to 21523 to vote for Nelly
Text NEV to 21523 to vote for Nev Schulman
Text SKAI to 21523 to vote for Skai Jackson
Text VERNON to 21523 to vote for Vernon Davis
We begin with a funny opening where the contestants discuss the judges comments and how it affects them. It is all about celebrities who don't like criticism. HAHA. Tyra arrives as though it is fashion week in New York. The stars will share emotional stories this evening.
Nelly & Daniella – Paso Doble
Okay, so Nelly's problem is this. He gets the steps and does them but it never ever looks natural. It looks quite forced and awkward. But his smile and determination makes you want to root for him to do well. He did everything Daniella wanted him to do in this paso but all the movements just don't look very refined. Call it dance student 101. But I continue to find myself cheering him on.
Derek says it was a really good job. He wanted a little more shape but he liked it. Bruno enjoyed the no holding back. He wants it refined. Carrie Ann says it was a breakout but agrees with the others regarding the shaping.
Carrie Ann- 7, Derek- 7, Bruno- 7 = 21/30
Chrishell Stause & Gleb – Foxtrot
I need Gleb to give Chrishell better choreography. This was a foxtrot and the first thirty or so seconds came off more like a rumba. I get it- Gleb loves to choreograph sexy and passionate. That's fine when it fits the dance. I worry he feels Chrishell can't handle too much so he goes very basic and simplistic. She did an adequate job here but nothing to really go nuts about and part of that is what Gleb choose to do.
Bruno says it started well but there was a stumble and she lost her footwork. Carrie Ann is proud of her for extending her movements but tells her again to watch her feet. Derek didn't see the stumble Bruno mentions. He says this was her best dance. He cautions her on her left arm.
Carrie Ann- 7, Derek- 8, Bruno- 7 = 22/30
Monica Aldama & Val – Samba
Good job. That's the first dance by Monica where I can really say she looked natural and comfortable out there. Nice samba hip action, some fun flirty choreography, and lots of smiles. I would have loved to see some samba rolls but those are quite complicated for an amateur. She should be really pleased with that performance though.
Carrie Ann says the chemistry and balance was there and the dancing was improving. Derek calls it a proper samba. He labels it her best dance. Bruno was impressed by the technique.
Carrie Ann- 8, Derek- 8, Bruno- 8 = 24/30
Anne Heche & Keo – Paso Doble
That was decent. Some good paso moves. A little bit of awkwardness in parts but I've come to expect that from Anne's dancing honestly. She had the character down pat and I enjoyed Keo's cape work. I think she did a serviceable job here. The question is…is that enough to warrant a ticket to next week?
Derek says she looked more sturdy and comfortable. Bruno admires her and feels she was a multi colored warrior. He calls it her most focused performance but she still has some problems with balance. Carrie Ann says she fought for all the steps in that dance.
Carrie Ann- 7, Derek- 7, Bruno- 7 = 21/30
Nev Schulman & Jenna – Rumba
So pretty. Lovely flow and hip action there. The rumba is tough for the male because the dance shows off the woman more and the man needs to be really complimentary. Nev was very complimentary here with Jenna. Some really nice lines and extensions. Another solid routine from someone I didn't expect to do so well on this show when his casting was announced.
Bruno loved how in-tune Nev and Jenna are. Carrie Ann says Nev framed Jenna and added poetry, which is an amazing thing. Derek calls it beautiful. He says the in between lines were beautiful.
Carrie Ann- 8, Derek- 8, Bruno- 8 = 24/30
Justina Machado & Sasha – Salsa
There's the Justina we love. We can forget about that odd Mary Poppins charleston last week and concentrate on this. Great salsa party dance. Loved the hip action and fun atmosphere. Lots of shaking. Lots of smiling. Lots of musicality. Very good job.
Carrie Ann feels like they were at Justina's house. Derek says she brought it all this week- so much fun and it comes from within her. Bruno says those hips don't lie.
Carrie Ann- 8, Derek- 8, Bruno- 8 = 24/30
Kaitlyn Bristowe & Artem – Viennese Waltz
Aww. So pretty. Another super strong dance from Kait. I want to see her get down and dirty now with a fast latin ballroom number because it feels like she has these slow romantic dances every week. Don't get me wrong, she does them so well but I want some variety. Good proper choreography by Artem here. So glad to have him back on the show.
Derek calls it beautifully danced. He calls it effortless and stunning. He wants a different style of dance for her in the coming weeks. Bruno compares her to a feather floating in the breeze. Carrie Ann says she brought magic and loved the lyricism.
Carrie Ann- 9, Derek- 8, Bruno- 8 = 25/30
Johnny Weir & Britt – Jive
Very fun. Props to Britt on that choreography. Good kicks and flicks. He needs to watch his hand placement at times but overall, that was quite solid. I'm not sure on the costumes here but that's whatever. I feel like Johnny finally turned a corner in his dancing last week and he keeps it up this week.
Bruno says he was performing out there. He tells him to work on the retractions of the kicks and flicks. Carrie Ann says it was fantastic. Derek feels like Johnny let us in tonight and it was refreshing.
Carrie Ann- 8, Derek- 8, Bruno- 8 = 24/30
Jeannie Mai & Brandon – Tango
Look at Jeannie letting go of the bubbly personality and getting into a tango character. Excellent. Really enjoyed this one. Nice ferocious attack fitting with Brandon's choreography. Pretty good posture in hold and some nice turns. A very good performance here from Jeannie. One of her strongest this season.
Carrie Ann loved the fire and passion. She mentions a little error at the end. Derek says her attitude was spot on. Bruno loved the switch of personality. All three judges mentioned the mistake but give her kudos.
Carrie Ann- 7, Derek- 7, Bruno- 7 = 21/30
Vernon Davis & Peta – Rumba
I'm on the fence with this one. On one hand, I see the hip action and flow and I appreciate that. But it didn't quite all come together organically. It seemed just a little off in parts, sometimes hectic, sometimes too static. I don't know. This was a rather odd one for me even if I can't quite explain why.
Derek found joy in watching the dance. He tells him to watch his arms and hands. Bruno says he has natural charm and charisma. He tells him to use his back, not his shoulders. Carrie Ann says Bruno is right but she feels he understands momentum in dances is great.
Carrie Ann- 8, Derek- 7, Bruno- 7 = 22/30
Jesse Metcalfe & Sharna – Cha-Cha-Cha
Much better than last week. Good cha-cha steps and some nice flirty choreography. I like that Jesse has improved on his musicality, which sometimes lacks when he dances. He still needs to refine certain things (practice, practice) but this was a hell of a step up from last week and one of his stronger overall pieces.
Bruno says he got the looks and vibes and almost go the timing. But he does him he forgot the hips. He wants him to push a little bit harder. Carrie Ann says his musicality is improved. She tells him she wants to see ease and stop looking at Sharna's feet so much. Derek says much better this week with progress. He tells him to sit back in the pocket and be a bit behind of the music.
Carrie Ann- 7, Derek- 7, Bruno- 7 = 21/30
Skai Jackson & Alan – Foxtrot
This dance is dedicated to Skai's co-star, the late actor Cameron Boyce. A lovely tribute. Very elegant and pretty. A little on the simplistic side but I can forgive that. Alan probably wanted it to be perfect with no possible gaffes and I saw none. Just a nice flowing routine that you could tell meant a lot to Skai.
Derek calls it his favorite dance of the night. He calls her a gorgeous ballroom dancer. Carrie Ann says dance is always about the emotion and she says Cameron is watching and is proud of her. Bruno says she is back on top form and was the embodiment of grace and elegance.
Carrie Ann- 10, Derek- 9, Bruno- 9 = 28/30
Okay, so Carrie Ann is a bit bonkers with that score. She was taken over by the emotion and story beyond the dance because three 9's would have been just fine. That was not a "10" dance. I wonder if she is in trouble with votes and ABC needs to keep a Disney star around for a while. But, okie…
AJ McLean & Cheryl – Cha-Cha-Cha
Let me just say…if Len Goodman was here, he would have hated that. The messing around solo actions as the Backstreet Boys performed virtually. It is a matter of taste. There was cha-cha in there but not enough. But what I saw was decent. You could tell this is the dance AJ wanted to do and Cheryl gave him the freedom to do so. We shall see how the judges react.
Derek calls them living legends. He calls him likable but tells him to work on the footwork. Bruno mentions a lack of Cheryl and Cha-Cha and he still needs to work on that. Carrie Ann calls it a great way to end the night but she tells him to watch his elbows. She thanks him for the performance.
Carrie Ann- 8, Derek- 8, Bruno- 8 = 24/30
Judges Scores
Skai- 28
–
Kaitlyn- 25
–
Monica- 24
Nev- 24
Justina- 24
Johnny- 24
AJ- 24
–
Chrishell- 22
Vernon- 22
–
Nelly- 21
Anne- 21
Jeannie- 21
Jesse- 21
…time for RESULTS!!!
The following couples are SAFE to dance next week:
Skai & Alan, Johnny & Britt, Jeannie & Brandon, AJ & Cheryl, Kaitlyn & Artem, Jesse & Sharna, Monica & Val, Nev & Jenna, Justina & Sasha, Nelly & Daniella, and OOPS-
WAIT UP. Monica & Val are not safe- they are in the bottom. HOLY MISTAKE BATMAN.
Damn. This is bizarre. So, Chrishell & Gleb and Vernon & Peta are safe and the BOTTOM 2 are Anne & Keo and Monica & Val.
Carrie Ann SAVES Monica & Val.
Derek SAVES Monica & Val.
Bruno SAVES Monica & Val.
So with that, Anne & Keo are ELIMINATED. Remember the OSCARS debacle with La La Land and Moonlight. Yeah, this was like that. Damn.
So, we lose Anne and Monica is on notice now. I hope you all enjoyed the show tonight and forgive me my odd recap as I couldn't believe what just happened there and was typing as I was reacting. Have a wonderful week everyone! POLLS coming later of course.