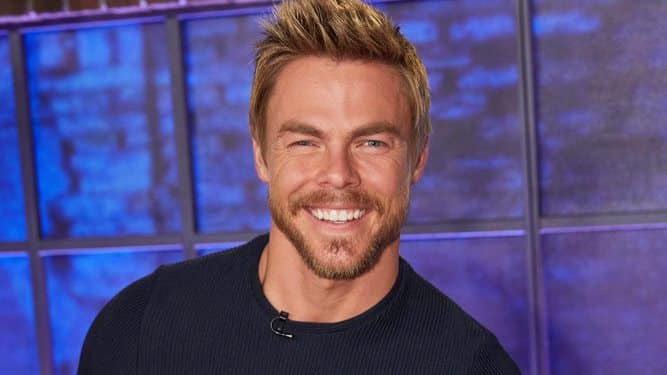 Emmy winner and six-time Mirrorball champion dancer Derek Hough joins Dancing with the Stars in a new capacity as a judge when the show kicks off its new season live on Monday Sept. 14 (8:00-10:00 p.m. EDT), on ABC.
Derek said on his return, "This show has been and will always be incredibly special to me. Coming back feels like coming home and I couldn't be more excited to be back in the ballroom."
Derek Hough joins Carrie Ann Inaba and Bruno Tonioli on the judges table, while COVID-19 concerns keeps Len Goodman out of the ballroom.
Hough joins Carrie Ann Inaba and Bruno Tonioli at the judges table in the ballroom. Meanwhile, in light of the COVID-19 pandemic, Len Goodman will be unable to judge this season live in the ballroom, though he will still be a part of the show in a different capacity sharing his ballroom expertise from London.
When Carrie Ann assured her fellow The Talk co-hosts earlier this summer that Len would return to the ballroom along with herself and Bruno, I was skeptical. The verteren judge had already revealed that COVID-19 travel restrictions would make it tough to enter the US this fall to work. Len is a UK citizen. If he lived here part time, like Simon Cowell does, for instance, he'd have an easier time entering the country. But even if he is able to enter the US, the man is 80 years old! He needs to stay the heck off of our coronavirus invested shores. Stay healthy Len.
Tyra Banks Defines DWTS Role, Plus Len Goodman Return Iffy
Dancing with the Stars 2020 Official Cast Reveal – Season 29 Cast List
Dancing with the Stars Season 29 Spoilers: Celebrities and Pairings
Derek jumps from judging NBC World of Dance straight to ABC's Dancing with the Stars
Also, on GMA this morning, Derek was asked to describe what kind of judge he'll be when he joins the panel. It's not a stretch to imagine that scenario. Derek is currently a judge on the NBC dance competition, World of Dance alongside executive producer Jennifer Lopez, and NE-YO. So, is it safe to say that his WOD contract expired, and he has no more contractual obligations with NBC? He just finished a season judging World of Dance, earlier this summer! It would be like Kelly Clarkson coaching a fall cycle of The Voice, and then hopping over to judge American Idol the following winter. Not a thing that would ever happen. 
Now I'm wondering if Derek is planning to leave World of Dance for other opportunities… The show's ratings were steady the summer. A renewal of the NBC dance competition is likely. 
As far as what kind of judge he'll be: Derek is tough, but fair! Dancing with the Stars will feature 15 celebrity couples, including the controversial casting of Tiger King star, Carole Baskin. See, here's the thing. She might have murdered her first husband. I mean, can you imagine ABC casting a male celebrity who maaayyybe disappeared his first wife? Derek answers, that he'll keep an "open mind" this season.