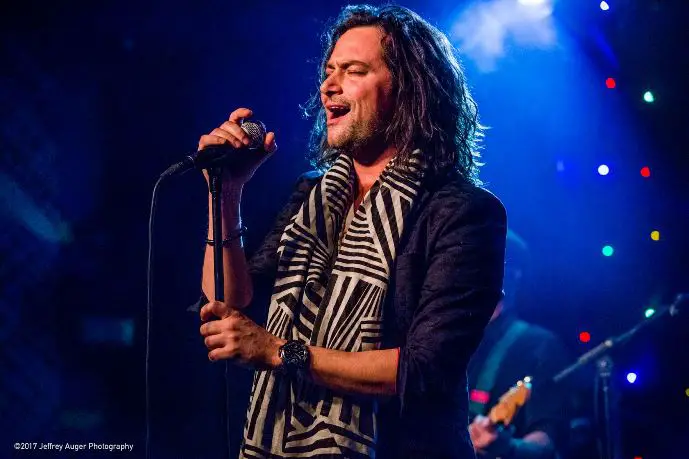 American Idol season 4 rocker, Constantine Maroulis has released a new music video for his new song "Try." You won't see this music video anywhere else! It's an mjsbigblog exclusive.
The two-time Tony Award nominee and star of Broadway's Rock of Ages penned the tune with Ryan Star, whom fans might remember from the singing competition, Rockstar: Supernova in 2006.
"I wrote "Try" with Ryan Star of "Rock Star: Supernova" fame," Constantine explains. "Ryan is a brilliant writer, penning hits for Hedley and David Cook and of course his own 'Stay Awhile'."
The two musicians connected over fatherhood. Constantine is Girl Dad to 9 year old Malena James. "Ryan and I connected immediately during our first writing session at my studio in Brooklyn at the time," Constantine explains, "At the time we were both young fathers."
Fatherhood can be a challenge. "It's not easy doing what we do and having a young family," Constantine says, "It's so hard to be away from your children. This song is inspired by the life experiences I have seen over the last 10 years building a healthy co-parenting dynamic. My daughter is my life."
The song "Try" is a track off of Constantine's July 10 album release, Until I'm Wanted. The singer-songwriter recorded the new set, calling on relationships he developed over the course of his career. The album is available everywhere to stream and download.
"From American Idol to Rock of Ages I have always been the underdog," Constantine says in a press release, "Has it motivated me or even defined me? Perhaps, but it's how I thrive. Until I'm Wanted personifies the underdog blue-collar born Brooklyn, raised Jersey Greekboy skin I have lived in all my life. The 'Don't Stop' mentality. With a briefcase and a microphone, I give you Until I'm Wanted – my love letter to rock 'n' roll."
"Try" is a classic power ballad. The moody music video, directed by Sean McArdle, depicts the joys and challenges of co-parenting a beloved child. Watch the sweet clip below.