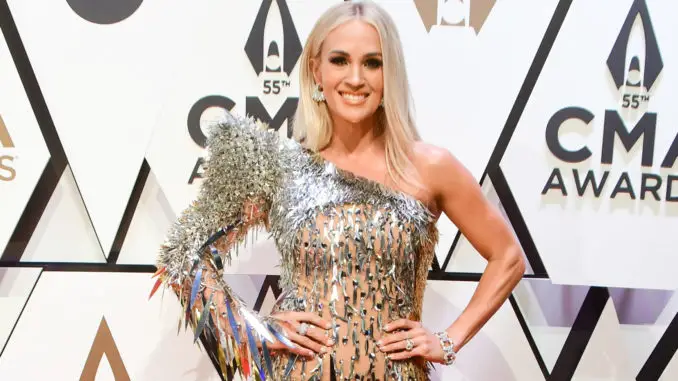 Thanksgiving is behind us. Time to trim the tree and do holiday shopping. Also…Happy Hanukkah!  Some of our favorite reality show stars .
Carrie Underwood's Las Vegas residency continues, as does holiday tours from Texas Hill, Maddie Poppe, David Archuleta, and Pentatonix. Morgan Wallen is out on the road. A bunch of singing show alums, including Ace Young, Diana DeGarmo, Jasmine Trias perform at the Venetian. 
Check out the concert schedule for Thursday Dec 2 through Wednesday Dec 8. See where your favorites are playing this week, below.
Thursday December 2
Jimmie Allen, Harper Grace w Nelly – NCAP Charleston SC
David Archuleta – Rialto Theater Center – Loveland CO
Clark Beckham – The Evening Muse – Charlotte NC
Will Breman – Temblor Brewing Co – Bakersfield CA
Diana DeGarmo, Lou Gazzara, Jasmine Trias, Laura Suzanne Wright, Ace Young – The Venetian Resort – Las Vegas NJ
Laine Hardy – Wild Wing Cafe – Robins GA
Caleb Johnson w Trans Siberian Orchestra – Heritage Bank Center – Cincinnati OH
Katharine McPhee w David Foster – Van Wezel Performing Arts Hall – Sarasota FL
Pentatonix – Cross Insurance Arena – Portland ME
Catie Turner w JORDY – Brighton Music Hall – Allston MA
Friday December 3
Jimmie Allen, Harper Grace w Nelly – Bon Secours Wellness Arena – Greenville SC
David Archuleta – UTH Theater – Roosevelt UT
Diana DeGarmo, Lou Gazzara, Jasmine Trias, Laura Suzanne Wright, Ace Young – The Venetian Resort – Las Vegas NJ
Colton Dixon – C-Suite for Christ – Menomonee Falls WI
Caleb Johnson w Trans Siberian Orchestra – Huntington Center – Toledo OH
Maddie Poppe – Rams Head on Stage – Annapolis MD
Texas Hill & Homefree – Coca-Cola Roxy – Atlanta GA
Carrie Underwood – Reflection Residency – Resorts World – Las Vegas NV
Morgan Wallen – Rupp Arena – Lexington KY
Saturday December 4
Casey Abrams – Berrie Center – Mahwah NJ
Jimmie Allen, Harper Grace w Nelly – Columbia Township Auditorium – Columbia SC
Clark Beckham – Mercy Lounge – Nashville TN
Will Breman – Autism Speaks LA Walk – Los Angeles CA
Diana DeGarmo, Lou Gazzara, Jasmine Trias, Laura Suzanne Wright, Ace Young – The Venetian Resort – Las Vegas NJ
Colton Dixon – New Life Lutheran Church – Sterling IL
James Durbin – Southpoint Seascape – Aptos CA
Ian Flanigan – The Bluebird Cafe – Nashville TN
Laine Hardy – Wild Wing Cafe – Anderson SC
Caleb Johnson w Trans Siberian Orchestra – Nutter Center – Dayton OH
Paul McDonald – Steel Hands Brewing – Cayce SC
Pentatonix – Mohegan Sun Arena – Uncasville CT
Maddie Poppe – Greenwich Odeum – Greenwich RI
Texas Hill – Big Rock Pub – Indio CA
Catie Turner w JORDY – Elsewhere – Brooklyn NY
Carrie Underwood – Reflection Residency – Resorts World – Las Vegas NV
Morgan Wallen – Rupp Arena – Lexington KY
Jake Worthington – The Chelsea – Las Vegas NV
Sunday December 5
Jimmie Allen, Harper Grace w Nelly – Bridgestone Arena – Nashville TN
Diana DeGarmo, Lou Gazzara, Jasmine Trias, Laura Suzanne Wright, Ace Young – The Venetian Resort – Las Vegas NJ
Josh Gallagher – Commodore Grille – Nashville TN
Billy Gilman – Veterans Memorial Auditorium – Providence RI
Caleb Johnson w Trans Siberian Orchestra – Van Andel Arena – Grand Rapids MI
Pentatonix – Turning Stone Resort Casino – Verona NY
Maddie Poppe – Carnegie Library of Homestead – Munhall PA
Texas Hill – Campus JAX – Newport Beach CA
Catie Turner w JORDY – Elsewhere – Brooklyn NY
Morgan Wallen – Rupp Arena – Lexington KY
Jake Worthington – Losers Bar – Las Vegas NV
Monday December 6
Laine Hardy – Wild Wing Cafe – Raleigh NC
Jake Worthington – Losers Bar – Las Vegas NV
Tuesday December 7
Casey Abrams – Rockwood Music Hall – New York NY
Laine Hardy – Wild Wing Cafe – Savannah GA
Katharine McPhee w David Foster – Broward Center for the Performing Arts – Flt Lauderdale FL
Pentatonix – Prudential Center – Newark NJ
Catie Turner w JORDY – Kung Fu Necktie – Philadelphia PA
Jake Worthington – Losers Bar – Las Vegas NV
Wednesday December 8
Jake Hoot – Grand Ole Opry – Nashville TN
Caleb Johnson w Trans Siberian Orchestra – Colonial Life Arena – Columbia SC
Katharine McPhee w David Foster – Kravis Center – West Palm Beach FL
Carrie Underwood – Reflection Residency – Resorts World – Las Vegas NV