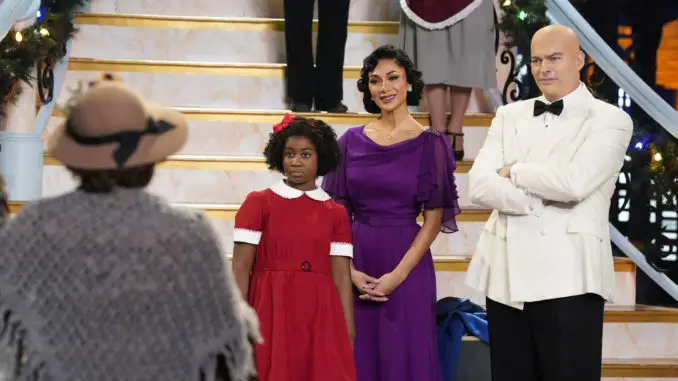 Annie isn't a Broadway musical on my bucket list. And I probably won't seek out the soundtrack, even after watching NBC's live production of the 70's musical. But Annie Live!, which the network aired Thursday night (12/2) was a thoroughly enjoyable watch thanks to  excellent casting.
Former American Idol judge Harry Connick Jr. played a regal Daddy Warbucks, while newcomer Celina Smith was delightful as young Annie. The Masked Singer judge Nicole Scherzinger was terrific as Grace, the kind-hearted assistant t0 Warbucks. And Taraji P. Henson chewed the scenery as only she can as the evil Miss Hannigan. Tituss Burgess played Miss Hannigan's no good brother Rooster and the sublime Megan Hilty was his sidekick, Lily St. Regis.
Anything can happen on Live TV
The live production had it's usual camera/audio mistakes and script stumbles. And Harry should have maybe just shaved his head? Because his skull cap was obvious, especially from the back! Other than that, the costume department did a great job evoking 30s era New York City. Also we needed more more more of that little scene stealer, Sandy the Dog. 
I had no idea Annie was so…political. The young orphan meets President Franklin Roosevelt (played by disabled actor, Alan Troy, who depicted the president realistically as a polio survivor in a wheelchair) and she single-handedly inspires the New Deal. In the 30s, the Roosevelt administration passed a series of back-to-work measures that helped America climb out of the Great Depression. In the process, rich Republican, Daddy Warbucks, sees the good in social services. The parallels to today–with modern Democrats trying to pass similar measures–were not lost on the producers, surely. I'm expecting talking heads on FOX News to be crying about WOKE ANNIE any minute now. Heh.
A couple of notes: This Daddy Warbucks in THIS production played the piano while he sang. When Daddy Warbucks remarked how Broadway was finally making a comeback after hard times, the in-studio audience clapped wildly. The cast was multi-cultural, but race and ethnicity were never mentioned, which was interesting. A rich white millionaire adopting a black child in the 30s? Never would have happened. But in the end, so what? Everybody gets the ending they deserve, including Little Annie, who winds up, after a lifetime longing for her parents, happy at last.  
Annie Live Video Performances
Watch musical highlights from the production below, including "Hard Knock Life," "Tomorrow," and more.
Song list:
1. Maybe – Annie
2. Hard Knock Life – Annie and the Orphans
3. Tomorrow – Annie
4. Hooverville – The Ensemble
5. Little Girls – Miss Hannigan
6. Annie – I Think I'm Gonna Like it Here
7. Easy Street – Miss Hannigan, Rooster and Lily
8. Sign – Daddy Warbucks & Miss Hannigan
9. We Got Annie – Grace and the Ensemble
10. Something was Missing – Annie & Daddy Warbucks
11. NYC – Annie, Daddy Warbucks and Grace
12. I Don't Need Anything But You – Annie and the cast
13. Fully Dressed – The Orphans
Annie Live!
Click on image for full photo slide show.