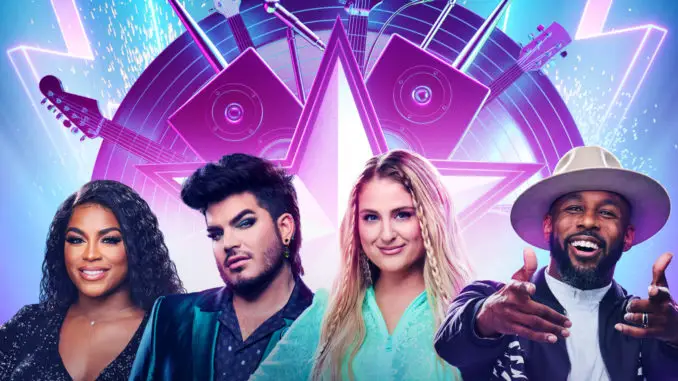 The new E! Entertainment talent competition, Clash of the Cover Bands boasts a panel full of musicians who are successful expressly for the unique qualities they bring to their artistry. On any other singing show, Adam Lambert, songwriter Ester Dean and pop star Meghan Trainor would be advising the hopefuls in the strongest terms possible to be themselves and find their own voices.
A singing show where "Being yourself" is terrible advice
But on THIS show, "being yourself" is the worst advice ever, as the whole point of a tribute act is to imitate a popular band and/or artist down to the tiniest detail. 
Each episode of Clash of the Cover Bands will feature a theme. This week, it's "Stadium Rockers." That's something that Adam, as Queen frontman knows a thing or two about. Since competing on American Idol in 2009, he's played to massive audiences all over the world. But, unlike the folks he is judging, Adam DOES NOT imitate Freddie Mercury when he fronts Queen. He manages to keep the spirit of the original classic songs intact, while bringing his particular voice, personality and showmanship to the stage.
None of THAT is relevant here, however. Meghan explains that the panel is evaluating the acts on vocal impression, physical embodiment and entertainment value. 
It's U2 vs Coldplay
The two bands vying for the "Stadium Rockers" prize are U2 and Coldplay. Actually, its their imitators, Unforgettable Fire and  Fix You.
As the stadium expert, Adam has thoughts on what it takes to play arenas and stadiums. "I think it takes a certain level of confidence," he told host, SYTYCD alum and dancer tWitch. "You've got to own it. I've done arenas for awhile. When you get to stadiums…it's a lot of energy that's coming at you." He added, "What we're looking for tonight is that illusion that these guys are on stage in front of that many thousands of people."
How it works: Two acts perform for the judges. After, the panel give them tips on how to improve, before sending them off to an "expert" who helps them improve their act. The show ends with a battle between the two acts. The judges pick a  $10,000 winner. At the end of the season, the ultimate champ will earn $100,000 and a performance on the Tonight Show (Jimmy Fallon executive produces).
U2 Tribute Unforgettable Fire is NOT from Ireland!
The U2 tribute is up first. No. they aren't from Ireland! But from New Jersey instead. They've been at it for 20 years.  All of them hold day jobs and perform on weekends. The lead singer resembles Bono. But maybe it's the hair? Costumes and hair styles go a long way to creating the right look. Stick a beanie on a guy, and he's halfway to looking like The Edge! 
They sing "Streets Have No Name" for the judges. And they kinda sorta sound like U2. Drunk in a bar, and it might be good enough. The lead singer pulls off a pretty good imitation. 
Ester enjoyed the performance, but feels they haven't quite reached stadium level energy. Adam compliments the lead singer "You do that thing that Bono does, he really soars over a note." Adam adding that he works the stadium "echos" into his phrasing. However, he reminds the group that U2 is more than Bono, and that the rest of the band needs to match the lead singer's level.
So, it's off to the "movement expert" for coaching on their stage presence. 
Coldplay tribute windmills their way through "Clocks"
The Coldplay tribute, from Charlotte, North Carolina, met in college 11 years ago. In the meantime, they've all got married and work day jobs.  The angle is how these bands do what they do for the sheer love of the music. And so far, it's been very much a hobby for them.
As the band performs "Clocks," the lead singer has Chris Martin's windmilling stage moves down. He doesn't look like him much, however. And vocally, the intonation is right, but not the tone. The thing about Martin–he's not a good live singer. But he does have stage presence. This guy? hm….
Ester notes that the studio audience loved it. I guess so? Meghan noted his on-point windmilling, but suggests that he project more. Adam also complimented his voice, but agrees with Meghan that he needs to project more. 
The bands are mentored by "experts"
Next, both acts are mentored by experts ahead of the "battle" round. 
First, Fix You meets with "vocal expert" Kuk Harrell, who has produced a slew of big-name artists, including Rihanna, Justin Bieber and Beyonce. Kuk noted that Martin sings from the gut. He suggests that the singer raise the key a half step. He sings. Kuk keeps asking for more. MORE MORE MORE. "It's all about your body," he said. Nevertheless, the Coldplay singer sings from his throat. He literally has his head tilted upwards as he shouts! Still, Kuk is all YOU'VE GOT IT! 
Next, Unforgettable Fire meets with "movement expert" Ray Leeper. So You Think You Can Dance fans should recognize that name. He's choreographed many SYTYCD routines. Additionally, he's worked with major recording artists like Elton John. He offers some minor choreography moves to bring the band together. Apparently. the lead singer didn't really interact with the band previously. Which is not how U2 rolls. 
The bands finally CLASH in the Battle Round
For the Battle Round, the bands trade off short snips of different songs. Unforgettable Fire sing "Beautiful Day," "Mysterious Ways" and "One." And Fix You perform "Yellow," "Fix You" and "Viva La Vida."   The judges are enthusiastic afterward. Ester felt like she was actually in a stadium watching the real thing. Meghan can see how much they want it. Adam called the performances "steller work" and the competition "Neck and neck" They all complimented the bands for taking their notes. 
And the winner is…
But in the end, only one band can win! The judges chose Unforgettable Fire (U2). The panel doesn't reveal why they chose one over the other. But the lead singer really does resemble Bono.
The panel brings a wealth of singing show experience to the table. Songwriter, Ester Dean, mentored songwriters on NBC's Songland. Besides competing on a singing show, Adam Lambert has judged/coached on American Idol, X Factor UK and Australia and more. Meghan Trainor worked on FOX's The Four and The Voice UK. It's an A+ panel! And tWitch keeps it all running smoothly.
However. If I encountered one of these bands in a bar, my first reaction would be second hand embarrassment. I just don't see the value in singers and musicians who imitate popular acts. It's not a thing I'd pay to see. EVER. And I suspect the panelists might feel the same way. But hey, it's a gig.
Clash of the Cover Bands airs on E! Wednesdays at 9:30. 
Watch the FULL episode below