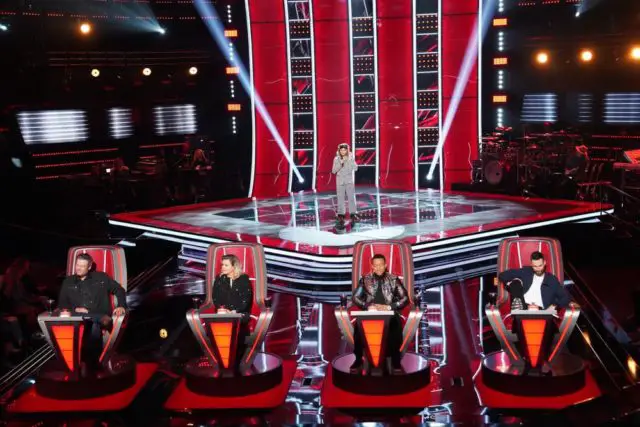 This spring, singer/songwriter John Legend will be joining Adam Levine, Blake Shelton and Kelly Clarkson on The Voice season 17 coaches panel. The Blind Auditions were taped in October, which is probably the time this comedy bit featuring John and his wife Chrissy Teigen was taped.
The bit was part of the couple's NBC special A Legendary Christmas with John and Chrissy which aired on Tuesday night (Nov 28). In the clip "after hosting a little too hard" Chrissy crashes and dreams she's on The Voice.  Instead of singing, Chrissy uses "comedic stylings" to persuade each of the coaches to turn. Let the hijinks begin!
Mocking Adam's "Sexiest Man Alive" cover gets a turn from Blake, while making fun of Blake's accent prompts a button push from Adam. "That's all I needed," says Adam. "I hate him!" To get Kelly to turn, Adam advises she "just start talking super fast." And for John "I can't just insult John, I do that every day," says the imaginary voice inside Chrissy's head. "I know! I'll tell him my favorite thing about us." Chrissy shouts, "I make more money than you now.  I have so much more money than you do…" 
It's a pretty silly bit, but it does give us our first look at The Voice season 17 set.  Kelly is back to sitting next to her BFF Blake, while John is next to Adam. 
The hour long special also featured dancer Derek Hough, Stevie Wonder, Awkwafina, the Kardashians and more.
https://youtu.be/_BrW9Py5M9U