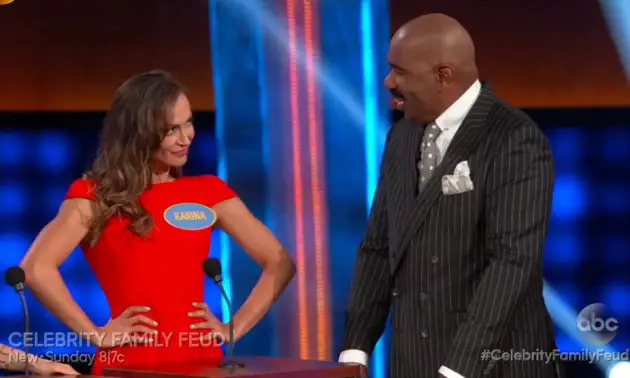 Tonight's Celebrity Family Feud features pro dancers from Dancing With the Stars vs. and popular participants from the reality shows The Bachelor and The Bachelorette. The teams will battle against each other to win money for a charity of their choice. In a separate game, players from the National Football League Players Association (NFLPA), AFC and NFC, will face off against each other.
In this preview, DWTS Pro dancer, Karina Smirnoff invites host, Steve Harvey to dance, and he's not bad! I think we have a potential contestant here.
Check out tonight's players below. Current Bachelorette, Kaitlyn Bristow is one of the contestants. Jason Mesnick, who notoriously proposed to Melissa Rycroft, only to break their engagement on the season finale, is playing with his wife Molly.  She was Melissa's runner-up whom Jason eventually married in 2010 in an ABC television special. American Idol alum, Jason Castro sang at their nuptials, so there's all kinds of connections to be made here! Melissa eventually competed on DWTS.
Sean Lowe and his Bachelor wife, Catherine Giudici are also playing.
Check out the full Celebrity Family Feud panel below.
· "Dancing with the Stars" professional dancers, playing for Children's Hospital of Los Angeles
· Karina Smirnoff – In Season 13, she won the Mirrorball trophy with J.R. Martinez as her partner.
· Anna Trebunskaya – She partnered with Jerry Rice in season 2
· Sasha Farber – He partnered with Snooki in season 17
· Witney Carson – Season 19 Mirrorball Champion with celebrity partner, Alfonso Ribeiro
· Allison Holker – She partnered with Riker Lynch in season 20 and placed second in the finals
Versus
· "The Bachelor" and "The Bachelorette" playing for Free The Children
· Kaitlyn Bristowe – Currently "The Bachelorette" after winning the vote the men took the first night between her and Britt.
· Sean Lowe – He was "The Bachelor" during the romantic reality show's 17th season in 2013.
· Catherine Guidici, Sean's wife
· Jason Mesnick – He was the first-ever single dad when he appeared as "The Bachelor" in the 13th season in 2008.
· Molly Mesnick, Jason's wife
Celebrity Family Feud airs Sunday night at 8/7c pm on ABC.