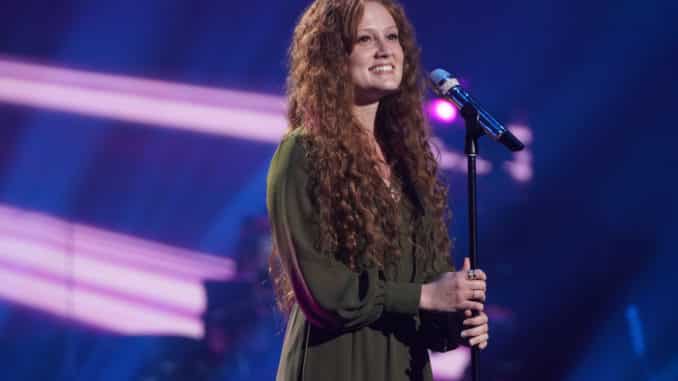 Cassandra Coleman wrote a lengthy note to her fans over the weekend in which she gets honest about where she's at emotionally right now.
The singer-songwriter who auditioned for American Idol 2021 with a cover of The Killers' "The Way It Was" and "Apologize" by OneRepublic finished the competition in the Top 10. Her struggle with stage fright made up her American Idol backstory, from the day she stepped in front of the judges. And in the new message, Cassandra addresses her feelings of uncertainty now that the show is over.
"The pressure to create after leaving the show is quite intense"
"The pressure to create after leaving the show is quite intense," Cassandra confesses. "You suddenly gain a crazy amount of followers without an organic growth process. I mean, you all are here before I've even released my first single! Such an honor and a blessing.. and I am stressed !!!!"
Cassandra shares a few of the unhelpful thoughts bouncing around in her head lately: "What if they don't like the music I'm making?? What if I'm not the kind of artist they expected me to be? What if they get tired of waiting for original content?? What if they're underwhelmed by what I create? Oh dang I just lost 100 more followers! Ahhhhh!! I'm not doing enough!" Haha :)"
Cassandra Coleman's Fellow American Idols to Join Hometown Show
But she admits, the "logical" part of her brain gives her a good talking to: "Chill out. The right people will stay. Take your time. You're doing this for you. Don't rush the process. You can't please everyone"
Unfortunately, the "initial thoughts still exist." She confesses, "It's just something I'm struggling to combat. Honestly, it's taking the joy away from this chapter of creation because there is so much dang pressure."
Cassandra wants to release music soon, but not at the expense of quality
Cassandra wants to assure her fans that she WANTS to have music out soon, but not at the expense of quality.
"I just need you all to know that I want to have music out as quickly as possible, but I don't want to expedite the process and [compromise] on quality," she says, adding, "I understand that decision will make some people forget about me, or become disinterested, but I want to be proud of what I release."
"I have no idea what I'm doing!"
She admits to flying a little blind at this point: "I have no idea what I'm doing!! I'm winging this. I'm meeting for cowrites, planning a music festival, and trying to learn how to be a decent songwriter."
Cassandra thanks her fans for their patience: "I wish I had been working on this for the past 20 years, but alas, I'm only starting now. So thank you for having patience. That's where my head is at. I think sharing this with you guys will help alleviate some of the pressure. I love you guys. That is all." "hugs."
The note has over 6,000 likes, and the comments are full of supportive messages
"A wonderful saying that helps, 'what people think of me is none of my business,' writes barij. "You just do you. It'll all be ok."
sirendipitybritt writes, "Remember always, you are doing this for you! not for "them". You owe all of these things only to yourself. That's why you are authentically loved!"
*
 

 

 

View this post on Instagram

 

 

*
Cassandra plans to concentrate on releasing music in 2022
As far as what Cassandra has coming up next. She writes on Instagram that once 2022 begins, she won't be performing publicly until her EP/album is released.
But before the end of 2021, she has three performances scheduled. One has not been announced yet. Another is at Columbia Indie Fest taking place in downtown Columbia, Tenn. on October 23. And the last at Factory Columbia's black tie gala and Christmas market on December 3. "I know many of you requested that I travel for shows," Cassandra writes, "but I chose to only accept hometown performances for my last three events to bring a spotlight to my sweet community."
Listen to Cassandra cover a song "Open" by Emilie Nicolas.
"Here's a little attempt before bed," Cassandra writes. "Couple flat spots, but I feel this song and wanted to share. Also, excuse my out of tune piano!!"
*
 

 

 

View this post on Instagram

 

 

*