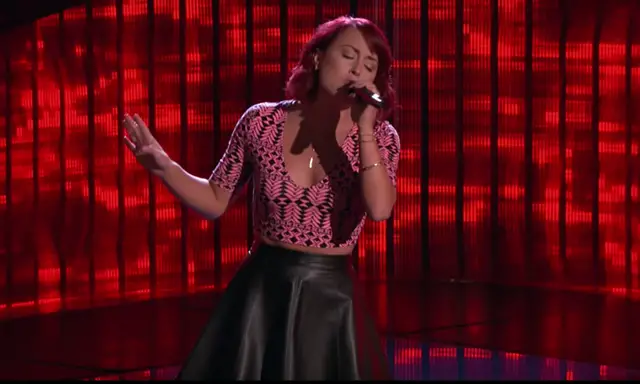 It's another 4 chair turn from The Voice coaches Adam Levine, Blake Shelton, Gwen Stefani and Alicia Keys for 26 year old Casi Joy.
The red-haired Kansas City native with a knack for traditional country surprised the coaches with her sweet yodel and charming delivery.
Gwen gushed: "I'm always going to remember that performance. That was so magical. I would love to work with you."
"I would do cartwheels to have you on my team," said Adam. "I would literally leap over the moon and back for you!" he added dramatically.
Alicia pulled out the women card. "I would suggest for you to focus on the two newer, fresher, more exciting women…" she said.
At this point, Adam all but surrendered. As he wandered behind the chairs to sulk, Gwen tried to coax him to share her seat But he needed a minute! He understood fully that he didn't stand a chance.
Blake will not give up until he's got Casi on his team. Although I'm not sure what he was worried about. The way the singer's eyes lit up when he finally pushed his button told us everything we needed to know. "This is meant to freakin' be," Blake added, slapping his knee for emphasis.
However, Casi admits that she is open to all genres–pop, rock, country–and is willing to go where the show takes her. So maybe she'll choose Gwen and get Blake in a twofer?
Find out who Casi picks when a special 1 hour The Voice airs on Thursday March 2 on NBC.
Watch Casi's performance below.
https://youtu.be/wsQtZYLPB0k