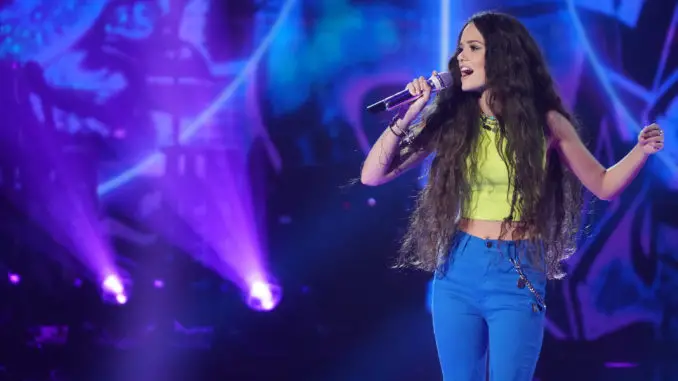 Casey Bishop plays a Hometown Concert with help from her Idol band and American Idol production team
American Idol 4th place finisher, teen rocker Casey Bishop, will play her hometown concert tonight (June 19) in Fort Myers, Florida, and reportedly, she's getting the royal treatment.
The concert, which takes place in the parking lot of the music club Buddha Live, will feature the American Idol band and an Idol production team, reports the News-Press.
The Buddha LIVE show will be Bishop's first concert performance outside of "American Idol." She'll be singing with her "Idol" band, according to show co-organizer Brad Cozza. They're flying in along with an "Idol" production team for a high-end show with professional sound, lighting and special effects.
Is American Idol's 19 Recordings planning on signing Casey?
Would American Idol send out musicians and a production team for Casey's hometown concert if they weren't planning on signing her?  The town had planned for a hometown celebration, in the event that Casey made the Top 3. But generally, Idol would withdraw technical support if the contestant didn't make the Top 3. 
Casey Bishop's American Idol Contract: Find Out the Winner's Advance
American Idol's Casey Bishop Finally Gets Her Hometown Concert
However, according to Casey, no record labels have approached her YET, although she's hoping to get signed soon.
"I'm hoping to get signed," she told the News-Record. "But I'm definitely taking some time to work on my own music and definitely, you know, record. I mean, I will be recording when I get my own music sense. I'm just excited for all that.
Casey is working on songwriting, learning guitar, plans to home school
Currently, Casey is writing songs. She's got three tunes under her belt.
"It's like you write a bunch of songs to get one good one," she said. "It's a process. But it feels really good. … This is all so new to me, and I just love it so much."
"I just started writing recently, honestly, the year of 'Idol,'" she confessed. "I haven't been writing for a long time. I'm just getting comfortable with my writing."
The 16 year old is also teaching herself to play guitar. "I used to not have a clue on how to play a single chord," she said. "Now I know, like, four chords."
For her last year of high school, Casey thinks she'll home-school in order to spend more time on her music.
Casey is at peace with her elimination
And if you are upset that she didn't win, feel better that Casey is at peace with her elimination.
"I was really fine, honestly," she said. "I felt like it was gonna happen, so I was totally OK with it. … I felt better than I expected!"
"It was kind of like a relief," she said. "I was really happy for Grace (Kinstler), . Because Grace was really worried. I was just like, 'Yes, you did it. Take a breath.'"
On the American Idol set, Casey was closest to winner Chayce Beckham and Top 10 finalist Hunter Metts.  "Oh my god, I was so happy for him!" Casey said about Chayce's big win. "It was such a cool moment, just being there."
At the concert, Casey plans to sing several Idol favorites, including "Black Hole Sun" and maybe "My Funny Valentine."
If videos pop up, I'll add them here.
ETA: 750 attended Casey's concert on Saturday, according to the Naples Daily News. Her 40 minute show included "My Funny Valentine," "Valerie" (Mark Ronson and Amy Winehouse), "Decode" (Paramore), "Love Me, Leave Me" (Casey Bishop), "Black Hole Sun" (Soundgarden), "wish you were gay" (Billie Eilish), "House of the Rising Sun," "Wish You Were Here" (Incubus), "Santeria" (Sublime), "Ironic" (Alanis Morissette)

*
 

 

 

View this post on Instagram

 

 

*