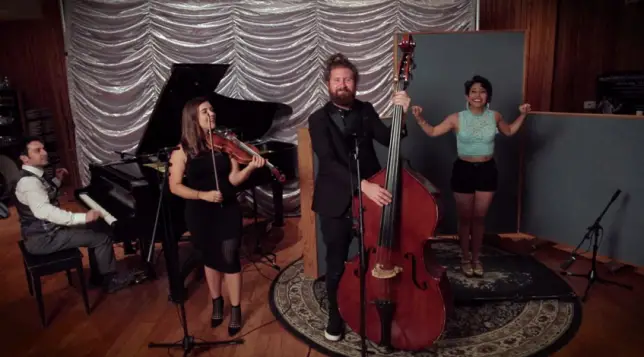 In honor of the Postmodern Jukebox North American tour begining today (9/29), the band has released a cheeky rendition of "The Family Guy" theme featuring American Idol season 10 singer, Casey Abrams.
Also joining Casey in the performance is PMJ's Queen of Tap, Sarah Reich and jazz violinist Nora Jermain.
Casey is fresh off the PMJ Australia, New Zealand, and Southeast Asia tour and will be joining the group in North America along with Season 6 singer, Blake Lewis. Click here for tickets.
"The Family Guy" theme song is now available at iTunes. Postmodern Jukebox's Greatest Hits Album – The Essentials comes out on Friday (9/30).
Watch Casey Abrams and Postmodern Jukebox perform a fun rendition of "The Family Guy" Theme Song.