American Idol Queens Unite! Season 4 winner, Carrie Underwood made a remote visit to OG winner Kelly Clarkson's afternoon talk show to promote the country star's new Christmas album and HBO Max special. Carrie also performed "Mary Did You Know," a cut from the album, My Gift.
"She's beautiful, talented, smart, funny and she won American Idol," Kelly said as she introduced Carrie. "No, it's not me! I know that's what you're thinking!"
Kelly knows fans expect American Idol discussion!
The two touched on American Idol briefly, with Kelly noting, "I don't think that people would be happy with us. If we don't at least mention American Idol." Kelly asked about press reports that said Carrie almost didn't go through with her American Idol experience "Once things started taking off and then the thought of me going to Hollywood by myself and I've never been on a plane before, It was very unlike me, to just go for it. It was scary. I definitely had a moment of 'what am I doing!'" Carrie added, "It's easier to stay home. But I wouldn't be doing anything I'm doing now [without Idol]."
"Exactly" Kelly replied.
Carrie was honored to duet with Kelly's The Voice pal, John Legend
Additionally, Carrie chatted about making her first ever Christmas record, including recording a duet with Kelly's The Voice chum, John Legend. " I was very honored to get to sing that with someone just as talented as John Legend," she said. Carrie said recording beloved Christmas songs solo in the studio gave her a new perspective on the lyrics. "When you think of "Silent Night" and "Away in a Manger"–we've been singing them since birth–but have you ever really listened to the lyrics? It was a beautiful thing to go into the studio, especially this year."
Especially with the pandemic putting live music on hold, Kelly felt that producing the music special for HBO Max was "an awesome thing to do for your fans as well."
Bittersweet: Kelly and Carrie chat about her 10 year marriage to Mike Fisher
Kelly congratulated Carrie on her 10 year wedding anniversary with ex-hockey player Mike Fisher, which must have been a little bittersweet. Kelly is in the midst of a contentious divorce from her husband, Brandon Blackstock. Kelly flashed a throwback photo of Carrie and Mike as teenagers. Carrie wasn't sure if the two would have been friends in high school, but she loves that they are both "super awkward."
Carrie shared the story of how the couple met. Band members set them up, and in order to avoid scrutiny from people around her, stuck him in a fan meet and greet! Mike describes the experience as "being surrounded by a bunch of little girls, and it's just me at the end of the line!" Talk about awkward! As far as how the couple lasted 10 years, Carrie said, "I feel like we have a good partnership and that's really important, to understand and be able to ask 'I'm going to need you to hold it down and be my support and vice versa."
"You just look like such a cute family" Kelly said (maybe wistfully?), "That's a fun family."
Watch Kelly Clarkson interview Carrie Underwood below.
Watch Carrie perform "Mary Did You Know," from the album.
https://www.youtube.com/watch?v=Y-gdurbl7BM
Kelly loved Carrie's album cover, and her "big red dress."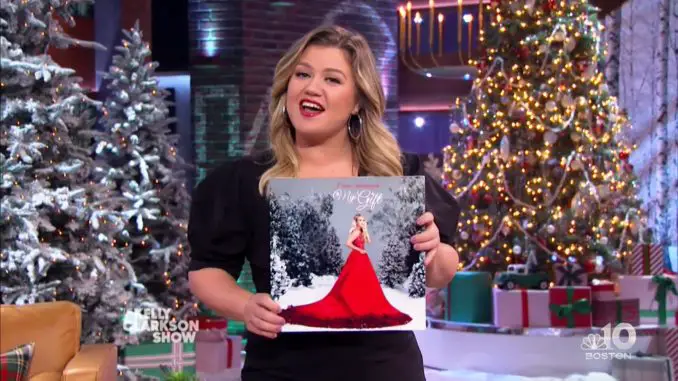 BONUS VIDEO! Carrie appears on Late Night with Seth Meyers
Carrie has really been making the rounds. It must be NBC week, as she also performed on Late Night earlier in the week. Here she is singing "Have Yourself a Merry Little Christmas."
https://youtu.be/TqLokfjl8DQ
Carrie's husband Mike gave her COWS for Christmas!