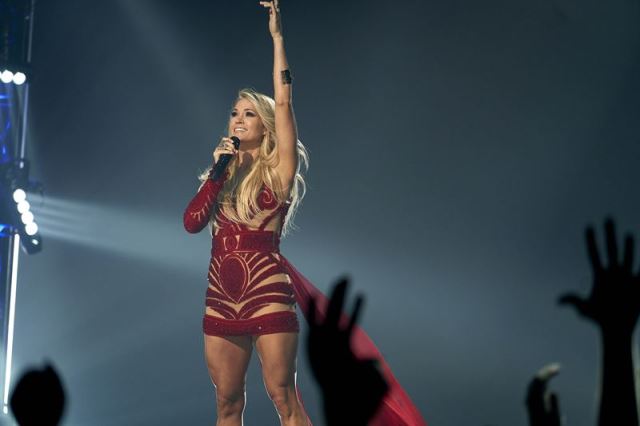 Carrie Underwood's new single "The Champion" featuring Ludacris is out. The song, written for Super Bowl LII will air during the game Feb 4 on NBC.
Instead of airing a variation of the Sunday Night Football them as the network has done in the past, executive producer Fred Gaudelli told NBC that he asked the American Idol season 4 winner to write a brand new song.
"I think it's going to become a sports anthem," he said to Variety about the song co-written by Carrie, Brett James, Chris DeStefano, and Christopher Bridges PKA Ludacris.  "It's going to be one of those songs that you see cut to highlights for the next 25 years." Carrie specifically asked Ludacris to collaborate on the event song produced by Jim Jonsin.
"My husband loved it," Carrie said of her husband, retired NHL hockey player, Mike Fisher. "He would listen to it before playoff games. He was like 'I want everyone to hear it!' and I had to tell him, 'You can't do that. You can't play it in the locker room. I'm sorry.' But that was a good indicator that we were on the right track."
"When we met with Carrie last year to discuss the Super Bowl open, we each brought ideas. Carrie presented first. After she spoke, we looked at each other and said 'That's the one,'" said Gaudelli. "Later on, our Olympics producers listened to 'The Champion' and decided that it would be a perfect complement for our Winter Games coverage. We are excited to highlight 'The Champion' in two events on the global stage in February."
"When we were writing 'The Champion,' our main focus was to celebrate athletes at the top of their game, but we also wanted the song to resonate with people in their everyday lives," explains Carrie. "We hope the lyrics will inspire people to push themselves beyond their limits to conquer anything they are trying to accomplish or overcome. There's a champion in every single one of us!"
Ludacris says, "It was a pleasure to collaborate with Carrie for this inspirational song."
Check out the song below. The appearance of Ludacris is a real surprise!