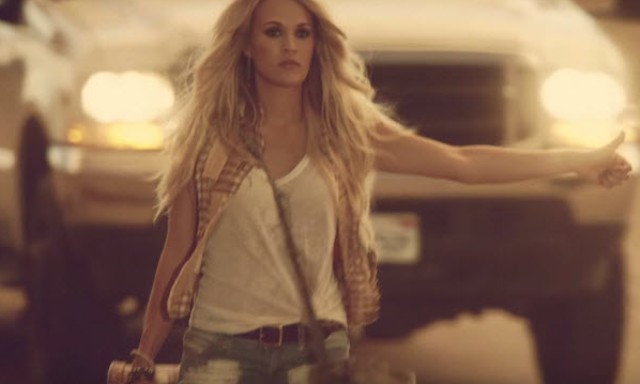 Carrie Underwood's new single, "Smoke Break," is already climbing the country music charts. Now, the singer drops the official video for the first single off of her upcoming album, Storyteller.
"For the storyline, I really just wanted it to be mainly about strong women — strong beautiful women who are doing everything that the boys do," Carrie told Entertainment Tonight on set. "And at the end, we all get together and have our break. Hardworking during the front-end of the video and having our break, our 'Smoke Break,' at the end of the video."
"I always look for directions for an album to go in — not that every single song has to fit into one single category, but some new feel, some new look, some new sound," Carrie said about her upcoming album, due out on October 23. "I want to grow as an artist and I just want every album to have its own feeling and then it all feels different and it all works together when I'm on tour."
"So with this one, with Storyteller, things ended up being more twangy but kinda this cool, edgy twang, like a rock twang," she added. "It just ended up being a new thing for me, which I'm really excited about."
The "Runaway" bit played at the beginning of the video is probably a teaser for another new Carrie song, "Renegade Runaway," co-written by Carrie, Chris DeStefano, Hillary Lindsey–the same team behind "Little Toy Guns" and "Smoke Break").
Watch Carrie Underwood "Smoke Break" official music video right here!