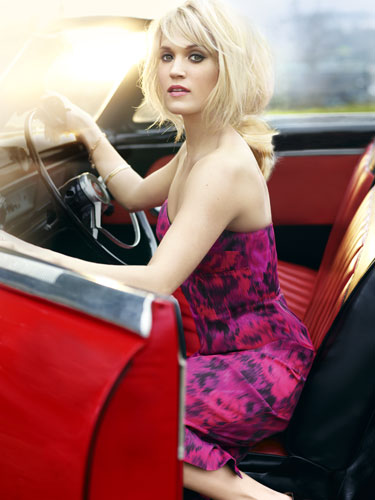 Carrie Underwood is the cover girl for the June issue of Marie Claire and talks at length about her introverted personality in the cover feature, which is excerpted at the Marie Claire site with additional quotes at the Us Weekly site. UPDATE: OMG from Yahoo has more quotes from the interview, including Carrie's comments on her eating habits and her thoughts on therapy.
About her upbringing:
"We were never a huggy family," she continues. "Or a 'let's talk it out' family. Technically I have siblings, but they are quite a bit older than me — I was the accident — so I have the only-child syndrome going on. I'm a little more selfish, a little more independent, a little closed." Underwood shrugs. "I do wish I were softer," she says plainly. "I wish I were able to form relationships better. But hey, I mean . . ." she says, laughing, "I'm not a sociopath."
About the kind of friend she is:
"I'm probably not great at talking or understanding emotional things. I'll totally listen. But I won't have a lot of advice to give. I'm bad at calling to check in, the long conversation. But in the ways that really matter, I'm there. I would donate a kidney. The people they hate, I hate."
About panic attacks:
"At the beginning of my career, I used to have panic attacks. People were touching me, screaming ­– it made me really nervous. In public, I just get nervous. It's a physical reaction, feeling like the walls are closing in," she explains. "The fans are great. It's not their fault. I don't ever want to come across as ungrateful. But on my end, it is hard for me to process. Because I am still just me."
About starring in the live Sound Of Music production set to air on NBC on December 5, 2013
"People are so crazy auto-tuned, and there's so much on TV that isn't wholesome. This seemed to be the best of all worlds."
About The Walking Dead
"We have The Walking Dead nights on the tour bus. At one point in Pittsburgh we didn't get satellite reception, so we asked the driver if he could drive us around for an hour. I'm a fan. I'm just waiting for the offer. I could be a zombie."
Also quoted in the story are Carrie's friend & CMA cohost Brad Paisley, who calls her "the best female singer we've ever had in our format, maybe" and "one of the greatest gifts we have been given in Nashville," Grand Ole Opry general manager Pete Fisher (who calls Carrie's accomplishments "nothing short of historic"), Carrie's husband Mike Fisher (no relation to the Opry GM), her best friend Ivey Childers, and Carrie's mother Carole Underwood (who says that Carrie has always been more of an animal person than a people person).
UPDATE: Check out behind the scenes video from Carrie's cover shoot:
Check out the following photos (and more) from Carrie's Marie Claire cover shoot at the Marie Claire gallery