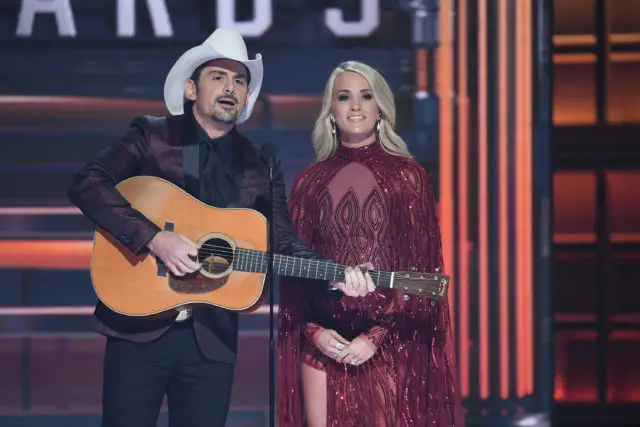 Country Music superstar Brad Paisley and American Idol season 4 winner Carrie Underwood return to host The 52nd Annual CMA Awards, live from the Bridgestone Arena in Nashville, Wednesday November 14 (8:00-11:00 p.m. EDT), on The ABC Television Network. The popular hosts return for the 11th straight telecast.
Two-time CMA Awards Entertainer of the Year and American Idol judge Luke Bryan, four-time CMA Awards-nominated duo Dan + Shay and five-time CMA Awards Vocal Duo winner Sugarland will unveil the final nominees on Good Morning America, Tuesday, Aug. 28, live from Luke's 32 Bridge Food + Drink, Bryan's brand-new restaurant and bar on Lower Broadway in downtown Nashville.
Nominees in select categories will be revealed on the top-rated morning news program. The announcement will also be available via livestream on ABCnews.com/live.
Immediately following the show, the remaining categories, as well as the CMA Broadcast Awards nominees, will be revealed live on GoodMorningAmerica.com as well as Good Morning America's Facebook page through Facebook Live and simulcast on Good Morning America's YouTube channel. CMA will then release and post the full slate of all CMA Awards nominees to CMAawards.com.
The 52nd Annual CMA Awards nominees and winners are determined by more than 7,400 professional members of CMA, which is the first trade organization formed to promote an individual genre of music in 1958 and celebrates its 60th anniversary in September.
The first "CMA Awards Banquet and Show" was held in 1967. The following year, the CMA Awards was broadcast on television for the first time – making it the longest-running, annual music awards program on network television. The CMA Awards have aired on ABC since 2006. ABC is the network home of the CMA Awards and CMA's other two television properties, "CMA Fest" and "CMA Country Christmas," through 2021.
The 52nd Annual CMA Awards is a production of the Country Music Association. Robert Deaton is the executive producer.