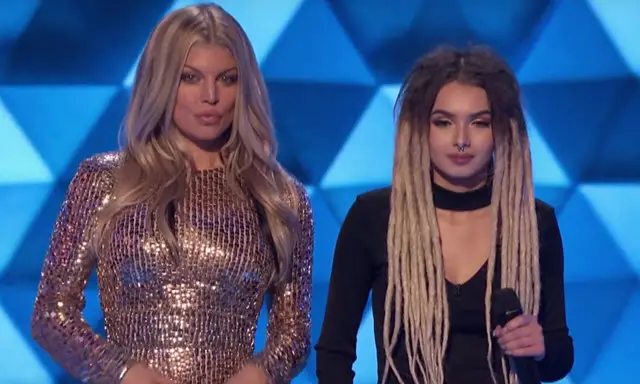 The new FOX music competition series The Four: Battle For Stardom premieres tonight at 8 pm ET.  Make sure to join us for our live blog! The six week season features pop artist Fergie as host, record producer and songwriter Sean "Diddy" Combs, record-producing hitmaker DJ Khaled,  recording artist and songwriter Meghan Trainor and record label executive Charlie Walk as members of the show's "panel of experts."
The Four: Battle for Stardom – First Contestants Revealed! (VIDEO)
What sets The Four apart from the rest of the singing shows: A partnership with iHeartMedia assures the winner will get a push on radio.  These days, singing show winners are lucky to record an album, let alone receive any radio exposure.  Additionally, the "panel of experts" is made up of mostly behind-the-scenes folk who will stay involved with the winners' career once the confetti falls. 
After American Idol Budget Cuts, Rickey Minor to Direct The Four Band
As the press materials state: "This elite group of star-makers will help shepherd the winner's career and be fully invested in making him or her a breakout star. As part of the grand prize, the winner will also be part of iHeartMedia's coveted "On the Verge" artist development program, which will support the winning talent with airplay across iHeartMedia radio stations nationwide."
The Four  begins with the four finalists–Elanese Lansen, Blair Perkins, Ash Minor and Alexis "Lex Lu" Boyd–singers chosen from their auditions by the show's panel of music industry experts, will try to defend their coveted spots on the stage, as they are challenged individually by new singers determined to replace them. Each week, if any of the four are outperformed, they'll go home and their challengers will take their place.
To get an idea of how the competition will work,  check out this extended preview, which aired at the top of FOX's New Years Eve special on Sunday.  After a competitor, a 16 year old singer named Zhavia performs for the panel, she earns the right to choose one of "The Four" to challenge. The young singer picks Elanese Lansen. The clip stops ahead of Elanese's performance. You'll have to tune in tonight to find out what happens.
While competitions like The Voice highlight the camaraderie between competitors, it's clear in this clip that The Four is going for an edgier tone. Zhavia taunts Elanese, suggesting that she looks "a little scared to challenge me." Elanese bites back, "Sweetheart, I ain't scared of nobody."  It's all very WWE. Will the traditional singing show fan embrace the posturing? Or will The Four attract fans not typically drawn to singing shows?
The Four Facebook page has been featuring content in the run-up to tonight's premiere. Here are the four initial challengers backstage at the iHeartRadio Jingle Ball in Miami. They meet Nick Jonas, Fifth Harmony and Julia Michaels.
Training for Battle – The four competitors work with choreographer, Laurieann Gibson who has worked with superstars Lady Gaga, Michael Jackson, Beyonce and more. She also worked with Diddy on Making the Band.
Meet The Four Elanese Lansen, Blair Perkins, Ash Minor and Alexis "Lex Lu" Boyd
Get Ready for The Four
The panel emphasizes the cut throat nature of The Four. "The record industry is extremely competitive," says Diddy. "We've added this combative energy." he continues "A lot of times on shows it's everybody hugging and 'let's get along.' DJ Khaled adds "I don't care what you been used to seeing. Those are dinosaurs."