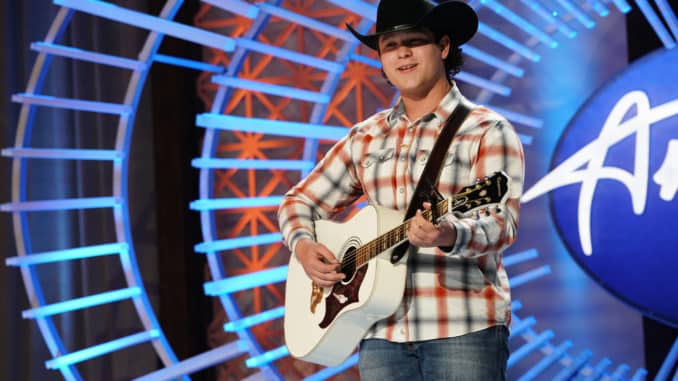 Caleb Kennedy denied bond at hearing where judge heard victim's daughter's heartbreaking 911 call
Police confirm that Caleb vaped marijuana prior to the crash
UPDATE: Police confirm that Caleb took a "deep draw" of a marijuana vape pen prior to the accident.
After his first court appearance on Wednesday (Feb 9) former American Idol contestant Caleb Kennedy was denied bond. That means he is still being held in jail. South Carolina Highway Patrol had charged the teen with felony driving under the influence resulting in death, after he crashed into a building, killing a man.
American Idol's Caleb Kennedy Charged With Fatal DUI
FOX Carolina posted a video of the hearing, which includes the desperate, heartbreaking 911 call made by the victim's daughter (8:33) after Kennedy drove his car into a driveway, running over her father. Also the family and Mothers Against Drunk Drivers made statements. 
Kennedy's attorney said that a bad reaction to a medication may be at fault, calling the crash a freak accident. The teen was on the way to visiting his girlfriend. The attorney also said that Kennedy is a junior in high school, a great student, and has never been in trouble. However, the deceased man's devastated wife called the teen "a danger to society." 
Vaping at the time of the crash, car ran over victim in the driveway, dragged him into the building
Troopers said 17-year-old Kennedy was heading west on Murph Road around 12:41 p.m, driving a 2011 Ford pickup truck, when he drove onto a private driveway and struck a building.
The victim, 54-year-old Larry Duane Parris, who worked on boats, was in his driveway walking towards his ship when Kennedy went 175 yards down the driveway and ran Parris over, according to Solicitor Barnette. Parris' body was pinned under and dragged by the truck into the shop.

In a 911 call made by Parris' daughter, Kelsey, Kennedy is heard in the background saying he's sorry. Solicitor Barrette said Kennedy was sitting on the ground holding Mr. Parris when Kelsey walked outside.
During the bond hearing, it came to light that Kennedy was vaping at the time of the crash. He took a hit of the vape pen and started feeling the drug's effects while driving. The judge decided to leave bond up to a circuit court, which Kennedy's attorney will need to arrange. 
Kennedy will have a general sessions hearing on April 14. If found guilty, the charge carries one to 25 years in prison and $10,100 to $25,100.