Back before the pandemic, Brooke Simpson announced she'd be part of the Broadway revival of 1776, featuring a cast of performers who identify as female, transgender, and non-binary. This was after she finished in the Top 4 on The Voice in 2017, and before she competed as a finalist on America's Got Talent in 2021.
COVID-19 put the show on hold. But finally, 1776 staged preview performances at the American Repertory Theater in Cambridge, Massachusetts over the summer. It moved to its Broadway stage at the American Airlines theater in September, and the show finally opened officially Thursday (Oct 6) night.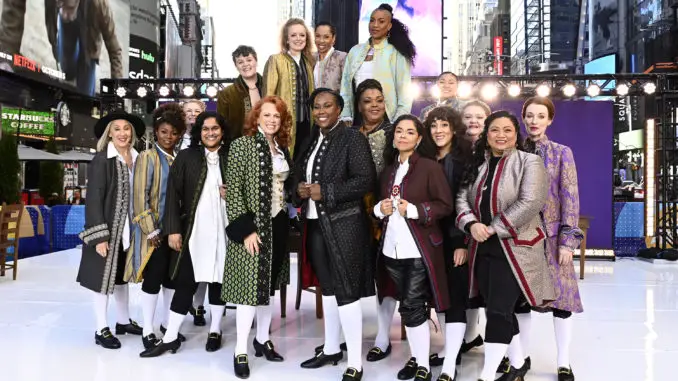 Brooke plays Roger Sherman, who was "the only person to sign all four great state papers of the United States: the Continental Association, Declaration of Independence, Articles of Confederation, and U.S. Constitution. He also signed the 1774 Petition to the King." Born in Newton, Massachusetts, he "represented Connecticut at the Continental Congress, and he was a member of the Committee of Five that drafted the Declaration of Independence."
Crystal Lucas-Perry and Carolee Carmello lead the company as John Adams and John Dickinson.
"Finding my voice as an actor has been and still is one of the most rewarding journeys"
"It's crazy to think we started this journey before the pandemic put the world on pause and now we are finally here," Brooke wrote on Instagram alongside backstage photos from opening night. "Finding my voice as an actor has been and still is one of the most rewarding journeys."
 

 

 

View this post on Instagram

 

 
GREAT reviews
The reviews are in, and they have been positive across the board. Playbill has a roundup HERE.
The Associated Press says the new production "brings fresh air to a five-decade old show." The Washington Post says "Sushma Saha, Jill Vallery, Liz Mikel and Brooke Simpson are among the many others who add incisive support," calling the revival "remarkable" and the ensemble "delightful." Variety calls it an "exuberant, thought-provoking and radical revival." The New York Post hated it, of course. Guess which adjective they used to describe it? Your very first guess is correct.
1776 Opening night curtain call
1776 premiered on Broadway in 1969, earning Tony Awards for Best Musical, Best Featured Actor (Ronald Holgate as Richard Henry Lee), and Best Direction (Peter Hunt). Roundabout Theatre Company also produced the musical's first revival in 1997. Carmello appeared in that revival as Abigail Adams.