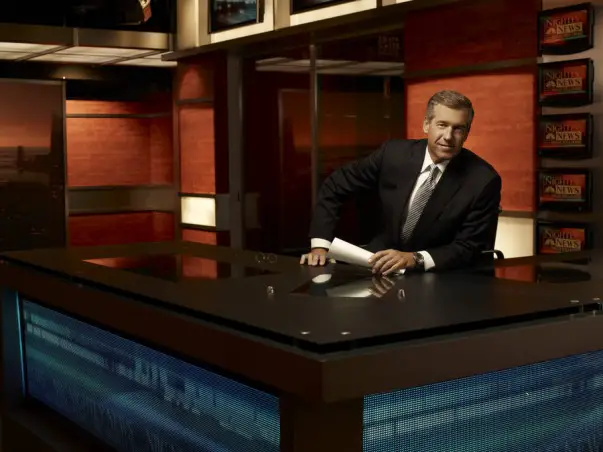 It's official. Brian Williams, currently on a 6 month suspension, after it was learned that he falsified accounts of experiences out in the field, will not be returning to the NBC Nightly News.
He will remain with NBC however, moving over to the breaking news desk of the cable channel, MSNBC, as well as working as breaking news anchor for NBC News live special reports. Williams served as the anchor of NBC's evening news program from 2004 until February of 2015 when he was suspended for exaggerating his experiences while he was embedded with troops during the war with Iraq.
"I'm sorry," Williams said in a statement. "I said things that weren't true. I let down my NBC colleagues and our viewers, and I'm determined to earn back their trust. I will greatly miss working with the team on Nightly News, but I know the broadcast will be in excellent hands with Lester Holt as anchor. I will support him 100% as he has always supported me. I am grateful for the chance to return to covering the news. My new role will allow me to focus on important issues and events in our country and around the world, and I look forward to it."
Lester Holt slipped into Williams chair after his suspension and has been named the permanent news anchor for NBC Nightly News.
NBC News revealed the findings of its internal investigation of Williams reporting, spanning 10 years.
"The extensive review found that Williams made a number of inaccurate statements about his own role and experiences covering events in the field," read a network press release. "The statements in question did not for the most part occur on NBC News platforms or in the immediate aftermath of the news events, but rather on late-night programs and during public appearances, usually years after the news events in question."
"Brian now has the chance to earn back everyone's trust. His excellent work over twenty-two years at NBC News has earned him that opportunity," NBC News Chairman Andrew Lack said.
"As you would imagine this was a difficult decision," NBCUniversal CEO Steve Burke said. "Brian Williams has been with NBC News for a very long time and he has covered countless news events with honor and skill. As I said in February, we believe in second chances, and I am hopeful that this new beginning will be good for Brian and the organization. This matter has been extensively analyzed and deliberated on by NBC. We are moving forward."
Outrageous lies usually come from the mouths of chronic liars. At the time this story broke, I felt really confident the trail would lead to more exaggerations, and that NBC would have no choice but to let Williams go. The irony is that it was Williams love for the talk show circuit that did him in, as his reporting of the news was straightforwardly accurate.
Williams has already sat down with Matt Lauer of the Today show to discuss the scandal. The interview will air in two parts on Friday. First, on the Today show and the second half on the Nightly News.