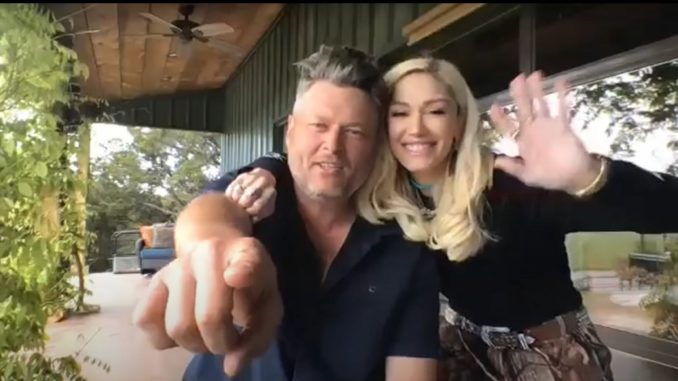 Blake Shelton Chats with Jimmy Fallon About The Voice Plans to Film Remote Live Shows
Blake Shelton, currently quarantining in Oklahoma with girlfriend Gwen Stefani and her family, took a few minutes to Zoom into the Tonight Show with Jimmy Fallon. The two chatted about, among other things, NBC's plans to air the upcoming The Voice live shows using remote technology, just like Jimmy does!
While Gwen, wielding hair clippers, worked on shaping Blake's growing mullet, Jimmy asked the coach questions about how The Voice producers plan to handle live shows, considering Hollywood production has been shut for a month and will not be restarting any time soon, due to coronavirus concerns.
"It's going to be NUTS,' Blake says about filming The Voice remotely
"What's scary is we're going to have to do The Voice in some fashion–like this," Blake says gesturing at Jimmy through the camera. "Because obviously, the live shows are coming up here in just a matter of weeks. And especially in L.A., we're not going to be ready to have events again."
Blake has no idea how the show will pull it off. But he figures, "It's going to be crazy," he says frankly. "We're going to have to coach like this. It's just going to have to work out this way." Unlike say, how the American Idol judges have been hyping the new normal, Blake is honest. "It's going to be nuts!"
Jimmy wonders if producers have a plan, and does Blake know any details. "Yeah…a little bit." Blake replied vaguely. He thinks the producers have come up with a plan. But being admittedly computer illiterate, Blake is waiting for TPTB to tell him when it's time to fire up the computer.
"Gwen's brother actually set up this computer and this interview and everything for me today, because I clearly don't know how to do this stuff," Blake said. "I think they have a plan, and they're going to tell me when to be at the computer." He speculates about mentoring team members remotely. He doesn't seem quite sure how he'll pull it off. "I'll listen to them perform, and then give them some pointers. And I don't know!"
"We're having to do things…" At which point, Blake's attention turns to Gwen who is nearly finished with her trim. He asks her to buzz Jimmy's initials on either side of his head. Because why the heck not? Hilarity ensues.
After The Voice Airs a Clip Show, The Remote Live Shows Begin. Here's the Schedule
The Voice will air the final Knockouts episode on Monday April 20. A "Road to Live Shows" clip show airs on April 27. Then, the remote live shows begin a three week run on May 4. The Tuesday finale airs on May 19. That is a total of four shows to broadcast with coaches Blake Shelton, Kelly Clarkson, Nick Jonas, John Legend, coaching from their respective homes.  Host Carson Daly is already a pro, filming remote segments for Today every day. And the finalists will perform from the comfort of their living rooms.  Yes. As Blake says. It's going to be nuts. 
American Idol recently announced their plans to air their remaining segments using remote technology. The Voice will be more complicated than American Idol to pull off, because of the coach/contestant mentoring sessions. Although, I suppose Idol mentor Bobby Bones delivering bromides over Zoom could be a challenge. 
Watch Blake Shelton and Gwen Stefani's remote chat with Jimmy Fallon Below.
Blake and Gwen also recorded an acoustic performance of their hit country duet "Nobody But You." The song is from Blake's latest album, Fully Loaded: God's Country. Watch it below.