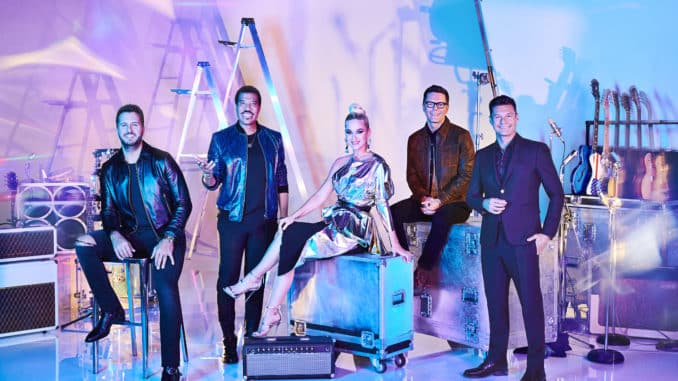 American Idol Confirms "At Home" Remote Schedule
Ho hum. It's old news! We reported over the weekend that after ABC scheduled two clip shows for April 13 and April 20, they planeed to return with NEW shows beginning on April 26. Luke Bryan called into On Air with Ryan Seacrest on Friday (April 10), where the two discussed how the show would continue with the panel judging contestants remotely from home.  Now, American Idol has officially confirmed the "At Home" episodes on social media. Judges Luke Bryan, Katy Perry, Lionel Richie, host Ryan Seacrest and mentor Bobby Bones all posted basically the same thing. That the cast and contestants will do their thing from home. Katy Perry, Ryan Seacrest and Lionel Richie will work from California, while Bobby Bones and Luke Bryan will work from Nashville. Each contestant will perform from their respective homes. And, America will vote. The big tagline is "On with the show."
ON WITH THE SHOW! ??? https://t.co/ToNphw19WF

— American Idol (@AmericanIdol) April 14, 2020
American Idol: On With The Show! Full Schedule
There are STILL no details on how American Idol producers will pull it off. For instance, will the shows be live? I'm guessing that even if the judges are live, the performances won't be. Note that ABC still plans to broadcast the show coast to coast. 
Here's the remaining schedule:
Sunday April 26 – "Top 20 Sing for America"
Sunday May 3 – "Live Coast To Coast Feed"
Sunday May 10 – "Live Coast To Coast Feed"
Sunday May 17 – Finale
As far as the judges dynamic changing, Luke shared his thoughts during his interview Ryan. "It's going to be fun," he said. "It's us not talking over the top of one another when we're streaming these things from the comforts of our home."
But first and foremost, Luke wants to give this year's talented American Idol contestants an opportunity to shine. "I don't want us to let their dreams down," said Luke. "I want us to be able to really showcase these kids to the best of our ability and I think we're going to be able to do that and it's going to be an interesting way we go about it."
"And it's going to be a living and breathing thing that we're going to have to figure out week after week," said Luke.
The Voice of Switzerland broadcast their Top 4 show remotely.  So, it's already been done. But it would be a first here in America.