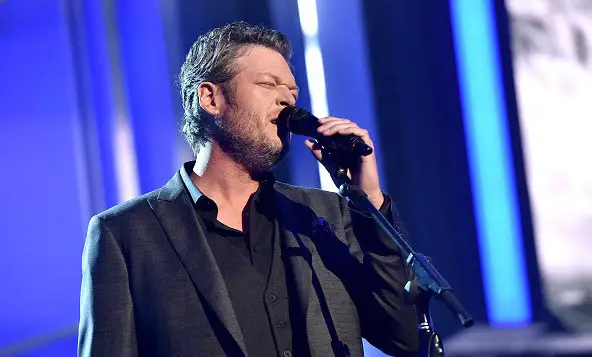 The Voice coach and country star Blake Shelton got his dander up today when a gossip website attempted to spin his comments to Billboard in a recent cover story into an endorsement of Republican presidential nominee Donald Trump.
Hey gossip cop. I normally appreciate your work. But this is NOT AT ALL what I said. https://t.co/vtVp9Ueo1V

— Blake Shelton (@blakeshelton) July 28, 2016
The Gossip Cop item interpreted a compliment Blake paid to Trump into an endorsement of the candidate:
"In country music, we're so politically correct and so afraid to possibly upset someone," he says, which led to him being asked if he "supports" Trump. The singer responds, "I'm not going to have the political conversation with you about Trump, or about Hillary Clinton, but I will tell you this: Whether you love him or hate him, he says what he thinks, and he has proven that you don't always have to be so afraid."

Shelton continues. "A lot of people are pulling for him, no matter how much Hollywood fights it. I see people who don't like him go and beat up people that do like him. You tell me, who's crazy here?"

He does confirm he plans to vote in November, reportedly adding, "I probably wish there was another option, but there's not." Shelton hasn't really mentioned Trump on social media, but did tweet earlier this week about the DNC email leak, and seemed to rejoice when Debbie Wasserman Schultz stepped down.
Blake ranted on twitter:
Hey before this gets going like it always does… I haven't enforced ANYBODY for president. And I not going to. I don't do that shit.

— Blake Shelton (@blakeshelton) July 28, 2016
My comment about "wish there was another option but there's not" is across the board…period. Now go dig up another story.

— Blake Shelton (@blakeshelton) July 28, 2016
They can spin it how ever they want but it's right there in plain English.

— Blake Shelton (@blakeshelton) July 28, 2016
When y'all what the news about this stuff watch ALL the channels.. Read ALL the articles. Make YOUR mind up. And then vote.

— Blake Shelton (@blakeshelton) July 28, 2016
Blake Shelton: Donald Trump Only "Option" For President https://t.co/enQKRWhvg7 pic.twitter.com/BgFfZE6PLw

— Gossip Cop (@GossipCop) July 28, 2016
It's crazy that in this moment in time… With everything going on in the world that spinning my words is so important to the media.

— Blake Shelton (@blakeshelton) July 28, 2016
Smash actress and Clinton supporter Deborah Messing apologized for tweeting " "Omg. How? @gwenstefani please talk to your man to not vote for the person who will STRIP you of your right."
Thank you sis.. I don't endorse anybody. For this very reason!! ? https://t.co/KCEU9h0Vc5

— Blake Shelton (@blakeshelton) July 28, 2016
Ok- I regret commenting. My passions got the better of me. Sorry. @gwenstefani @blakeshelton

— Debra Messing (@DebraMessing) July 28, 2016
smallvoiceibetblakeisvotingfortrumpsmallvoice