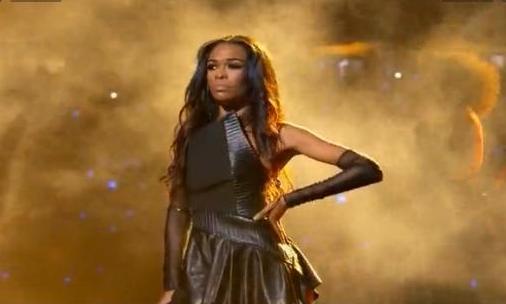 Did you watch Beyonce and Destiny Child's big Superbowl half time show? As promised, the pop diva sang live and she danced her butt off.  The result was a pretty damn entertaining half time show. Kudos to Beyonce for giving it her all.
It was a total trip back to the 90's when Bey brought out her Destiny's Child bandmates Michelle Williams and Kelly Rowland, midway through the performance.  And that stage full of Beyonce doppelgangers. Nice touch!  Were we ready for that jelly? I think we were. What a show.
It was so good, the lights blew out after! Took 15-20 minutes to get them back.
Check out the performance below.

bey-sb by mjsbigblog
And, read the reactions from American Idols and Glee stars below.  Some you wouldn't expect to have an opinion reacted. Dagum!
Joshua Ledet: That half time tho ???? beyonce is def the queen! #speechless
Melinda Doolittle: Dear Beyonce: SING. HEFFA. Ydsjlyvcehbcfjvfjvd!!!!! That show was insane! And thank you for Destiny's Child! Wow. Just wow.
Carrie Underwood: .and @Beyonce just made all the rest of us singers look stupid! In the most awesome way possible! Way to work it! #BestEverHalftimeShow
Pia Toscano: Every performer can all learn a little something from this incredible woman #beyonce
Hollie Cavanaugh: Beyonce is a diva. End of story
Alexis Grace: Well after that Beyonce ass kicking of a show…I'm considering a different career. Love her.
Chris Sligh: Beyonce just mocked us all to our face by actually singing a total of 45 seconds of an 8 min show.
Kelly Clarkson: Okay so …..Beyonce just killed it at the Super Bowl! Holy cow she is so hot and sang her tail off!! Destiny's Child, SO GREAT!!
Adam Lambert: @beyonce just SLAYED THE WORLD w that show. Wow. Classy Sexy and Powerful. THE Diva. And feeling #destinysChild ! @KELLYROWLAND and Michelle! Bringin back memories of seeing you three live way back!! :) ya'll SNATCHED!
Kris Allen: Beyonce has my heart.
Scotty McCreery: That was incredible! Good gracious. Beyonce tho.. Best halftime performance I've witnessed. #dagummm
Chris Colfer:  Beyonce broke the super bowl, y'all!!! #TooBootylicious. Let the records show, Super Bowl XLVII wasn't ready for that jelly! #GoBeyonce
Naya Rivera: Beyonce. That's all. Insane talent.
Kevin McHale: Wait how do I get tix to the new Destinys Child tour?
What did you think of Beyonce's performance?