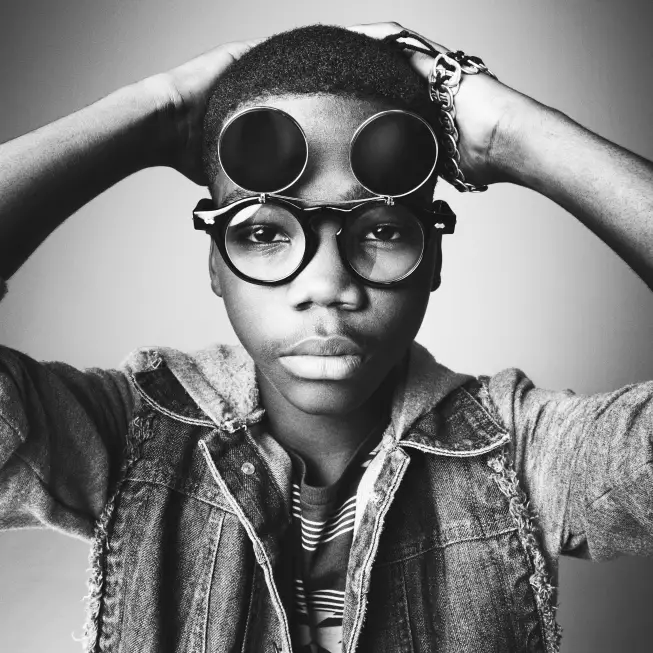 X Factor contestant, Astro, who revealed to the Hollywood Reporter yesterday that he did not believe he was really in the bottom two–hence the onstage hissy fit–tells the New York Post that his mom wants him to quit the show, but he's willing to give it another week!
Those of you who assumed Astro's mom gave him a stern lecture…think again! "She knew what was going on," he says. "She was tellin' me, 'Just leave. You need to leave and go home.' It's stupid, you know. But I told my mom, 'Let's at least try it one more time. Let's get one more week in.' "
That's mighty big of Astro, but at this point, I think the voting public is going to take care of that little dilemma for him.
"I don't see how you can have the most followers on Twitter out of everybody in the competition and get voted in the bottom two. So, I thought something was jiggy," the 15 year old rapper tells the Post.
Astro thinks he's being punished, reportedly for wearing a pair of Dr. Dre headphones onstage.  A competitor, Sony, is an X Factor sponsor.
A FOX spokesperson responds to Astro's accusations, "After the public vote, Astro was in the bottom two last week. All votes are collected and tallied by an independent vote management firm. The results were certified to be true and accurate."
Astro doesn't think he's cocky, no sir!
"It's a competition," he points out. "We are all fighting to stay here. How you going to say I'm cocky? Muhammad Ali does this. It's not cocky, it's confidence."
"You going to call me arrogant for believing in myself? Come on! It's a competitive sport. Rappin' is the closest thing to boxing. Jay-Z said that. You gotta fight every day.
"Where I am from, I had to fight every day just to keep my name, Astro. I had to battle every day with someone on the corner. On the way to school, on the way everywhere. So, I am not backing down."
Simon Cowell HAS TO BE LOVING THIS. They'll milk the controversy until Astro is voted off (Any minute now. Seriously) Then Simon and Sony will snap that boy right up, bad attitude or no.