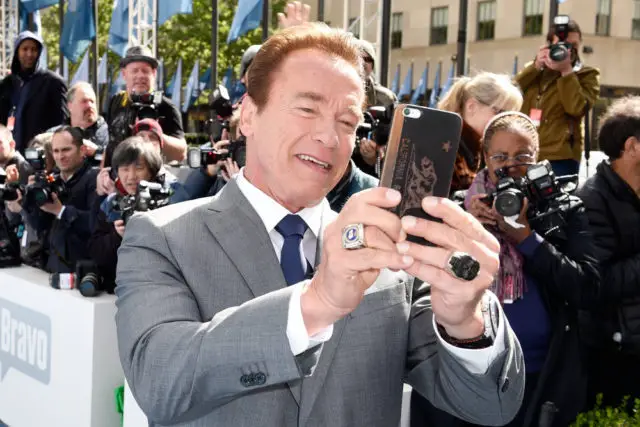 Arnold Schwarzenegger dropped some big news to Empire magazine. He won't be returning to host Celebrity Apprentice next season. The former California blames Donald Trump for the new season's low ratings and exiting sponsors.
"It's not about the show," he explained. "because everyone I ran into came up to me and said 'I love the show… but I turned it off because as soon as I read Trump's name I'm outta there!'"

"NBC did everything they could to promote the show and [producer] Mark Burnett did a fantastic job. No one really knew that this was going to happen and I think that everyone was caught off guard."

"When people found out that Trump was still involved as executive producer and was still receiving money from the show, then half the people [started] boycotting it."
Maybe it's not such big news. The low ratings and bad publicity probably meant NBC would be cancelling the show. Also, the show wasn't reviewed well by TV critics either. There is actually plenty of blame to go around.
According to the Wrap, half of The Celebrity Apprentice sponsors abandoned the show:
A campaign called #GrabYourWallet, which called on sponsors to abandon the show because of President Donald Trump's involvement with it, said six of the show's 12 corporate backers from last season have agreed not to return. None of the companies explicitly cited Trump as their reason, but campaign organizer Shannon Coulter says the gold-plated writing is on the wall.

"I think it's pretty clear at this point that the Trump brand name is toxic," she told TheWrap.
Hm…companies tend to abandon low rated shows. If Schwarzenegger had managed to make a success of the reboot, the sponsors would likely have been OK with putting money in Trump's pocket.
After The New Celebrity Apprentice premiere in January, Trump taunted the new host via twitter about the show's low ratings. A twitter war ensued between the two rivals. Trump was miffed that Schwarzenegger, a Republican, didn't support his candidacy for president.